Brand new 450 tonne Demag crane
By Alex Dahm12 November 2020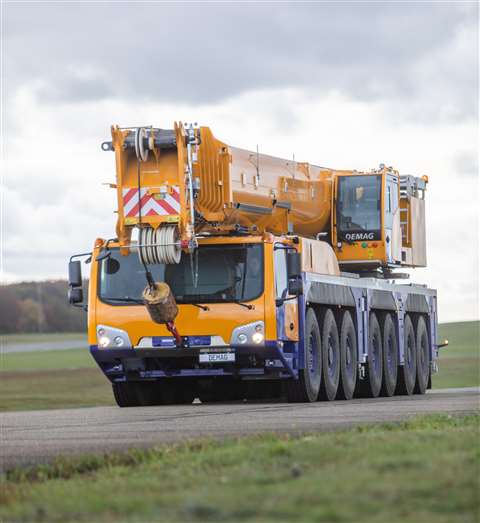 When designing the new Demag AC 450-7 all terrain crane the Tadano Demag engineering team said it was focused on setting new standards in the seven axle segment, reports Alex Dahm.
It is said to be as compact as a six-axle crane but with significantly better performance. The basic idea, according to the company, was to build a more powerful alternative to existing six-axle cranes. The objective was to keep it as compact as a six axle crane, even with its additional, seventh, axle.
The carrier is 15.99 metres long, the outrigger base is 8.45 metres and total overall length is 17.62 metres. Michael Klein, product marketing manager, explained, "In other words, it doesn't need more space than a six-axle crane at a work site, and yet it offers significantly better lifting capacities."
It needed a seventh axle to be street legal with a longer boom and the required higher capacity, Klein said. That longer main boom is 80 metres and the maximum it will lift at that full extent is 25 tonnes. A luffing jib of up to 81 metres can be added and the maximum system length is 132 metres.
The luffing jib can be extended in 3 metre increments from 24 metres. Its quick set up system is shared with the smaller 300 and 350 tonne models and also with the range-topping 1,200 tonne class AC 1000-9. Transporting the luffing jib is made easier by using two section sizes. These allow the pieces with the smaller dimensions to be slid inside the larger ones.
A fixed jib configuration is also available, with offset, as is a short runner type jib.
New SSL
Another feature is a new SSL Sideways Superlift design. The Superlift arms are now mounted at the front of the boom, on the head of the base section. It means they are longer and better suited to larger lifting capacity. Capacity is 73.5 tonnes at a radius of 9 metres on a 60 metre boom with SSL. At a 13 metre radius with the boom at 80 metres, capacity is 37.9 tonnes. Moving the radius out to 50 metres gives 12.8 tonnes.
The new Sideways Superlift is also easier to handle. Only one wire rope line is needed to connect between the main boom head and the SSL arm. The SSL arms are pinned hydraulically on the main boom so there is less work at height.
The reduced swing radius of 5.6 metres is the result of an improved counterweight design. Maximum counterweight is 150 tonnes, consisting of a 20 tonne base plate and a combination of five and ten tonne slabs according to logistics requirements.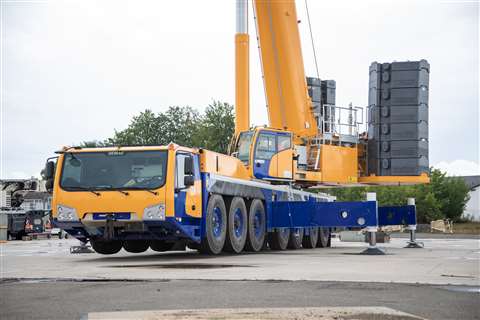 More capacity
A counterweight frame is available that can increase swing radius and give more capacity, especially in SSL configuration. Adapters are also available to allow use of slabs from other large Demag crane customers may already have in their fleets.
The manufacturer said the 8.45 metre outrigger base is at the level of a 6-axle crane. There are five outrigger width positions to give choices on sites with little space.
A new assistance system is available called Demag Surround View to help with crane positioning on site. It uses six onboard crane cameras to show the possible outreach of the outriggers and the tail swing radius at the current position of the crane. On a display in the carrier cabin the driver can also see the different outrigger widths to best place the crane. "This reduces time-consuming measuring and trial and error when looking for a location, so that the crane can be ready for operation more quickly," explained Michael Klein.
Demag Surround View helps on the road too, helping the driver see hazards and obstructions.
With the crane set up and operating, the IC-1 Plus control system gives the maximum available capacity for all boom positions and slewing angles taking into account the outrigger configuration. IC-1 Remote can also be specified to read and diagnose all important crane data.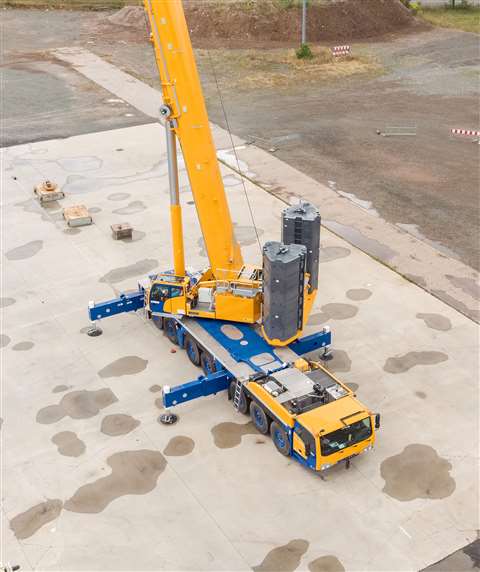 Carrier choice
Two carrier variants are available. The standard one allows travel at 12 or 16.5 tonnes per axle with the boom on. Removing the boom reduces the axle load to just over 9 tonnes. The second carrier version has a removable rear outrigger box. "With this solution we provide our customers another possibility to reduce gross vehicle weight," said Michael Klein. "The quick connections allow our customers to remove the outrigger box very quickly," Klein added.
Power for the new crane is from a 480 kW (625 HP) Mercedes-Benz diesel. It complies with EU Stage V and Tier 4 Final emissions requirements and is compatible with Tier 3. The Mercedes-Benz transmission has a turbo retarder clutch, for smooth starts from rest without slipping a dry clutch, and an integrated retarder. All seven axles are steered and four are driven.
Demag said its new AC 450-7 is powerful like an 8-axle crane and compact like a 6-axle crane.
First customer
Thomas Wiesbauer at German crane rental house Wiesbauer has secured the first unit of the new Demag AC 450-7. He signed the letter of intent in September 2019 and then signed the purchase agreement in May 2020, on a visit to the factory in Zweibrückebn, Germany. At the same time Wiesbauer took a close look at a prototype with the new crane's project manager Jürgen Schröder. "And what was quite clear was that the AC 450‑7 didn't just look good on paper, but in real life too," Thomas Wiesbauer said.
"The AC 450-7 fills a niche that has not been served yet," he continued. He said he can barely wait for the crane to be delivered next year and his family feels the same: brother Jochen, son Florian, daughter Sissi, and his wife Sabine are all equally enamoured with it.
Further to the news (in ICST November) that Tadano Demag has filed for protective shield proceedings in Germany changes nothing from Wiesbauer's perspective, "We think that it was the right decision and the best possible option under the circumstances. And this, of course, means that our partnership with Tadano Demag remains as important as ever," he said. The company has added several Tadano and Demag cranes to its fleet over the years and Wiesbauer said he is confident that this will continue and that Tadano Demag will be able to do everything it takes under the protective shield proceedings to make it happen.
See this exclusive news and much more in the November issue of International Cranes and Specialized Transport – out now.