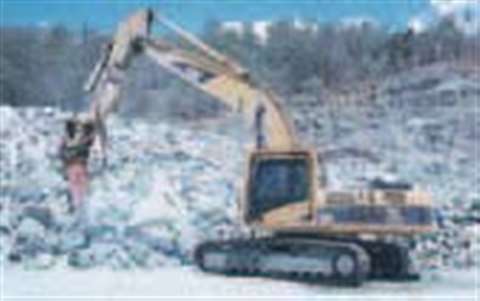 The Readymix Petrie quarry near Brisbane, Queensland has taken delivery of a Rammer m18 hydraulic breaker. Mounted on a 33 tonne class Caterpillar 330 CL excavator, the 1.9 tonne hammer is being used to break oversize blue and green hard basalt rocks with a hardness value of 2.98 t/m3.
Within the first week, the quarry's operators had recognised an immediate improvement in performance compared with the slightly lighter Rammer G80 which they were using before, and which the m18 replaces in Rammer's product range. Two months into operation and, in addition to the continuous improvement in performance, Readymix has continued to make significant fuel savings in excess of 10% for the excavator.
Quarry manager Robert Brett said, "Despite being in almost constant demand, the hammer has proved exceptionally reliable, delivering upwards of 95% availability in the harsh application."
The Petrie quarry, covering a working area of 80 ha on a 170 ha site, has five working benches. Blasting is generally carried out on a weekly basis and production runs at 1 million tonnes per year.