Breakers: Breaking ground on telematics
By Steve Ducker10 October 2019
To help mark more than 40 years of manufacturing hydraulic hammers and other attachments, Rammer – which is part of the Sandvik Group – has recently launched the updated and renewed Excellence range of hammers.
Containing many new features, a key component of the line is its remote monitoring device, RD3. This works alongside the "MyFleet" Telematics service and is described as set to revolutionise the way businesses can track and monitor their equipment.
The RD3 remote monitoring device is used to track and monitor fleet equipment
usage without needing to go to the site to collect data. This makes it suitable for dealers, fleet managers, rental companies and operators.
RD3, which is now available for all of Rammer's Excellence hammers, comes in two designs: a flush box mounting for casting housings or surface type mounting for welded housings. The system is used by accessing the Sandvik-developed MyFleet Telematics platform from the website, on a personal computer, tablet or other mobile devices. This enables hammers to be viewed and monitored in Google maps.
As well as using the MyFleet service, Rammer's new remote monitoring device also draws heavily on the latest version of the company's Ramdata system. Following feedback from customers, dealers and fleet managers, the system has been refined and developed to facilitate a new way of operating. This means that the combination of MyFleet Telematics and data accessed through RD3 enable educated business decisions to be made through knowing where the hammer is, when it is operating, and how much and what it is producing. It also monitors service intervals.
Tightening security
With the GPS (global positioning satellite) data that is collected, security can be strengthened, fleet location can be optimised, and application knowledge can be enhanced, for better operator education and increased profitability. Significant benefits include being able to locate stolen or misplaced units, reduce insurance issues in the case of theft, and the setting of service alarms at specific intervals.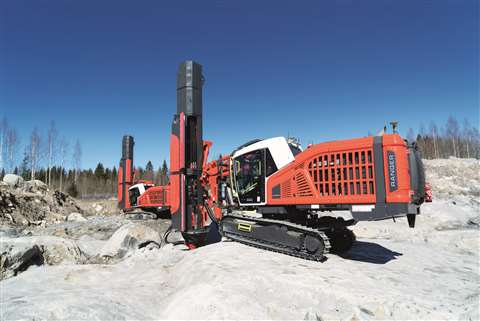 Operationally, RD3 provides the information that businesses need to get the best from their hammers. The system enables remote monitoring of the total operating hours for new units, and comes with a new hammer feature, the 'hour meter', which, by linking to the unit's serial number, measures how many hours a unit has worked. This enables more accurate invoicing (in the case of rental companies for example), proactive or intervalled servicing, and an accurate value when the unit comes to be sold or traded.
Rammer believes the RD3's features effectively improve the total utilisation of equipment, which will be particularly appreciated in applications where the hammer is part of the process and where unscheduled interruption cannot be tolerated.
UK-based ECY Haulmark has been supplying equipment to the demolition, equipment rental and recycling industries since 1962, and in more recent times has provided hydraulic attachments and fully automatic quick couplers for excavators.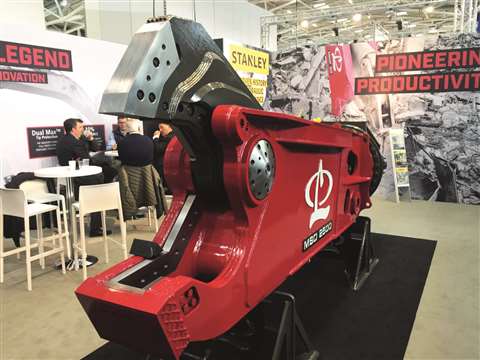 Speaking with regular customers, Managing Director Richard Yarwood and his sales team became increasingly aware that machine and attachment theft from work sites was becoming a daily occurrence. With this in mind, ECY set about sourcing a tracking solution that could be discreetly bolted or stuck to its hydraulic attachments and offered as an optional extra when a customer was placing a new order.
After trialling Trackit247 on its own rental attachments, ECY Haulmark was convinced this was the ideal, low-cost solution for tracking hydraulic attachments and as an appointed dealer introduced the product officially at the Demo
Expo show in the south of England in July 2019.
Trackit247 provides GPS tracking solutions for commercial organisations. The devices are small but powerful units to track plant and equipment, and ECY says that with them you can track live via your mobile phone or tablet if you have access to the internet. The new control panel allows users the full functionality of the panel from an iPad and any tablets that have a large enough screen to support the panel, or on an Android or iPhone through an App that is free to download.
The Trackit247 Ti-TG7 and Ti-TG9 have been specifically designed for long-term tracking and monitoring of assets and equipment. The trackers offer either a three- or five-year battery life, based on two updates per day. As the casing is robust, this makes them suitable for all industrial environments such as demolition and construction sites, as well as recycling and processing.
Sandvik has introduces two solutions to reduce noise emissions in surface top hammer drilling.
The new options for its Dino DC410Ri surface drill rigs and Rammer's Ranger DXi series are said to help mitigate harmful noise at construction worksites and quarries.
Noise restrictions
Many contractors are facing increasingly restrictive noise limits these days, particularly in urban areas, making effective solutions necessary to cut out harmful noise to improve work safety and maintain neighbourly relations with local communities. As well as being beneficial to surrounding areas, the solutions introduced by Sandvik reduce operators' and worksite personnel's exposure to harmful noise levels, offering a more comfortable working environment.
The main source of noise from a top hammer drill rig is the rock drill itself, which accounts for up to 75% of the total sound power level from a drill rig. Both new Sandvik products reduce the sound level around the drill rig by isolating the rock drill and rod handling system inside a noise-suppressing structure. These solutions are especially effective at suppressing the most disturbing drilling noise frequencies, between 2,500 and 10,000hz.
NoiseGuard-DXi reduces noise emissions from Ranger DXi series drill rigs by enclosing the rigs in a structure that provides up to 12.9dB noise reduction in A-weighted sound pressure within a 16m radius of the rig. At this distance, noise levels are reduced by up to 95% compared to devices that do not have the NoiseGuard-DXi.
The NoiseGuard-DXi option comes with a camera system that provides visually aided drilling when the structure doors are closed. Additionally, it has an innovative single-bolt dismantling design for fast and easy maintenance on the feed system.
NoiseShield-DC is also a simple, compact solution for the smaller, cabinless Dino DC410Ri drill rigs used in urban job sites. While not fully enclosed, NoiseShield-DC offers up to a 7.5dB reduction in A-weighted sound pressure by directing the drilling noise upwards through an open top, away from the operator and surrounding areas. This reduction translates to an 82% mitigation in noise pressure within a 16m radius.
Difficult, but not impossible
Ironstone is a type of sedimentary rock (dolomitic limestone) partly consisting of iron. These rocks are mainly made of sandy, shell-fragmental and ooidal ferruginous limestone interbedded with ferruginous calcareous sandstone, and generally subordinate ferruginous mudstone beds.
They are commonly found in places such as southern Europe (Italy), northern Europe (UK) and southern Australia, as well as many other regions.
When this type of stone is present, excavation work can be particularly hard because the percentage of iron makes it difficult to break.
Difficult, but not impossible, according to manufacturer Idromeccanic Ramtec, producer of the RT1800P hydraulic breaker.
The RT1800P model is a 1,800kg hydraulic breaker suitable for excavators with operating weights from 19 to 27 tonnes, having a 135mm tool diameter.
Claimed to be unbeatable in terms of strength, performance and reliability, the RT1800P mounted on a Volvo 210 was able to extract more than 10,000m3 of this type of rock in approximately 100 working days. This was achieved in an excavation site located in Apulia, southern Italy.