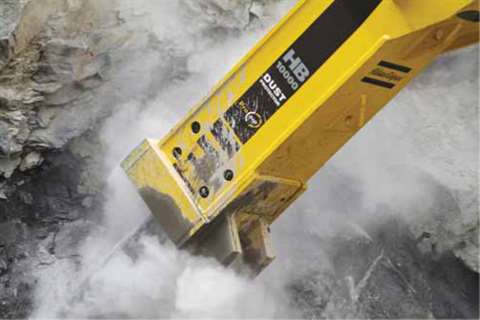 Think excavator attachments and you will probably also think hydraulic breakers. Breakers are among the most common attachments used by the construction and mining industry. While manufacturers are coy when it comes to revealing how many of these flexible and efficient tools are purchased, a good estimate is that some 40000 to 45000 are sold annually.
The larger breakers, especially Atlas Copco's new giant HB 10000, are more commonly found in primary breaking applications in mines and quarries, but occasionally make their way into the construction field. Of particular note in recent months has been the drive exhibited by some manufacturers to provide increased power. Invariably, where breakers are concerned, more power means more size and as a result, some particularly big breakers have been launched in the last year or so.
With much construction work around the world being conducted in built-up areas, the demand for quieter working methods has fed the growth in use of 'silenced' breaker models. Most companies active in the field offer standard and silenced versions of their breakers, although as demand for non-silenced products lessens, it is likely that silenced versions will be all that are available. This is illustrated by Cat's new breaker launches. In the case of the H45Ds, it replaces two previous models, the H45 non-silenced and H45s silenced products in the company's compact breaker range.
Atlas Copco is one exception. According to Peter Bigwood, president of Atlas Copco's US operation, "All our breakers are silenced-we have no need to manufacture 'silenced' versions, something in which we take a great deal of pride-and they are among the quietest breakers on the market."
Record breakers
The breaker star of the recent Bauma exhibition in Munich was undoubtedly the launch of Atlas Copco's newest big hammer-and it is very big. Weighing in at 10 tonnes, the HB10000 is more than 1000 kg heavier than the largest breaker currently available anywhere worldwide and provides up to +50% greater productivity than the HB 7000, Atlas Copco's 7 tonne model and the largest breaker it produced until the introduction of the HB 10000.
Designed for use with carriers weighing from 85 tonnes, the new hammer is designed for primary breaking and as an alternative to drilling and blasting in quarries. Whether such a large unit will find use in the construction role remains to be seen, but as structural concrete quality improves as newer buildings are demolished, there could well be a place for it.
This giant breaker requires an oil flow of 450-530 litres/min, operates at 160-180 bar and has an impact frequency of 250-380 blows per minute. According to Torsten Treger, product line manager hydraulic attachments, "As early as the prototype phase, it was clear the HB 10000 was going to be a hit. We received several firm enquiries from operations where our prototypes had been tested even before the production model went on sale."
The HB10000 features +50% greater productivity than the HB7000 and boasts the StartSelect, AutoControl, PowerAdapt, DustProtector II and ContiLube II features found on the company's line of hydraulic breakers. Atlas Copco will continue to produce the smaller HB 7000
Turkish manufacturer Inan Makina is another which has gone to the large end of the scale in recent times, with the introduction of its MTB 500 and MTB 700 breakers. The latter weighs in at 7 tonnes and offiers an impact energy of 13000 Joules at an operating pressure of 150 Bar, while the former weighs slightly less, at 5 tonnes.
Wimmer, the Austrian manufacturer of demolition attachments, including grapples and grabs, buckets, shears and hydraulic hammers, has also added two big new products to its breaker range, the WH 65, which weighs in at 4750 kg, and WH 80, which weighs 6900 kg, designed for larger excavators up to 100 tonnes, which will enter series production during 2007. Both breakers require an operating pressure of 190 to 210 Bar.
Standard offerings
Sandvik Rammer has recently introduced two new models of hydraulic hammers designed specifically for backhoe loaders, the S 23 and S 25. Both will be available as standard and silenced versions, the latter known as City hammers, that are delivered ready to mount on any make of backhoe loader. The S 23 and S 23 City are designed for use with 3 to 6.5 tonne machines, with the S 25 and S 25 City suitable for use with 5 to 8.5 tonne machines.
In addition to these new products, Sandvik Rammer has also made some enhancements to its Ramona hammer monitoring system, which is designed to minimise unscheduled downtime, prolong hammer life and maximise productivity.
The enhancements include faster data transfer and communication, now +40% quicker, along with an improved remote monitoring capability to more accurately check hammer performance. Reporting has also been improved to make it more user-friendly, while the addition of a new pdf file generator allows more rapid report production for improved response to potential faults and failures.
Spanish manufacturer Tabe is taking on the numerous Korean and Chinese manufacturers with its 14 model Beta Breaker brand. Produced at the company's new Chinese manufacturing facility, these hydraulic hammers weigh from 260 to 3510 kg and can be used on carriers weighing from 2.27 tonnes to 55 tonnes. The new breakers use Tabe's internal breaker designs but sport a new square casing.
Thinking small
As compact equipment grows in popularity, and the laws in Europe limit the maximum weight of hand-held breakers to 27.2 kg, increasingly it is the machine/breaker combination that is preferred to hand-held units. This trend is also prevalent in the US, albeit to a lesser degree, since 41 kg hand-helds can still be legally used there.
This has led to a considerable growth in the number of small, silenced breakers that can go on a wide variety of today's compact machines from under 1 tonne and upwards. Breakers are now available that will go on skid steers, micro and mini-excavators. It is notable that this is the area in which the full liners seem to be most active, as they strive to develop an extensive range of attachments that they can ofier with their smaller machines in a package approach.
Of the breaker specialists, Atlas Copco has added to its compact breaker line-up with two new solid body products-the SB 52 for micro carriers in the 0.64 tonnes to 1.3 tonne range, and the SB 552, which comes in at the top end of this breaker line, weighing in at 55 kg.
Bobcat meanwhile, has gone to the other end of the scale with the HB280, which is the smallest model in the company's 80 Series. It has been designed specifically for use on the company's 820 kg 316 micro-excavator, which provides a hydraulic fiow rate of 20 litres/min, more than sufficient for the breaker's need for 15 litres/min.
This new breaker has a cylindrical design, improving access to jobs in confined spaces and is equipped as standard with a special shield to protect hoses and fittings from accidental damage during operation.
The internal design of the new breaker involves fewer moving parts and no tie rods, allowing it to be completely disassembled in five minutes. It also features an automatic pressure regulator to ensure that the HB280 operates at its optimal pressure to deliver a constant energy per blow.
Cat is another that has been looking at the small end of the breaker market. It recently completed its compact breaker line-up with the addition of the H35Ds, H45Ds and H65Ds models, weighing 105 kg, 145 kg and 271 kg respectively.