Broderson equips carry deck for rail
By Hannah Sundermeyer23 January 2023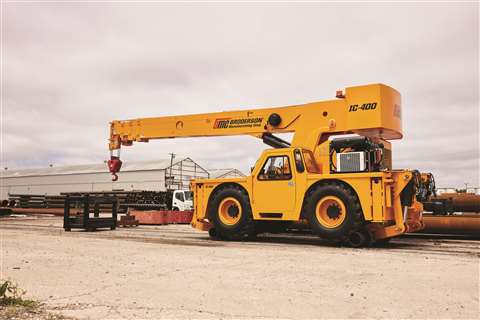 The Broderson IC-400-B, 25-ton capacity industrial carry deck crane, outfitted with class leading boom length and multi-position out and down outriggers, has additional functionality rail applications.
Based in Lenexa, KS, Broderson Manufacturing has completed testing and delivery of several new options for the rail industry. The options include a friction drive hi-rail system that includes pick-and-carry over front on rail capacity in the RCL system, and a rail towing package. These Broderson designed and installed options integrate seamlessly into the crane's control and hydraulic systems.
The hi-rail package includes in-cab controls for hydraulic rail gear deployment; electronic sensing of rail gear position – which configures the RCL to the on-rail, over front load chart and reverses the transmission control; and FRA required lighting and audible alarms.