Bronto firefighter for Cyprus
By Euan Youdale06 October 2020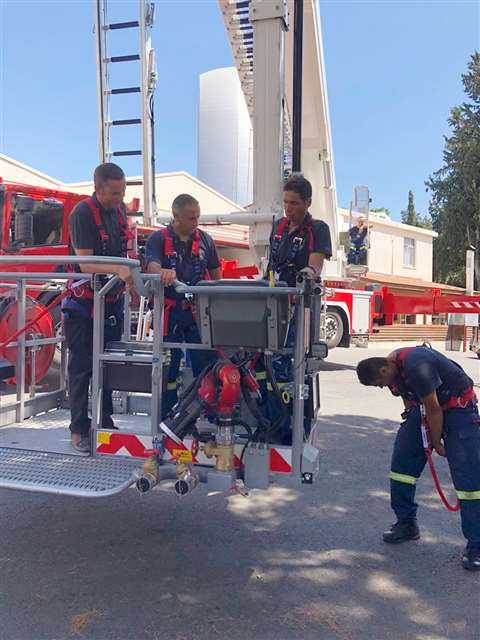 The Fire brigade in Limassol, Cyprus, has taken the delivery of a 60m Bronto F60RLX aerial ladder platform.
The order was made through Bronto's local distributor Spyros Houtris & Sons.
Featuring a 60m working height, over 31m horizontal reach and 10m up-and-over capabilities, the unit provides the Fire Brigade with easy access to many locations. Maximum cage load is 500kg and optional equipment includes, for example, electricity in the cage, hydraulically driven generator, colour video camera integrated to cage and turntable displays, working lights at cage and a stretcher carrier. It is mounted on a Scania 8×4x4 chassis.
Yiannis Houtris, managing director, S Houtris & Sons, said, "Supplying such an extraordinary piece of equipment to the Fire Brigade was really a challenge. But with a reliable partner like Bronto Skylift it was just another exciting day at work."
The delivery included hands-on operator training, that was conducted at Limassol by Bronto Skylift's instructor Mikko Laiho. The two-week operator certification training was carried out in three groups, each including five to six firefighters.
Mikko Laiho, Instructor, Bronto Skylift, said, "The training went smoothly and was quite easy, as the fire fighters already had previous experience from their 32m Bronto F32RLX. We did some theory and a lot of hands-on training."
The second part of the training will be carried out in November, when some of the operators will do their senior operator training, which allows them to train future operators.