Bronto innovates with Nationwide
By Euan Youdale21 October 2013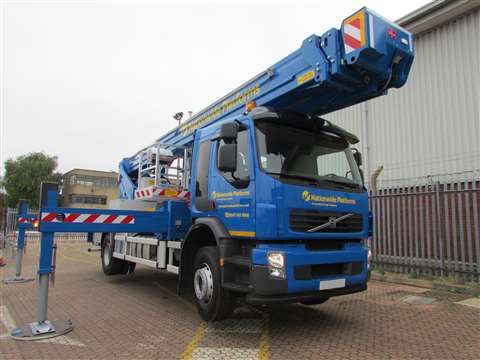 Nationwide Platforms in the UK has taken delivery of 10 Bronto Skylift truck mounts.
The investment includes seven 38 m units, two 50 m units, and a 70 m unit. All of the truck mounted platforms include a number of innovations, co-designed by the UK rental company.
All units include a new safety rail fall arrest system for operators and engineers accessing the truck. The system, which is now available on most of the Bronto product line, was originally created following a Nationwide Platforms specification.
Additionally, the units feature a high definition camera system enabling the vehicle's driver to view all blind spots at a glance, ensuring awareness of cyclists to the side and other hazards to the rear, including tail swing. They are also fitted with a telematics system for diagnostics and performance data analysis.
For broadcasting and utilities maintenance applications the Bronto trucks have also been fitted with earth grounding, media lighting frames and broadcast camera cages.
Another addition for 2013 includes a round ground pad with easy access stowage to reduce manual handling risks. The reshaped pads can now be rolled to and from the jack leg positions and stowed away with very little effort.
The features were designed by Nationwide Platforms' technical director, John Weights with Bronto. "The investment in these truly state of the art units significantly boosts our vehicle mounted fleet. We're always looking to provide our customers and operators with the best possible working at height solutions and these 10 new Bronto truck mounted platforms add even greater quality to our existing fleet."
Mike Potts, Nationwide Platforms' managing director, added, "As our client markets experience an upturn in demand we're making substantial investments to be sure we are now in an even stronger position to support them right across our business."
The units will be available to hire from the Nationwide Platforms fleet from November.