Brun puts new Hitachi Sumitomo crawler to work
Swiss construction contractor Gebruder Brun put its new Hitachi Sumitomo SCX800A-3 crawler crane straight to work.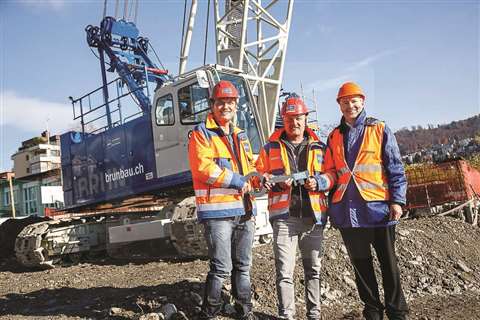 It started work on a drainage project in the town of Zug, Switzerland where it is conducting foundation engineering work for the construction of five shafts that are being used as access points for a micro-tunnelling machine to bore 1.6 and 2 metre holes for drainage and water pipes.
The crane is also being utilised as a support machine and for installing sheet piling to keep water out of the shafts throughout the construction process. Around 5,000 square metres of sheet piling is being used in 26 m lengths. Most of it will be removed after the concrete shafts have been built. The project is scheduled for completion in the summer (Europe) of 2018.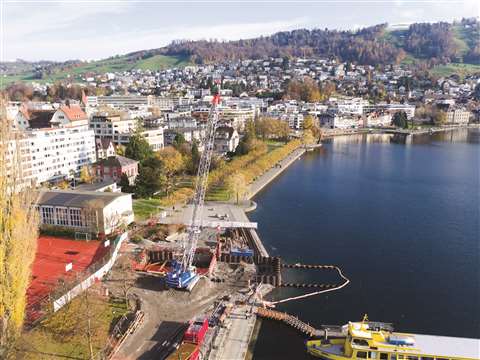 The SCX800A-3 has an 80 tonne capacity and a compact design with a small rear-end radius which makes it suitable for working in confined spaces and narrow job sites, said Hitachi Sumitomo. It has a EU Stage IV and US Tier 4 compliant Cummins QSB6.7 engine with an auto-idle stop function. An eco-winch mode is designed to provide economical operation with low fuel consumption.
"This is a typical job for us and is representative of our main business activity," saidDaniel Fanger, Gebr Brun's director for special foundation works. "As our biggest crane, the SCX800A-3 gives us more flexibility than the rest of the fleet due to the greater distance between the machine and the sheet piles and the stronger load chart.
"It is easy to operate and is perfect for our needs as we wish to use more than one operator. The small radius is advantageous and also adds to the user-friendliness of the machine. For us, the smaller and stronger, the better.
"The vibration involved in this job makes it a tough one, especially on the electronics. However, with the durability of the new Hitachi Sumitomo, we are counting on a long lifespan. The size of the machine also offers ease of assembly and transportation, and the counterweight can be adapted to any journey."