Bruns acquired by BKL
By Alex Dahm04 February 2019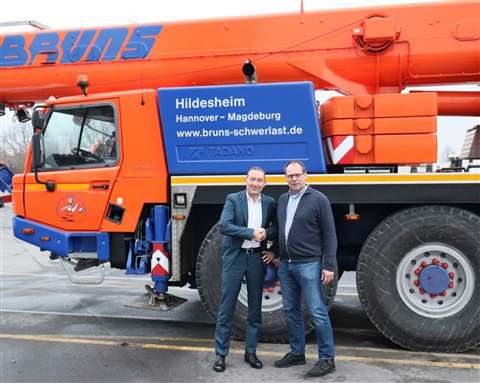 BKL Baukran Logistik in Germany has added mobile crane and heavy haulage capability with its acquisition of Bruns Spezial Logistik.
Tower crane specialist BKL has broadened its capability, expanded in the north of the country and now has a fleet of more than 600 cranes.
Munich-based BKL acquired Bruns based in Giesen, near Hildesheim, on 1 January 2019. BKL said the acquisition makes it Europe's largest full-service provider of crane solutions.
Alexander Volz, BKL owner and managing partner, said, "2019 is going to be our year. The recent purchase of the Hildesheim location and the upgrade of our rental fleet to 600 machines mark the next milestones in our expansion strategy. We are celebrating BKL's golden jubilee, not just as Germany's top crane brand, but as one of the largest crane rental companies in Europe."
The Bruns acquisition added its entire fleet of ten wheeled mobile cranes from 40 to 350 tonnes capacity. The haulage side is covered by a range of trucks, some with loader cranes, semi-trailers and BF-3 escort vehicles.
The Hildesheim location and its team were changed to BKL North/East and are managed by Jasmin Meyer, as is BKL Hannover. BKL North/East will continue to co-operate with Bruns' Magdeburg location, said BKL. Frank Bruns, Bruns Schwerlast GmbH Magdeburg managing director, explained, "The successful development of Bruns Spezial Logistik GmbH Hildesheim is now being pursued by the BKL group. I look forward with great confidence to the planned collaboration between the two companies in the future."
Founded by Jürgen Volz in 1969, BKL now has around 300 employees at six locations in Germany: Munich, Frankfurt, Hannover, Ingolstadt, Rosenheim and the new site in Hildesheim.
Pictured are; Alex Volz, left, BKL owner and managing partner, and Frank Bruns, Bruns managing director.