Burlington Bristol Bridge gets updated
By Lindsey Anderson17 December 2008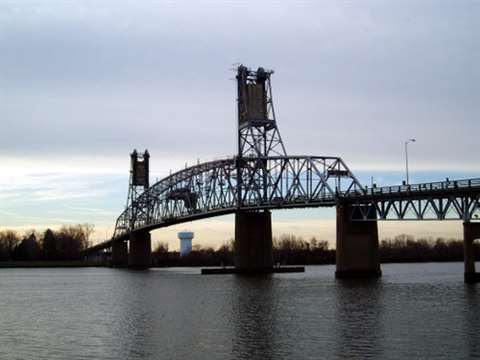 Spider, a division of SafeWorks, recently used its ST-17 Air Spider to renovate a 1931 bridge. The Burlington Bristol Bridge, which spans the Delaware River and conencts Burlington, NJ and Bristol, PA, needed its trolley system's components replaced, as the last such update was when the bridge was built in 1931.
Spider deployed its ST-17 Air Spider, a scaffold system that involved the attachment of a series of needle beams, fall protection and scaffold hand-controlled systems, at the top of the bridge's tower, some 200 feet above the river.
The access system required only one rigging point and crews added flydecks to be able to work the full width of the job without having to reposition the basket.
"Bridge work poses some of the most significant challenges Spider faces in applying standard equipment to access a structure," said John Sotiroff, vice president of Spider's sales and distribution. "To execute a bridge resotration job, we configure hoists and platforms to work spans with numerous obstructions, limited power availability and extreme project conditions. We develop custom adjustable rigging solutions, plan for debris accumulation, perform specialized training for the crew, and manage equipment moves around vehicle and shipping lane traffic - all in typically remote locations with high winds, and under tremendous schedule pressure to re-open the traffic lanes."
Spider equipment cleared rigging in 15 minutes and the project took place on an active lift span.