Business transformation in 2018: operational challenges and IT solutions in the construction equipment market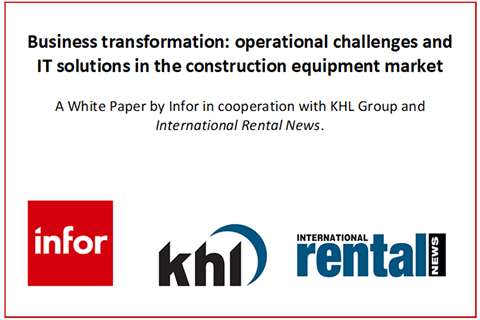 During November 2017 KHL and Infor carried out market research with a wide variety of construction industry-related companies, including manufacturers, dealers/distributors and rental companies.
The survey asked businesses about the main operational challenges they were facing; their approach to investment in information technology (IT); and their views on emerging IT solutions, including equipment tracking systems, the Internet of Things and augmented reality.
Based on the more than 105 responses, it has been possible to identify concerns and priorities across the industry on IT challenges and opportunities. The survey also highlights the differences in views across business types and business sizes, and between managers at different levels of organisations.
A few key points:
Less than half of all respondents have a comprehensive IT or digital strategy, and in the case of rental companies less than 40% do;
Around 30% of businesses have no IT strategy at all, or only invest when absolutely necessary;
The most popular goals for IT investment are to increase operational efficiency and enhance customer experience and engagement;
Many companies are using CRM (Customer Relationship Management) systems or internally created spreadsheets to manage service operations;
Around a quarter of companies are still using paper and clipboards to manage service operations
Supporting documents
Click links below to download and view individual files.