C&D waste recycling: Cycle of development
Allu
The Allu series of attachments is being used to transform construction waste from demolition projects into valuable materials. Allu Transformers, along with the recently launched Allu Crusher, have enabled asphalt, concrete, soil, bricks and other materials, to be turned into products for reuse and resale.
Allu Transformer screener crushers offer solutions for separating, sorting, screening and loading for several different types of demolition materials. The base Transformer comprises of an excavator, loader or tractor mounted processing bucket which screens, pulverises, blends, mixes, separates and even crushes, feeds and loads materials.
According to Allu, what makes the Transformers the ideal solution for processing demolition materials is that they are fitted to compact and versatile loaders meaning that they can access hard to reach sites. This enables on-site processing, with the materials, such as concrete and bricks, often being reused directly where they are most needed.
One of the most effective combinations for processing demolition waste has been by using DN 3-17 TS 25 and DSH 4-23TS 25 Allu Transformers. This configuration is described as being tough enough to deal with even the most demanding of materials, reducing and sorting it into products.
This results in cost savings as there is less material for the landfill, as well as more material for reuse, often providing contractors with a vital income stream through enabling the material to be sold after processing. Allu believes the environmental benefits are also impressive, as the weight of the end-product is reduced by upwards of 50%, meaning that transport is reduced, and with it any harmful emissions.
The latest development from Allu aimed at the demolition and recycling market is its new Crusher series of initially three crusher models for excavators in the 10 to 33 t range.
Features of the series include reversible crushing; feed plate design built into the jaw; and simple mechanical pin adjustment for output size regulation.
Doosan
Doosan has launched the new DX250WMH-5 25 t Stage IV compliant material handler for use in the solid waste, recycling and demolition industries.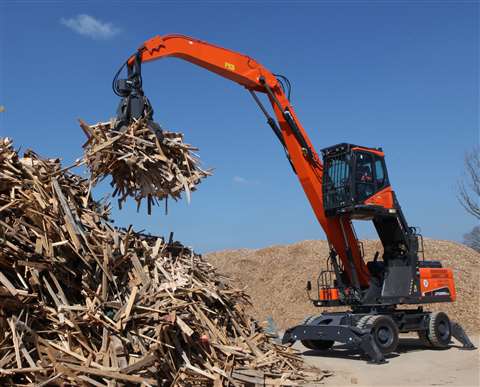 Based on Doosan's DX210W-5 21 t wheeled excavator, the product has been designed for a range of material sorting and handling applications such as those in the scrap metal and other solid waste and recycling industries.
Designed to carry out the toughest tasks, it is built with front and rear stabilisers, and a boom and arm specifically designed for material handling tasks.
A standard feature is the hydraulic cab riser, which gives the operator better all-around visibility of the attachment and work area. According to Doosan, when combined with the rear view camera display in the cab, the operator has excellent visibility of the job site.
The DX250WMH-5 is powered by the six-cylinder, turbocharged Doosan DL06PA water-cooled diesel engine, providing an output of 129.4 kW (173.5 hp). The DL06PA engine is said to offer convenience and lower costs by meeting Stage IV emission regulations without the need for a diesel particulate filter, by using cooled exhaust gas recirculation and selective catalyst reduction after-treatment technologies.
A special Doosan-developed system, Smart Power Control (SPC), improves machine efficiency while maintaining productivity through variable speed control and pump torque control, automatically adjusting revolutions according to the load handled.
The SPC can be used with all four work modes available on the Doosan DX250WMH-5 material handler, which help the operator to manage the balance of fuel consumption and machine power to the working conditions.
In addition to the four power modes, the machine includes a lifting work mode, which provides increased pump torque, low engine revolutions and an automatic power boost.
DoosanConnect telematics is standard on the Doosan DX250WMH-5 material handler and comes with a three-year subscription.
Dragon Equipment
Last year the United Kingdom passed a law to bring all greenhouse gas emissions to net zero by 2050. Coupled with the knowledge that 65% of the UK's waste is generated in the construction, demolition and excavation sector, reinforces the need as an industry to embrace new technology and ways of working to drastically reduce waste and emissions.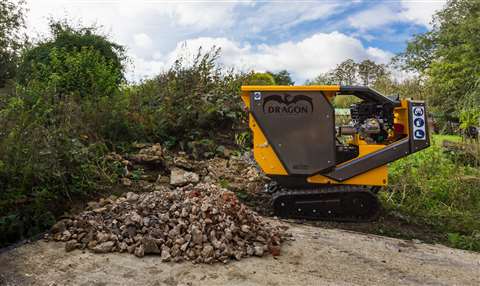 As an engineering company, Dragon Equipment said it is devoted, through innovation, to designing and building products to revolutionise the recycling, movement and use of materials.
According to Dragon, its CR300 Concrete Crusher can crush up to 6 t of concrete an hour. In addition, with three output settings, the crushed concrete is perfect to reuse on site as hardcore. As well as reducing waste, recycling the crushed concrete reduces vehicle movement in collection and delivery.
Dragon's machine weighs under 750 kg (1,650 lb), has multiple tie-down points and a single lifting point, so is easy and safe to transport in a trailer or van. Plus, at 700 mm (27 in) wide, and on robust all-terrain tracks, it can access difficult sites.
The CR300 Crusher is powered by the powerful new Vanguard 400 petrol engine which meets stringent European Stage 5 and EPA Phase 3 emissions regulations, it has a built-in dust suppression system so air pollution is minimised, and an average decibel level of 98 addresses noise pollution.
Hitachi
TIB Recycla has selected a Hitachi ZW310-6 wheeled loader for its recycling centre in Switzerland. The machine was supplied to TIB with a five-year/6,000-hour extended warranty and service contract by the country's official Hitachi dealer Probst Maveg.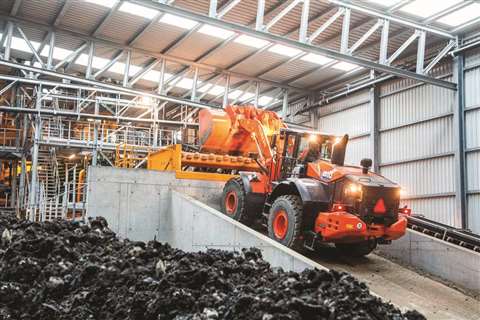 The plant – located in Lugano district – was completed in 2017. The ZW310-6 is being used on site to drive up a steep ramp and feed the machine with freshly delivered materials.
Its other main task is to load delivery trucks with finished aggregates for onward transportation by road or rail.
TIB was established in 2014 as a partnership between three companies: Toggenburger, Implenia and Bizzozero.
The purpose of TIB's new facilities is to provide the construction industry with the opportunity to dispose of excavated and demolished materials and to acquire the recycled aggregates for reuse in building and other projects across Switzerland.
The medium wheel loader was delivered along with three Hitachi medium excavators – a ZX240-5, ZX135US-6 and ZX300-6.
"The ZW310-6 is working for around 15 hours per day, so it has to be reliable," said TIB director Roberto Bizzozero, who has owned Hitachi machines for the past 15 years.
Komatsu
By spending time at customer sites and collaborating on new solutions, Komatsu has developed 15 machines with waste packages to meet the application requirements of the waste and recycling market.
Komatsu's stand at the recent Conexpo exhibition in the USA featured the company's latest development for the waste and recycling market – the WA480-8 wheeled loader with waste guarding package. The machine includes custom guarding, joystick steering for easy manoeuvrability, and steering wheel placement that improves visibility.
Komatsu said a key component in its growth in the waste and recycling industry has been its partnership with its distributors, who have effectively and efficiently supported customers with service and parts. The company believes this approach to meeting the needs of the waste and recycling market exemplifies its commitment to creating connections between its customers and distributors.
The company's share in the waste and recycling market has nearly tripled since 2016, when the company began its dedicated focus and development for this market.
Article first published in the April-May 2020 issue of Demolition & Recycling International