Cambodia takes on Potain
By Laura Hatton30 July 2015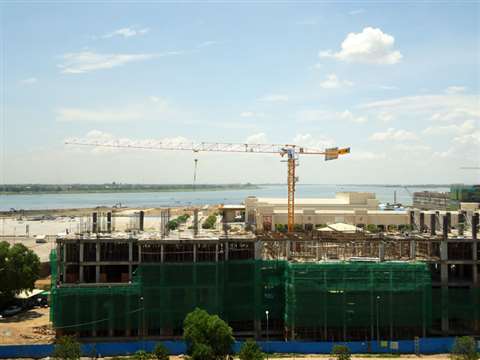 Daun Penh Construction Group has put a Potain MCT 85 topless tower crane to work on a government building in Phnom Penh, Cambodia.
The MCT 85 is the first unit of this model to arrive in Cambodia and was brought from local Manitowoc partner APE Trading and Construction. It has a capacity of 5 tonnes, or 1.1 tonne at the end of the 52 m jib. It is designed for internal climbing and can be mounted on 1.2 m mast sections, allowing it to be initially configured at a free-standing height of 33.2 m.
Daun Penh's MCT 85 is being used to construct a new building for the Ministry of the Environment. Jobs include lifting 1 tonne loads. It has been mounted externally and was initially configured at a height of 34.5 m, a spokesperson said.
Chuon Vichet Seila, Daun Penh Construction Group director, said, "Because this is a government job we wanted a new crane that we could rely on to manage the material-handling work so Potain was a perfect choice.
"This is the first Potain crane we have purchased and it has performed very well. And, if we have any issues related to the crane, we know we'll get great support from APE Trading and Construction. It's been a good experience using Potain and we'll definitely consider the brand for any future projects."
The MCT 85 was introduced in 2014 and is built at Manitowoc's factories at Zhangjiagang in China and Pune, India.