Can China keep growing its share of the global construction market?
By Neil Gerrard22 March 2023
New analysis of International Construction's Top 200 construction companies illustrates just how rapidly Chinese construction companies have grown their share of the global construction market.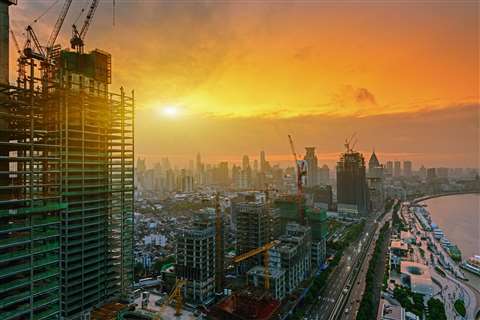 In the past decade, the Chinese construction companies have almost doubled their share of all the revenue generated by the Top 200. Whereas in 2012, Chinese firms accounted for 23.2% of total revenue, by 2022 it was 44%.
As the most recent Top 200 shows, all of the five biggest companies on the list now come from China. Sales for Chinese firms in the list hit US$866 billion last year, up from $697 billion the year before.
Meanwhile, other countries have seen their shares of the revenue in the Top 200 either decline or stay flat.
Japan's share slipped from 14.2% a decade ago to 9.4% in the 2022 list. Spain also saw a drop from 7.3% in 2012 to 3.9% in the most recent figures. Germany dropped from 3.5% to 2.2% and the Netherlands from 2.5% to 1.6%.
Meanwhile, the US's 12.5% share in the 2022 list was more or less in line with the 12.1% it held in 2012, and it was a similar story for UK companies at 4.2% in 2022, compared to 4.5% in 2012.
China's slowdown temporary?
More recently, China has faced a slowdown. The end of 2022 saw a gradual decline in confidence among construction buyers, with the Purchasing Managers Index (PMI) dropping to a score of 54.4 in December from 58.2 in October 2022. The PMI index tracks confidence levels among purchasing managers with a higher score indicating greater confidence in future work levels. A score below 50 indicates that buyers expect the market to contract.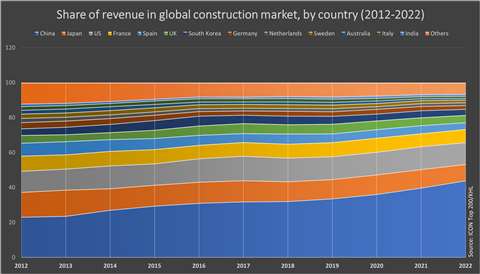 China has also seen a slump in its housing market, as the country's leaders tightened up rules on borrowing to build. But the market is now expected to revive, as China eases rules on borrowing again in the hope of arresting a decline in property sales.
Meanwhile, the country has removed its strict covid-19 controls. Ratings agency Fitch said that while the construction sector in China continues to face risks, it believes the moderation in construction activity is "only temporary". As a covid-19 outbreak unleashed by an end to lockdowns subsides, Fitch said the conditions for business activities would improve. As well as less strict international travel restrictions, Fitch said it expected better labour mobility, improved logistics of raw materials and reduced costs associated with covid containment measures.
Charles Zheng, a director in Fitch's Hong Kong office said that businesses like Shanghai Construction Group Co, hard hit by the zero-Covid policy was likely to enjoy a better 2023.
He warned that risks in the market included a sustained downturn in property, extended delays in payments to construction companies from cash-strapped property developers and a "possible moderation in infrastructure investment".
But he added, "We believe that leading construction issuers, such as China Railway Group Limited and China Communications Construction Company Limited, are better positioned to benefit from the removal of the zero-Covid policy and to cope with the sector challenges, given their market leadership, infrastructure exposure, diversification and strong funding access."
A trading update from China State Construction and Engineering Corporation (CSCEC) for January to February 2023 appears to bear out Zheng's point of view.
The company reported a 27% increase in new contracts over the period, driven by a 55% rise in new infrastructure contracts.
Contractors' revenue still growing
Meanwhile, ratings agency Moody's said it expected China's economic growth to accelerate "modestly" to 4% in 2023, from 3% in 2022, with the possibility of better growth if the removal of covid controls releases pent-up demand.
Meanwhile, it predicted that a record high in new construction orders would boost revenues for Chinese construction firms. It said, "Companies' sponsorship of public-private partnerships (PPPs) has helped them win a majority of construction orders alongside their strong technical expertise, solid business positions and strong funding access due to their state-owned backgrounds."
It forecast 10% annual revenue growth for Chinese firms, although margins would tighten related to companies' exposure to the struggling property sector.