Caring for the environment
By Lindsay Gale25 March 2008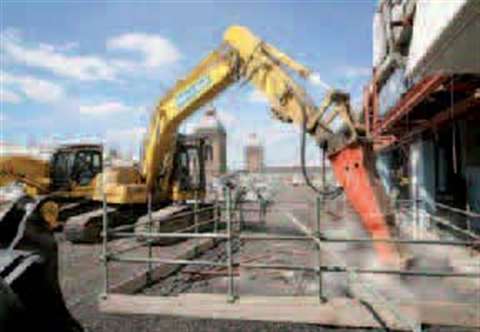 UK demolition contractor John F. Hunt Group, headquartered in West Thurrock, UK, is the first company to receive a new environmental award in recognition of its afforts to minimise any adverse effects while carrying out demolition work. The City of London recently instituted its 'Innovation in Environmental Mamagement Award', and presented J F Hunt with it to recognise the care the company took to ensure that the highest possible environmental standards were maintained throughout the contract while working on the former British Telecomm building, Mondial House, located on Upper Thames St, London.
Noise and carbon emissions were minimised by the purchase of six of Komatsu's latest PC210-8 excavators plus a pair of 3.6 tonne boom mounted Caterpillar MP30 crushers. In addition, a rigourous environmental monitoring regime was established to continuously test for noise, vibration and dust pollution.
The demolition waste management and recycling programme also included the collection and transfer of storm water and Thames seepage into holding tanks, which were then pressurised to enable this water to be used for on-site dust suppression.