Case in backhoe introduction
By Sandy Guthrie23 March 2016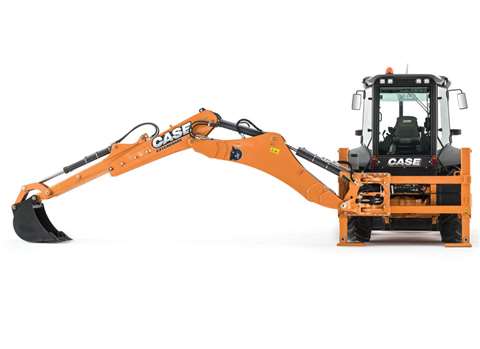 Case Construction Equipment's 580ST backhoe loader will be at Bauma, adding a new in-line cylinder geometry and inner extendahoe for its boom and loader arm to its traditional Case boom with overlapping cylinders and outer extendahoe.
Case said the new in-line geometry feature ensured an even distribution of effort over the entire length of the boom, ensuring high stress resistance. Also, as the frame is narrower than with the previous design, it is said to offer greater visibility of the working area at the back of the machine.
The new in-line boom design improves breakout force to as much as 5,520daN at the bucket and 4,100daN at the dipperstick, as well as offering a maximum reach of 6,647mm from the swing centre.
Case said its customers would choose the new in-line geometry mechanism if their requirement was for stronger breakout forces and better visibility, whereas the Case DNA boom geometry would be preferred in tough working conditions as the sliding part never touches the soil, and components that do are protected against impact.
New models from Case's D series crawler excavator range will be at the show, from the CX130D up to the CX500D.
In the medium range, the CX130D, CX160D and CX180D all feature Case's Stage IV "maintenance-free" technology without a DPF.
Two heavy-duty models will be seen at Bauma – the CX490D and the CX500D, designed for mass excavation work and with an operating weight of over 50 tonnes.
The D series machines have Case's High Performance Hydraulics Control, for improved controllability and smoother operation – which the company said was especially noticeable with the two larger excavators in the series.
Improved cycle times are claimed with the new electronically-controlled hydraulic pumps and larger main valve, which are said to increase productivity and deliver greater lifting power.
All D series models feature Case's energy saving systems, including pump torque control, auto-idle and idle shutdown, as well as spool stroke control, boom economy control and swing relief control.