Case sets up 'specials' unit
By Lindsay Gale17 February 2009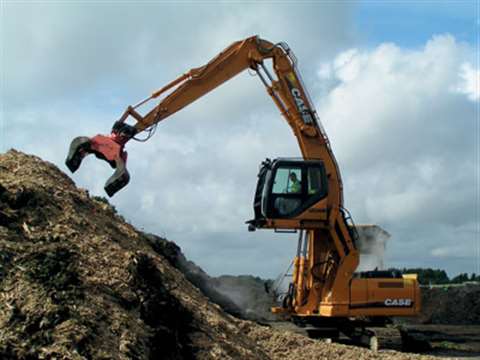 Case Construction Equipment has recently set up a new special business segment, based in Zeebrugge in Belgium, that in future will be responsible for all the company's special attachments for its crawler excavator range. Case Special Excavators (CSX) will produce long reach, mass excavation, demolition high reach and material handling booms and dipper arms for the full CXB excavator range.
CSX's role will cover total machine integration, producing heavier counterweights, widening track frames and strengthening boom mountings so that the resulting machines will be able to withstand the greater forces encountered in these special applications.
Where Case's material handlers are concerned, CSX will also design and construct elevating cab structures, such as that on the new CX240B MH machine pictured, to allow the operator an optimised view of the working environment and load handling activities, along with the necessary modifications to engines and hydraulics to ensure optimised performance of the machine and its tools.
According to the company, three CSX-produced specials will receive their formal introduction at the forthcoming Intermat exhibition, although it would not supply details. A fourth special will also be added to Case's model line-up later on this year, and the company hinted that there might well be further developments to come this year from its CSX operation.