Cat's new loaders have compact punch
By Mike Hayes08 October 2019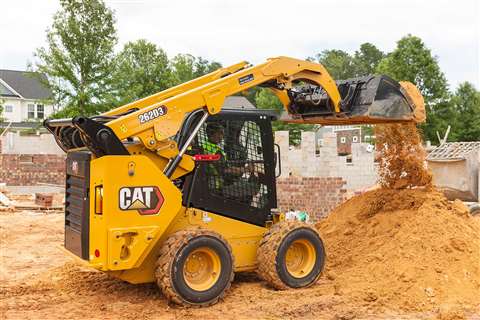 Caterpillar has announced the launch of its D3 Series skid steer loader and compact tracked loader models, promising enhanced operator comfort and improved stability.
According to the company, the new machines also support a line of new Smart Attachments – technology that recognises certain attachments and adjusts the controls and operator information to match the tool and the task.
The cab doors on the new machines have been widened and the distance between joystick pods increased by 76mm, giving operators more space inside the cab.
Stability improvements on the D3s, say Cat, include adjustments to the undercarriage frame and torsion axles, which reduce machine pitching and rocking, allowing them to handle heavy loads, grade or load trucks.
The loaders are geared for high torque digging performance and for high top-end speed, with the Cat 279D3 and 289D3 loaders boasting a 13.6kph maximum ground speed – a 20% increase on predecessor models.
The Cat 239D3 and 249D3 models also have 2-speed transmission as standard, as opposed to the previous single speed, increasing travel speed by 9% and aligning these models with the rest of the two-speed equipped CTL model range.
Advanced control features on the loaders include Return-to-Dig and Work Tool Positioner technology, to assist operators with repetitive tasks like grading, digging, and loading.
Along with the dual direction self-level feature, these functions, says Cat, will allow operators to completed tasks with reduced demand for user interaction and expertise.