Caterpillar introduces new range topping tracked excavator
By Lindsay Gale11 January 2011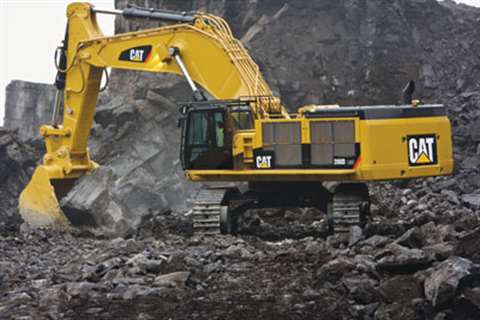 The 390 D L is Caterpillar's latest tracked excavator, weighing in at 88,180 kg (193,996 lb) and designed to provide greater hydraulic power, stronger structural components, added safety and convenience features, and improved serviceability over that offered by the 385 C L that it replaces. The new machine conforms to the latest engine emission legislation, with its 523 hp (390 kW) Cat C18 engine compliant to EU Stage IIIA and EPA Tier 3 regulations.
According to Cat, the machine's hydraulic system design features a main relief pressure of 35,000 kPa, which is 10% up on that on the 385C, resulting in increased digging (+9%) and lifting (+14%) forces. This is enhanced by the use of a heavier counterweight. Also new to the hydraulic system are electrically controlled regeneration valves that ensure rapid positive response from the boom and digging arm cylinders and at the same time improve overall hydraulic efficiency.
To accommodate the greater forces, thicker reinforcing plates are used at critical locations on the carbody (the structure that mounts the machine upper to the track assemblies). In addition, thicker plates are used at the boom foot mounting in the upper frame as well as thicker reinforcing plates in the rails and bottom pan to accommodate the heavier counterweight.