Caterpillar introduces new telehandler at World of Concrete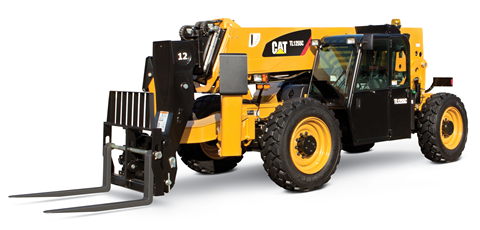 Caterpillar unveiled its newest telehandler, the TL1255C, at World of Concrete 2012. The machine is the largest in the company's C Series range, featuring a maximum lift capacity of 12,000 pounds and a maximum lift height of 54.3 feet.
Scott Cooper, Caterpillar's telehandler marketing manager, told Access, Lift & Handlers the TL1255C is geared for use in general construction and industrial work.
The TL1255C features a high-strength boom and large box sections that are designed to handle side tilt and swing carriages. The unit's high-mounted boom pivot and side-mounted power module were designed to improve all-around visibility.
Cooper said commercial markets are gaining strength across North America and that telehandler utlization is sitting between 70-74 percent. Caterpillar is seeing strong demand in the 10,000 and 12,000-pound telehandler categories which has ramped up production for the company.
"We're seeing life with the bigger machines," he said. "Rental rates are going back up, too."
Cooper said the company is almost at full telehandler production due to demand for the machines that are working in mines, roading, pipe building and commerical sectors.
The TL1255C's Cat C4.4 ACERTTM engine meets 4 Interim/Stage IIIB emissions regulations, developing 142 hp. It is specially designed for telehandler applications and can accommodate B20 biofuel. These diesel engines are built with Cat components. According to Cooper, the engine features a 10,000-hour lifespan and overall costs for the engine alone (not the entire telehandler unit) are about 1/3 more than older engine models due to Tier 4i requirements.
The TL1255C features the new Cat power shift transmission, which has 4 forward and 3 reverse gears. The transmission has clutch modulation fitted as standard, resulting in "smooth gear change and increased operator comfort," the company said.
Caterpillar also changed the look of the telehandler, swapping out a yellow cab for a black cab and black boom sections instead of its trademark yellow.
"This gives us a global look," Cooper said regarding the change.
The unit also has a brand new hood design that is shorter and dropped down, making maintenance easier and improving visibility. "The cab is comfortable and stylish with a Cat full-suspension seat and improved job-site visibility," the comapny said. "A pilot-operated, single lever joystick combines boom crowd and lift functions with an adjustable, two-position button for work tool tilt."
A range of Cat work tools is also available.
Service points are readily accessible and major components are at ground level. Service access points are located under the engine cover, and routine daily maintenance is now reduced to checking fluid levels and a walk-around inspection.
Lastly, Cooper said Caterpillar is looking to bring more European modeled telehandlers over to North America in the future because of the strong response the TH514 had and that the company's compact telehandlers will be full redesigned this summer to meet more agriculture demands.