Caterpillar releases new hydraulic excavators
By Catrin Jones10 December 2021
Caterpillar has launched the new 320 GX and 323 GX excavators in Asia, South America, Africa and the Middle East.
The OEM says that the new excavators feature "classic Cat D Series quality" coupled with modern upgrades, such as a high-performance hydraulic system and modern controls.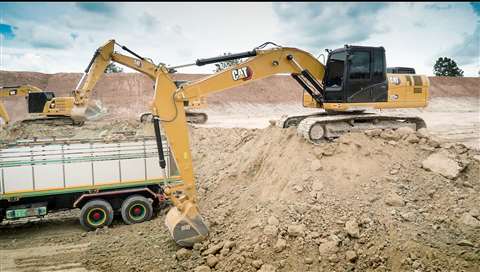 They are designed to meet a range of customer needs, from maximum productivity, low cost-per-ton operation,  lower fuel consumption and reduced maintenance costs.
The 320 GX and 323 GX are reported to be up to 15% more fuel efficient than the 320D2 GC and 320D2 L in similar applications. 
The new excavators feature grease sealed between track pins and bushings to deliver reliable undercarriage operation.
Multiple bucket designs and capacities are available to meet contractors' specific application need. Customers in certain regions can equip the buckets with optional Advansys tips that retain sharpness longer and can be quickly changed using a lug wrench.
Standard Product Link telematics improves efficiency by automatically and accurately collecting machine information, including location, hours, fuel usage, idle time, maintenance alerts, diagnostic codes, and machine health – all viewable online through web and mobile applications.