CE Barometer February 2008: Mini rebound
By Chris Sleight14 May 2008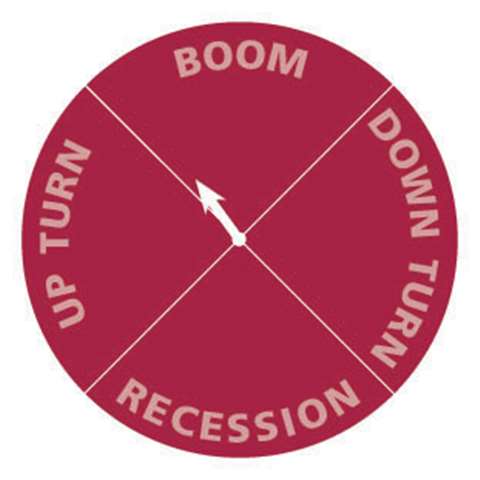 Sentiment on the European constructions sector bounced-back a little in February from the previous month. Although the outlook is still positive, growth is clearly slowing. Chris Sleight reports.
Construction activity picked up month-on-month in February, reflecting the normal seasonal slowdown in January. On balance, +3,8% of the respondents to last month's CE Barometer survey said activity picked up in February. The balance figure is the percentage of respondents giving positive responses, minus the number giving negative answers.
But although current activity levels improved in February, sentiment about the future weakened. A balance of +23,3% of respondents said they thought activity levels would be higher in a year's time compared to the current situation. Although this figure was firmly in positive territory, it was the lowest it has been since the Barometer was launched in December 2006.
As far as our 'clock' is concerned, this meant the arrow swung back into the 'Boom' segment, because both sentiment and future expectations point to rising activity. However, the strength of that sentiment, represented by the length of the arrow is quite weak.
In fact, like the future outlook, general sentiment about the industry was the weakest in the Barometer's history. A measure of this is the 'CE Climate', which is a balance figure for all the various positive and negative questionnaire responses. February's data put this at +15,7%. Again, it was a positive result, but at the same time it was a long way short of the high of +53% seen last April.
As with January's results, February's data indicated that the industry might have a tendency to be over-optimistic about its prospects. In February 2007 a balance of +57,9% of respondents said activity would be higher in 12 months' time. However, when responding to last month's survey, a balance of only +20,1% said they were busier than a year ago.
Clearly there was a big disparity between what people expected and the activity levels that came to pass in 2008. If this is still the case today the industry may be facing a downturn rather than a boom.
Take part

CE would like to thank all those that took part in the November survey. It was completed by more than 300 construction professionals in 28 countries around the region.

The survey, which takes just a one minute to complete - is open to all construction professionals working in Europe. Those that take part in the survey will be given access to each month's results on the Internet prior to their publication in CE.

The CE Barometer survey is open from the 1st to the 15th of each month on our website. Full information can be found at www.cebarometer.eu .