CES launches 150 tonne reachstacker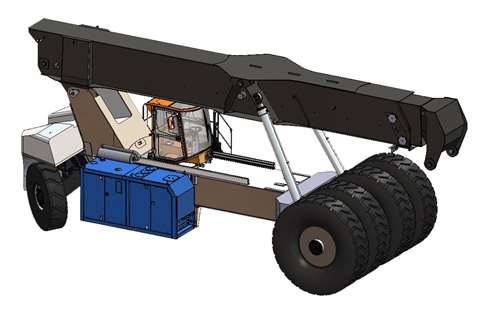 Italian manufacturer CES is launching a 150 tonne capacity reachstacker that it describes as an alternative to crawler cranes and self propelled modular transporter.
While lifting, moving and placing standard ISO shipping containers is a typical task for these machines, they are also suitable for lifting and they have a full pick and carry capability, the manufacturer said. Application examples given include handling wind turbine components and pre-assembling wind turbines. A 7 metre diametersteel tube or wind turbine tower section weighing 102 tonnes can be lifted and carried.
The VRS-K 150 T is in the heavy duty series which includes the 125 tonne VRS J 125 T and the 250 tonne capacity VRS L 250 T. Capacities for the three models are as follows: 125 tonnes at a 1,850 mm load centre, 150 tonnes at a 1,850 mm and 250 tonnes at 1,850 mm. A fixed chassis is standard but an extendable one can be specified. The extendable one can be altered hydraulically for length and set in five positions. Wheelbase on the VRS J is from 7 to 9 metres while on the larger two models it is 9 to 12 m. Capacity is altered because the extension and retraction changes the counterweight radius.
Helping with the high capacity and manoeuvrability are the 27.00-49 and 24.00-35 tyres. The VRS J and K models have four front tyres aand the VRS L has six. Independent suspension is used to help provide good traction and to even out ground pressure.
Drive can be to two or four wheels and is an hydrostatic Dana-Rexroth system for efficiency and quiet operation. It also allows design flexibility in that the layout is not governed by mechanical driveshafts and axles. The hydraulics are mounted in a pod on the side of the machine. This contains the engine (Cummins or Volvo), the cooling system, hydraulic pumps and oil tank. Maintenance and repair is designed to be easier due to good access to components. Just one hour is needed to change and engine, the manufacturer said.
Counterweight blocks can be added from 7 to 25 tonnes and the machine's modular design generally allows upgrades to be made at a later stage to meet changing requirements.