CES Power enters Europe with acquisition
US events power rental company CES Power has entered the European events market with the acquisition of Euro Touring Power (ETP), an Ireland-based provider of power and air conditioning equipment for touring productions throughout Europe. The purchase price was not disclosed.
Located in Dublin, ETP rents transformers, cables, distribution boxes, and stage air conditioning to large shows, events, sports, and corporate productions throughout Europe. ETP's managing director Vincent Campion and the management team will remain with the company.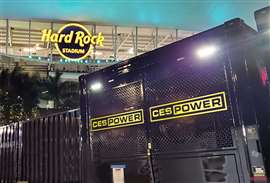 This acquisition gives CES Power its first base outside of North America, with a new hub in Ireland giving access to all of Europe.
At the same time CES has created a new division, CES Global, which will spearhead the company's plan to become a global supplier of mobile power, distribution and temperature control services, starting with Europe.
Just one month ago, CES, which is majority owned by private equity firm Allied Industrial Partners, announced the acquisition of events rental business Infinite Power in the US, its seventh deal since being acquired by Allied in June 2021.
Greg Landa, CEO of CES, said, "Expanding overseas has always been part of our business plan, and we are excited to gain a strong foothold in Europe with the addition of ETP, an experienced partner with a reputation for quality equipment and superior service.
"We expect to work closely with Vincent and his team to build our customer base and add exciting new products as we grow the CES brand in Europe."
ETP's Vincent Campion said the business was delighted to join CES; "We look forward to leveraging CES Power's deep resources and expertise in the US to support our continued growth."
Landa added that the launch of CES Global was a natural evolution of the business; "By integrating our expertise with the capabilities of our new European hub, we're poised to deliver unparalleled service to our customers wherever they are in the world.
"This is an exciting new chapter for CES Power, and it underlines our dedication to being a global leader in mobile power solutions."
The co-founders and managing partners of Allied, Bradford Rossi and Philip Wright, said the ETP deal represented "an exciting leap forward in CES Power's strategic expansion plan."