CEZ Group buys first Liebherrs
By Christian Shelton24 July 2018
Romanian utility company, CEZ Group – a conglomerate of 96 companies, with its core interests in the power industry – has purchased two Liebherr cranes: an LR 1600/2 crawler and an LTM 1130-5.1 mobile crane. Lieherr says that these are the first cranes CEZ has ever bought from it.
The new machines will be used for maintenance and repair work on a wind farm run by CEZ at Dobrogea, Constanta. According to Liebherr, CEZ ordered the LR 1600/2 crawler crane in the SL3F wind farm configuration, with a 108-metre main boom and 12-metre fixed jib, in order to reach the 100 metre high wind turbine towers. The LR 1600/2 will primarily be used for replacing blades, gearboxes, generators and other heavy gondola components, Liebherr said.
The LTM 1130-5.1, with a maximum lifting capacity of 130 tonnes and a 60 metre telescopic boom, will be used as an auxiliary crane for setting up the LR 1600/2 and for hoisting long components, such as wind turbine blades.
Jan Jires, senior manager of the CEZ wind farm, said, "To simplify the maintenance work process, it was important for us to buy cranes which feature the very latest technology. That is why we decided to buy the two Liebherr cranes. We also appreciate the support available from the local Liebherr team. High safety standards in all our processes are enormously important to us. Liebherr has an outstanding reputation in this respect as well."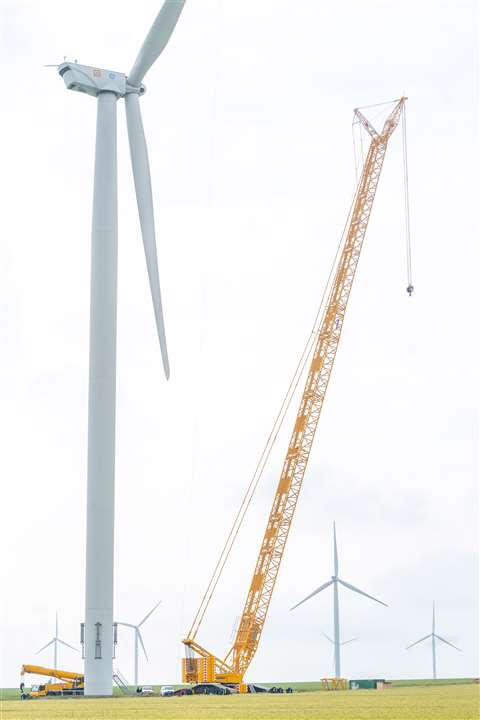 CEZ Group in Romania has bought an LR 1600/2 and an LTM 1130-5.1 for maintenance work on wind turbines