Chinese MEWP market on show at Bauma
Chinese manufacturers were out in force at Bauma and they were making their global ambitions clear.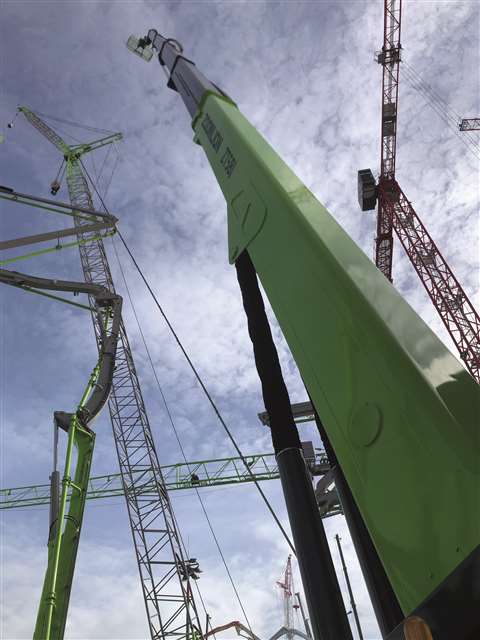 There was no doubt that Chinese manufacturers of scissor and boom lift access equipment are taking their opportunities in Europe, and this was evident at Bauma.
Chinese MEWP manufacturers were out in force at the exhibiton in Munich, with large stands covering complete ranges of MEWPs.
Zoomlion, for example, told AI at the show that its goal is to be the third largest manufacturer of access equipment in the world in the next two years.
As Leon Liao, Zoomlion's sales director for North America, concedes, this is also the goal of a number of Chinese MEWP manufacturers that have entered the access market in recent years.
With the recent signing of a distributor partnership in Finland, Zoomlion now has a sales partner in every country in Europe.
The company's ultimate goal is to capture 30% of the market share of MEWPs in Europe.
Liao says the next 18 months are critical for all Chinese manufacturers, while the established manufacturers in Europe and North America grapple with supply chain issues.
This has caused a serious lack of components and available finished products.
While Zoomlion seeks to capitalise on this, as do other Chinese manufacturers, with their relatively shorter lead times, competition in Europe will be fierce.
Liao said: "With this competition will be serious issues, such as limited margins, longer payment terms and a very competitive labour market.
"This time window is very important. We know that after this time, if we have not introduced good service then our image will crash. It's a survival challenge."
Liao foresees that by the end of 2027 there will only be 3-4 large Chinese manufacturers that survive in the market.
Sinoboom concurs with this ambition and aims to be in the top four access manufacturers globally by 2025..
LGMG launches European facilities
Demonstrating its ambition, LGMG has launched a new 8,000 square metre parts facility in Dordrecht, the Netherlands, with a PDI inspection area and service zone. The facility has the capacity to stock up to 2,000 units.
Most of the products on its stand were new products ranging from slab and RT scissors, to vertical masts, crawler lifts and electric articulating boom lifts.
An example of its latest product lines is the new T-range, with the electric T20 JE being on the stand.
This model is accompanied by 20m, 22mm, 26m and 28m versions.
The axle drive system has four-wheel steer and a full-time oscillating axle system. And there are three steering modes.
There is an AC drive and AC pump motor along with an 80-volt battery lithium battery.
LGMG's vice general manager Yanyu Shi said at the show, "Electric products are very popular in the European market.
"In this exhibition, we focused on displaying a full range of electric products, as energy saving and environmentally friendliness have become a global consensus."
However, Yanyu is not lost on the challenges that remain in the European marker when it comes to the roll out of electric MEWPs. "Due to charging infrastructure limitations, full electrification will still take some time – diesel and hybrid power will exist for a long time in some larger products."
As with competitors from its domestic market, LGMG's ambitions are strong. "In the next three to five years, LGMG will continue to increase its investment in the European market."
It will do this, it says through localising its operations further, attracting talent from across the globe and focusing on cutting edge products.
"Chinese manufacturing no longer means low end manufacturing - a group of outstanding world-class manufacturers have emerged."
Dingli's global development strategy
Dingli is making an active move to promote its products under its own brand name, although the existing arrangement with Italy-based Magni will continue with an effort to increase that distribution network.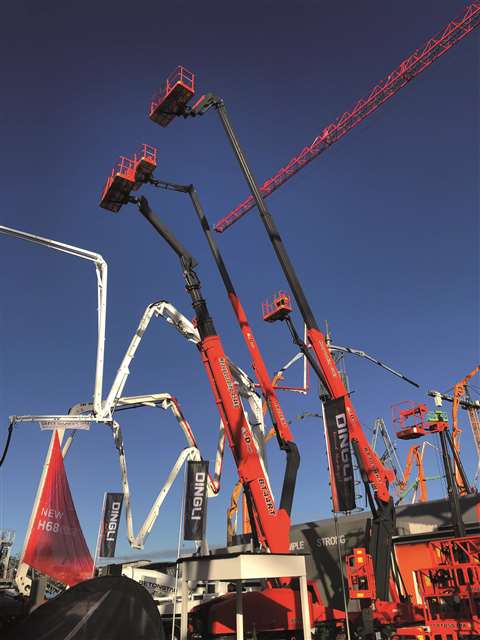 The strategy is now to further develop the service and administration department across Europe.
Indeed, the manufacturer now has 10 divisions around the world, including South America.
In the US, Dingli plans to keep its arrangement with MEC, similar to the Magni partnership in Europe, completely unchanged.
Dingli Europe was launched last year, and complements the pre-existing Dingli UK.
The company had a large range of products on its Bauma stand, which have all been widely reported by AI in recent months.
It included the large boom range, for example the 44m telescopic boom that can fit in a standard container.
The hybrid Range Extender series was there too, incorporating a lithium powered motor, with a combustion diesel-fuelled recharger to back it up.
Plus, there was low level access and the new Oil Free series.
Currently the series of scissors and booms cover 13ft to 19ft and that will rise to include 20ft – 26ft versions, which are now at production stage, while the future will see oil free machines from 32m to 45m.
LiuGong continues European expansion
LiuGong was on show, based on a stand shared by three of its distributors for Germany – Eder in Bavaria, IBB in the Frankfurt area and Hoffmann, based in Stuttgart.
The three, which between them cover the whole of Germany joined together for the show.
The company is just starting its push into Europe and by the end of the year plans to have around 80 units in the continent.
As with other Chinese manufacturers, the company is promoting a relatively short lead time of five months for its 15 models of scissors that will be available in Europe.
Those being 4m, 5m and 6m narrow models and 6m, 8m 10m and 14m standard scissors, all of which are electric drive.
The scissors' component bays are attached as separate units, rather than being integrated. This allows for easier maintenance.