Winner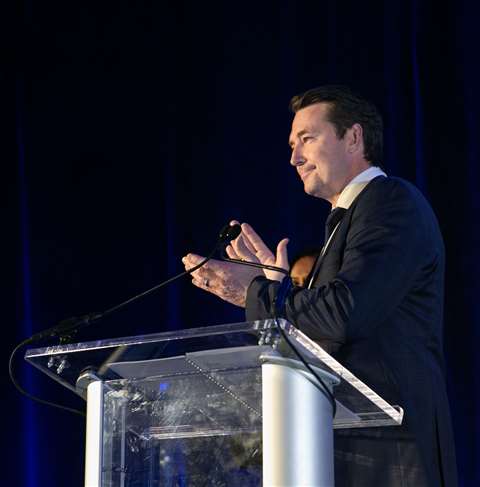 Erith Contractors
Country
United Kingdom
Project
22 Hanover Square
Also shortlisted
Budget Demolition (Canada)
Delsan-AIM (Canada)
Despe (Italy)
Priestly Demolition (Canada)
Summary
This was an exceptional category with some outstanding entries. Indeed, the Delsan-AIM entry, for the Turcot Interchange Reconstruction in Montreal, Quebec, involved demolishing 15 structures including about 6 km (3.7 miles) of overpasses and a railway tunnel, had already been the subject of a popular presentation during the conference earlier in the day.
However, it was Erith Contractors who received the judges' ultimate backing, leading to a second visit to the stage for Grant Styles and Stuart Accleton.
Representing Erith's largest and most challenging substructure package to date, the 22 Hanover Square project saw it demolish a six-storey 1920s office block in Mayfair and create a four-storey basement.
The project has paved the way for the creation of a 19,000 sq m (205,000 sq ft) mixed-use scheme comprising 41 apartments and a 51‑bedroom five‑star hotel, along with a restaurant and a luxury spa.
Phase One of the project required demolition of the six-storey property and single-storey basement, with key aspects including soft-strip, asbestos removal, demolition, temporary works and basement works.
Phase Two focused on the substructure and basement works. This required excavation to a depth of 54 m (16.7 m), underpinning, piling (including sheet, secant, bearing and plunge), installation of temporary steel propping and casting of basement slabs.
As this project received the highest percentage of available ranking points in any category, Erith also received the overall "best of the best" World Demolition Award at the end of the evening. No surprise then that the judges called it "world class" and "a highly technical project made to look easy by the enabling specialists".