Clean drive technology from Atlas Copco
By Andy Brown11 April 2019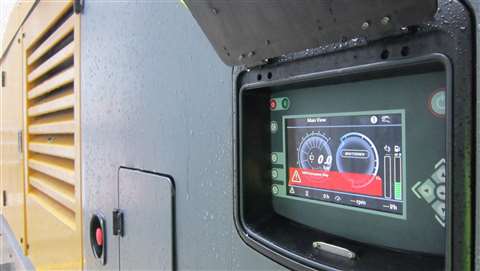 Atlas Copco has unveiled new sustainable portable air, power and flow equipment that provides enhanced clean drive technology, connectivity and versatility at Bauma Munich.
The company has also provided guidance about Stage V engine regulations and how its equipment offers a smooth transition towards compliance and beyond.
The new range of clean drive technology equipment includes the E-air electric-powered portable compressors and the near-silent battery-powered HiLight Z3+ light tower.
These new clean drive technologies offer an alternative for diesel driven units in metropolitan construction areas and public events. In addition, maintenance is optimised and noise levels are decreased. The most important innovation of the E-Air compressors and Z3+ light tower is that they emit no emissions.
In areas where it is not possible to use electric or battery-powered technologies customers can use Atlas Copco's integration of advanced fixed-speed and variable speed driven motors within its Stage V compliant diesel-powered construction equipment. New innovations exhibited in this area include the latest models from the QAS5 generator range, as well as the new QAS VSG generator with variable speed technology.
The QAS VSG (Variable Speed Generator) is said to provide operational savings, performance and reliability. The low-load performance of the QAS 35 VSG, which features automatic variable speed control from 800 to 2550 rpm and a built-in Power Management System (PMS), enables fuel consumption levels to be reduced by up to 40% against comparable models.
The latest QAS 5 models offer quieter operation, a 20% smaller footprint than comparable models on the market, reduced engine emissions, faster plug-and-play paralleling, enhanced fuel economy, 24 hour autonomy and lower total cost of ownership.