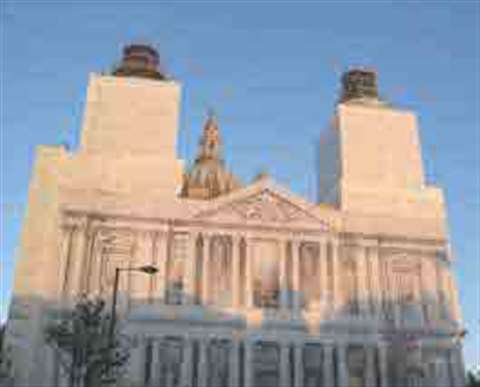 Dominating the inner city skyline of the UK's capital, London, St Paul's Cathedral has long been synonymous with the city itself. For the past three years, it has been undergoing a renovation and cleaning programme to return its Portland stone, windows and other features to their original appearance when completed by architect Sir Christopher Wren in 1710.
Main Contactor Wates Construction subcontracted the scaffolding work to Stanford Scaffolding, who erected a complex 20000 m2 tube and fitting scaffold to provide access to the cathedral's west faade.
To stay on schedule, work had to be continuous. Stanford therefore enclosed the structure to provide weather protection for the workers on the job. Icopal's Monaflex Firesmart Super T Plus was selected as a result of its fire resistant properties (the previous cathedral having been destroyed in the Great Fire of London, no one wanted to risk another disaster) and its high tensile strength. Because of its position, the scaffold structure was subject to high wind loadings and careful calculations were carried out to ensure that the anchor points were sufficient to support the scaffold and withstand these loads.
The Monaflex sheeting also had to be able to deal with these forces. Icopal's Monaflex is claimed to be one of the strongest on the market, with a tensile strength of 17 kN/m2but this means that a method must be provided to prevent the sheeting acting like a sail and pulling the scaffold structure over. Icopal's Monaflex has an anchor and strap system with rubber eyelets at 500 mm centres along the edge of the sheeting to lock adjacent sheets together. These eyelets release In the event of high winds, allowing the sheeting to detach and thus relieve the pressure on the scaffold.