Cleaning up waste
By Lindsay Gale01 May 2008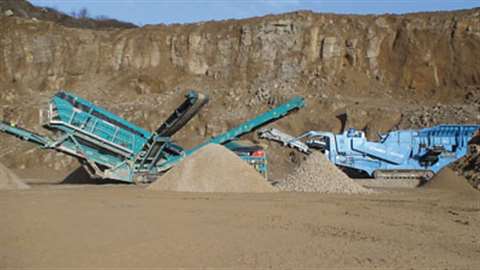 Terex Powerscreen tracked screening units, both capable of screening C&D waste materials as well as virgin aggregates, have been acquired by up and coming UK demolition contractor East Midlands Demolition, based in Little Eaton near the city of Derby. Established six years ago, the company has completed a number of prestigious contracts over these years, and with future prospects strong, felt the need to expand its recycling activities.
The two Powerscreen units, a Warrior 1400 and a Chieftain 2100 triple deck will be used in conjunction with two Terex Pegson mobile crushers, a 1412 Trakpactor impact crusher and a XR400 jaw crusher (also recently acquired).
EMD produces some 200,000 tonnes of C&D waste every year from its contracts and has seen a substantial increase in the amount of this waste that is turned into clean, quality recycled aggregates by it existing crushing and screening plants. The company is also producing greater volumes of scrap metals, timber for pulping, fines and topsoil more efficiently and economically. This has resulted in reduced costs for transport and landfill disposal, as well as environmental benefits.
The Warrier 1400 can screen, three way split and stockpile a wide range of materials across a range of applications up to an including the most difficult and demanding, with a maximum throughput of 400 tonnes per hour. Meanwhile, the Chieftain 2100 triple deck has a maximum throughput of 500 tonnes per hour. Designed for high volume processing of aggregates, coal, crushed stone and demolition debris it can produce up to six end products.