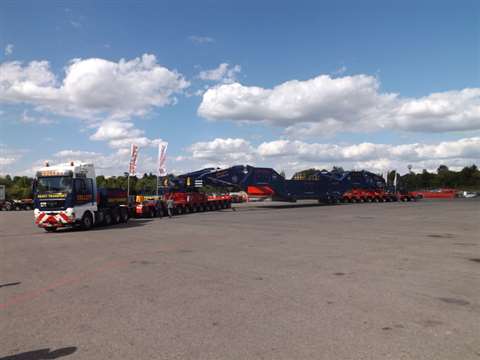 Specialist company Collett Transport from the UK has acquired a new 550 tonne payload STB 550 side girder deck from Scheuerle in Germany.
The hydraulically extendable STB 550 is the latest version in a series designed for flexibility in configuration. "The ratio of payload to tare weight has been optimised and, as a result, the STB 550 is far more variable than similar products on the market," said Bernd Schwengsbier, TII sales managing director, the sales arm of the TII Group, which includes Scheuerle, Nicolas and Kamag.
Collett will use the new girder to transport 350 tonne transformers but has the option to increase to a 550 tonne maximum configuration by adding a second girder set. Generators and transformers with different dimensions and loading procedures can be accommodated. Additional support bogies allow loading without the help of a crane. The deck span range is from 29,200 mm to 34,200 mm long. Loading width can be adjusted continuously from 3,450 mm to 7,400 mm. The vertical lift of the deck in the load area is 1,650 mm.
"The ground breaking design, functionality and capacity of the trailer will be of great importance and interest to the power generation and heavy engineering industries. With this new higher level of carrying capacity, currently unrivalled in Europe, it will open the door for manufacturers of generators, transformers and steel castings to increase the size and weight of their product portfolio," said David Collett, Collett Transport managing director.
It is compatible with the Scheuerle Combi series and self propelled modular transporter (SPMT) in 2, 3 and 4-file versions.