Collett transports wind farm
By Leila Steed31 July 2019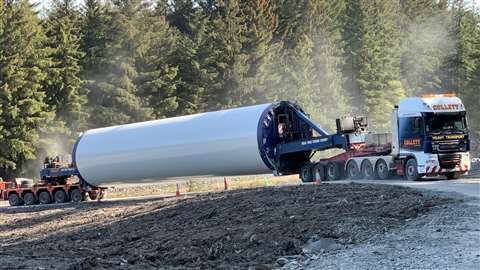 Heavy transport specialist Collett & Sons has completed the final transportation of turbine components to a wind farm in North Wales, UK.
Since the beginning of this year, the company has steadily transported a total of 270 components over a 70 mile (113 km) journey from Ellesmere Port to Clocaenog Forest Wind Farm in North Wales.
It took a total of 121 abnormal convoys and 15 self-escorted convoys to complete the project, which saw Collett haul a total of 12,420 tonnes over 16,929 miles (27,425 km).
The 27 type V105 Vestas turbines are being constructed at the North Wales site of renewable development company Innogy Renewable UK. Clocaenog Forest Wind Farm will have a generating capacity of 96 megawatts and will produce enough renewable energy for the equivalent domestic needs of up to 63,800 average households per year.