Colombia's longest road bridge
By Leila Steed07 August 2019
The new cable-stayed bridge over the Rio Magdalena river in Colombia will, upon completion, be the longest road bridge in the country and one of the largest in Latin America, according to engineering company Peri.
At 2.3km long and 38m wide, the Pumarejo Bridge in the city of Barranquilla has a central span of 380m and is supported by two 80m pylons.
Peri engineers provided a customised formwork and scaffolding solution that, the company said, was designed to enable the simultaneous construction of the pylons, bridge piers and superstructure.
In addition to six lanes of traffic, the bridge will comprise two cycle paths and a pedestrian path along its side. It will also have a larger lane of 4.5m in width, which is said will improve the safety of heavy vehicles in oncoming traffic.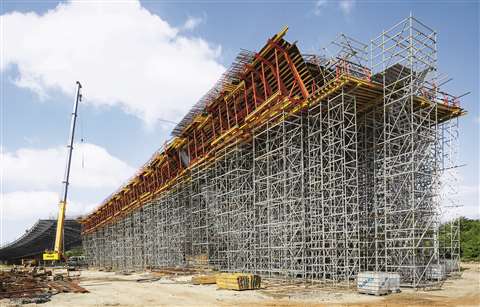 Peri used CB 240 climbing platforms and TRIO Wall Formwork to create crane-climbing units and form the bridge piers and the pylons. Due to the large size of the units, a limited number of crane picks were required for the 5m high concreting cycles.
At 35m high, the new Pumarejo bridge is more than double the height of the older bridge, which measured 16m high.
The increase in overhead clearance will allow vessels of up to 35,000 tonnes to use the river and reach Barranquilla's inlands ports, thereby increasing trade capacity and competition.