Combilift launches turbine component carrier
Specialist materials handling equipment manufacturer Combilift has entered the offshore wind energy sector with a new product to move wind turbine components.
The Combilift Combi-LC (load carrier) is a pair of independent wheeled drive units with load platforms and adaptors. Combi-LC is designed at Combilift headquarters and factory in Monaghan, Ireland, in collaboration with wind turbine manufacturer Siemens Gamesa.
It can carry wind turbine blades and tower sections, moving them around the factory or port storage area. Blades now reach 115 metres long and weigh around 70 tonnes. The staging or storage area in port can be up to 5 km from the load out point on the quay.
The two remote-controlled units are designed to offer a low loading or deck height. They can be operated in tandem master and slave operation. Custom options include dimensions and wheel configurations according to the load type and weight.
Siemens Gamesa is the first customer, "signing a multi-million order for a number of the bespoke Load Carriers," the company said.
Rich pickings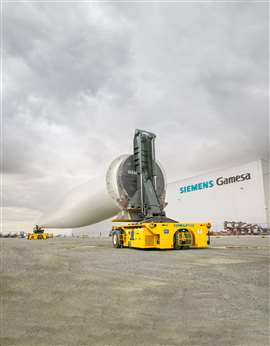 Combilift said it forecasts more than €50 million annual revenue in this segment by 2026.
Josh Moffett, Combilift heavy equipment manager, said, "We are thrilled to have launched this new product – The Combi-LC, and we hope it will act as a gateway for us to further progress within our venture into the wind energy sector. The scale of offshore wind projects around the world leads to a unique set of challenges, one of which being the ability to transport the very large components that make up a wind turbine. We recognised this and used our expertise in load handling to develop a solution to support those in the industry. The product is specifically made to order and therefore can be uniquely customised to fit specific applications."
Combilift launched the Load Carrier as it celebrated its 25th anniversary in September 2023.
See a video of the Load Carrier in operation here.