Compact equipment: Finding the balance
In the segment of small wheeled loaders with an operating weight under 10 t, Liebherr offers six machines – its L 506 and L 508 compact loaders and four stereoloaders designated L 507, L 509, L 514 and L 518.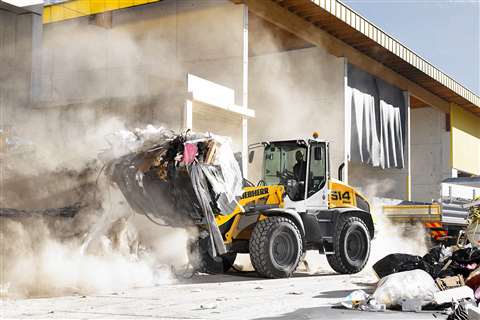 In recent times, Liebherr has offered all these machines with Stage V emission standards compliance to conform to the latest exhaust emission regulations. All six models are considered rugged and versatile all-rounders for the recycling industry.
To promote work efficiency, Liebherr said its compact loaders and stereoloaders combine comfort and safety. For the recycling industry, selected models can be equipped with solid rubber tyres for handling sharp-edged materials such as metal or glass. Their compact design ensures stability and makes it easier for the machine operator to have a clear overview of the l loader and its surroundings.
For decades, Liebherr's stereoloaders have been widely recognised for their rugged components leading to high levels of reliability.
Liebherr has now reworked the latest series, which comprises four models from the L 507 Stereo to the L 518 Stereo, with all models are available in a Speeder version on request. In this version, stereoloaders can reach a top speed of up to 40 km/h depending on the model. This helps operators to save time and enables them to move the loader quickly from one operation to the next.
As well as the stereoloaders, Liebherr compact loaders work as versatile helpers, for example for cleaning the recycling yard. The vehicles' compact and low-line design of under 2.5 m (8 ft) automatically gives them a lower centre of gravity for maximum stability – even on uneven terrain. According to Liebherr, the finely tuned relationship between the operating weight and tipping load also increases the productivity of the compact loader.
Another company that has been active in the loader market is Caterpillar, which recently announced the release of 16 new Cat D3 Series skid steer loader (SSL) and compact tracked loader (CTL) models.
The manufacturer said these new machines advance the D and D2 Series' reputation for quality, comfort, and performance and deliver improvements in operator experience, as well as loader stability. In what is described as an industry first, the D3 Series models also support a range of new smart attachments, with advanced machine technology recognising certain attachments and tailoring the controls and operator information to match the tool and the task.
Entering and exiting the loaders equipped with an enclosed cab is now easier thanks to a wider opening cab door. Additionally, the distance between joystick pods has increased by 76 mm (3 in), offering extra space for the operator inside the cab to deliver a more comfortable experience.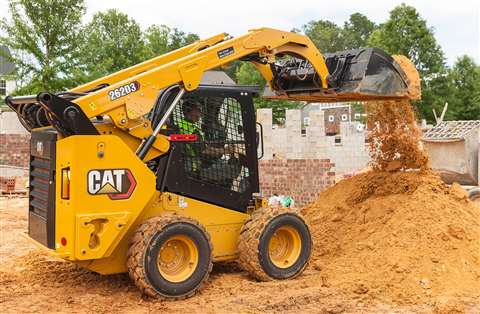 All Cat D3 Series CTLs feature standard two-speed travel to improve performance at the jobsite. These machines are geared to deliver high torque digging performance as well as high top-end speed for travel.
The Cat 279D3 and 289D3 loaders boast a 13.6 km/h (8.4 mph) top-end ground speed, a 20% increase over their D Series counterparts.
The Cat 239D3 and 249D3 models are now built with two-speed transmission as standard, compared to the previous single speed.
In conjunction with the D3 Series introduction, the previous XHP performance model identifier used with the 272 and 299 models has been replaced with XE badge. The 272D3 XE and 299D3 XE models represent the highest performance and most advanced technology available to customers in the Cat SSL and CTL range.
Earlier in the year, Caterpillar launched mini-excavators in the 1 to 2 t and 7 to 10 t ranges of its Next Generation mini hydraulic excavators, comprising 11 models in total.
Bobcat has launched new versions of its M-Series S450, S510 and S530 skid steer loaders, the first in the range to feature a specially developed Stage V compliant Bobcat engine. All the new models are manufactured at the Bobcat compact equipment plant in Dobris, Czech Republic.
The manufacturer said the Stage V M-Series loaders provide operators with increased performance, enhanced comfort and optimised maintenance requirements to maximise job site efficiency.
Compactness within this performance class was the key benefit appreciated by Bobcat customers. Even with the Bobcat Stage V engine incorporated, the small dimensions of the new S450, S510 and S530 skid-steer loaders are maintained, offering a truly compact size and low weight, so they can work or manoeuvre easily in tight spaces and can be easily transported.
The new Bobcat engine provides 37% more torque and fast recovery from overload compared to the previous machines, which ensures increased comfort for the operator as they can work with the same power at lower rpm, at lower noise levels and with lower fuel consumption for the same jobs.
The new Bobcat engine has also allowed the company to extend maintenance intervals with the first service now being after 500 hours and to reduce the number of fuel filter replacements required.
Hitachi Construction Machinery (Europe) (HCME) used the Bauma exhibition in Munich, Germany this year as a showcase for ZW75-6 and ZW95-6 compact wheeled loaders, which it said benefit from several enhancements to further improve efficiency, comfort and performance for customers. Equipped with a new engine to comply with Stage V emissions requirements in Europe, the updated models have been designed with an emphasis on the environment and operator safety.
The two new machines presented by HCME are described as suitable for a range of projects, including recycling and can be used with a variety of attachments. In addition to the new Stage V compliant engine, the loaders are available with a diesel particulate filter, with passive regeneration as standard.
The new models are available with a heated seat in the cab, which is ideal for customers working in North European and Nordic countries with cold winter climates. Additional tweaks to the cab design include the new pillar-less right window, which provides greater visibility and improves safety on busy job sites.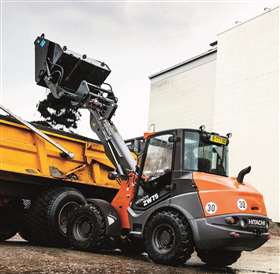 To ensure a reliable performance, Hitachi compact wheeled loaders have several quick and easy maintenance features. The new models benefit from the inclusion of the oil service valve as standard, which saves time when draining engine and hydraulic oil during routine maintenance and helps to maximise uptime. Oil change intervals of up to 1,000 hours help to reduce maintenance costs and increase availability.
Manufacturer Gehl describes its R190 tracked loader as "a perfect fit for the unique needs of interior demolition and recycling applications" with its combination of compact dimensions and "stellar" breakout forces.
Interior demolition is extremely popular, especially in areas that are considered historic. These locations often require a structure to remain unchanged on the outside to preserve aesthetics or tradition of the local area. Interior demolition is usually a two-machine job where an R190 and an excavator would work in tandem to clear the interior of a structure.
The excavator works to demolish the interior items that need to be removed while the R190 moves this material from the interior to the exterior of the building. In many cases, the R190 can assist in the actual demolition depending on the attachment.
For example, if equipped with a grapple bucket, it is best used in the removal aspect of the demolition. Additionally, this configuration would certainly be well equipped for picking and carrying loose materials in recycling applications.
Conversely, if it were equipped with a breaker hammer, it would add the most value during the demolition itself.
The R190 has a rated operating capacity of 862 kg (1,900 lb), giving it the strength needed to meet the demands of tough applications. A 69 hp engine and 1,837 kg (4,050 lb) of breakout force allow loader to lift concrete, large appliances and other interior fixtures, while its 2,032 mm (80 in) ROPS (roll over protective structure) height allows it to access the interior of most commercial buildings with relative ease. At just over 1.5 m (5 ft) wide, Gehl said the product can navigate congested sites in both demolition and recycling applications
First published in the November-December 2019 issue of Demolition & Recycling International. For the full article, including additional images and coverage of the mini-excavator sector, please see the print issue or download the digital version