Compact Haulottes head to Australia
Australia-based Handy Hire has expanded its Haulotte MEWP fleet with a major new order.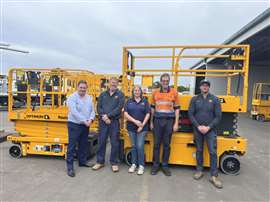 The order from the rental company, located in Queensland, includes 12 of the latest Compact 12 and 12 units of the Optimum 8 scissor lifts.
Zac Wallwork, Haulotte's area sales manager for Queensland, visited Handy Hire six times from his base in Brisbane this year to demonstrate the advantages of partnering with Haulotte.
The deal takes into consideration Handy Hire's shift towards total cost of ownership and includes benefits like preventative maintenance, streamlined inspections and technology integration.
Haulotte's new Compact 12 offers an improved design for easier maintenance. Components are easily accessible, while electrical and hydraulic elements have been separated and the routing of hoses has been designed to avoid the risk of friction and leaks.
Both the Optimum 8 and the new Compact range feature Haulotte's Activ'Energy Management system to improve the performance and the lifespan of the battery and charging.
Wallwork said, "We take pride in our unwavering support for businesses throughout Queensland, spanning the entire state. Our goal is to establish strong partnerships with each business, offering comprehensive assistance through training, service and technical support whenever required."