Compact loaders: Small but mighty
By Joe Malone07 September 2016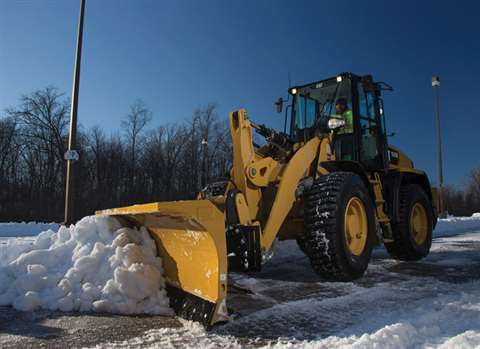 In the big world of compact loaders, 2016 has seen a major transaction with US-based manufacturer Terex selling its German compact equipment business to Japanese producer Yanmar in a US$60 million (€53 million) deal.
Terex's German compact construction business manufactured and sold midi and mini excavators, wheeled excavators and compact wheel loaders.
Terex said that its manufacturing facility in Crailsheim, Germany, was also included in the deal, as was its parts distribution centre in Rothenburg.
Yanmar is already an established player in the European mini excavator market, but the deal - expected to close in the second half of 2016 - broadens its reach into the compact loader segment in the region.
On the manufacturing side of things, with the majority of companies now able to offer engines that meet the new EU Stage V emissions standards, set to come in to force in 2019, increased attention has turned to other features of compact loaders – such as in-cab designs – to ensure companies are ahead of their game.
Firstly, Caterpillar says its new M-Series compact wheeled loaders build on the success of its current K-Series models, with new features such as a new, larger-displacement engine that meets US Tier 4 and EU Stage IV emissions standards. The new range also promises improved operator comfort and safety.
The new series includes the 910M, 914M and 918M compact wheeled loaders.
The new 918M meets a range of tasks, whether the job requires the available high-flow auxiliary-hydraulic system to run demanding attachments, or standard heavy-duty axles for a stronger performance during waste applications, says Caterpillar.
The new Cat C4.4 ACERT engine powers all three models from the M-Series, and has a clean emissions module designed to manage itself with no operator intervention or downtime. As with many engines available on the market today, the module uses a selective catalytic reduction (SCR) system, which requires only the addition of diesel exhaust fluid.
The engine also promises reduced owning and operating costs with standard, fuel-saving features, such as the ECO mode, auto-engine-idle shutdown, and an on-demand cooling fan.
Meanwhile, the 910M and 914M models feature an intelligent power-management system that balances performance and fuel efficiency. Cat says the system uses additional power when the machine senses a higher demand, such as climbing a steep grade or using a high-flow work tool.
In terms of operator comfort, the cab in each of the new M-Series models promises improved comfort, and features two side-entry doors, a low-effort electro-hydraulic joystick, suspended pedals, tilt steering wheel, and an air-suspended/heated seat.
Meanwhile, Japanese-based manufacturer Kubota says its RT and R0 Series compact wheeled loaders are specially designed to suit a variety of construction applications and public works, with specific attention given to its efficiency, safety and flexibility.
The company has developed its R065 HW model from its R0 Series, which it says is designed to undertake a multitude of tasks, from loading and clearing to pallet fork operations.
Developments include adopting its articulated system with Z kinematics with a parallel movement structure, as well as improved breakout force, manoeuvrability and stability, according to the Japanese manufacturer.
Kubota says the machine also offers excellent visibility for the operator, while significant developments have been made inside the cab for better comfort, which it claims will increase productivity and minimise downtime. Such features include a tilting steering column, low noise, an adjustable wrist rest and a modern digital display.
Meanwhile, the company's latest model in its RT Series incorporates a 45° articulation-oscillating angle, which Kubota claims is easier for users to fit through tight spaces without damaging surfaces when operating. The machine also promises improved performance thanks to its hydrostatic transmission and high performance pump.
Neil Winfield, Kubota UK's construction business development manager, said, "Since the launch of our RT an R0 series compact wheeled loaders, they have proven valuable additions to our construction equipment product range, giving our end users the complete Kubota solution and delivering positive sales results across Kubota's European territories.
He added, "One thing we're particularly pleased with is the health and safety benefits on these machines, with both the RT and R0 machines offering excellent visibility for the operator on site. Also for end user satisfaction, we have made significant developments to ensure that the operator can comfortably spend extended periods of time in the cab, which is key for increased productivity and minimum downtime."
Over to Sweden, and Volvo CE's new L30G and L35G compact wheeled loaders may be small in stature, but they promise powerful breakout and lifting forces, as well as improved ground clearance, which the company says rivals much larger machines.
The models are powered by the company's D3.3M engine, which meets US Tier 4 Final and EU Stage IIIB emissions standards, without the need of a Diesel Particulate Filter (DPF). Volvo CE says its 5.5 to 6.1 tonne wheeled loaders are ideal for working in restricted or tight spaces, delivering improved durability and performance.
Inside the cab, 360° visibility ensures improved safety, while ergonomically positioned controls means improved ease of access.
Meanwhile, UK-based Knights Construction has purchased a new Bobcat T770 compact tracked loader. The machine promises improved features such as laser grader, six-way dozer blade, scarifier, combination bucket and pallet forks attachments, supplied by Norwest Plant, the authorised Bobcat and Doosan.
Commenting on the company's new purchase, Danny Bradshaw, contracts manager at Knights Construction, said, "We have always aimed to push boundaries in the industry – we helped to implement the original laser controlled dozers 10 years ago for example. But I believe the arrival of the new Bobcat T770 tracked loader and laser grader is an epic moment for our business, allowing us to offer the most technologically advanced machinery within the concrete industry.
He added, "We originally made our name in the industrial sector, but the laser grader system from Bobcat has provided an elegant solution as we take on much more work in the agricultural sector."
Bobcat says its T770 model is equipped with the quick-change Bob-Tach attachment mounting system, which allows it to be combined quickly and safely with over 70 different types of Bobcat attachment, according to Bobcat.
The company claims the loader can push material like a mini-dozer, which is says increases jobsite versatility and productivity. The Bobcat dozer blade features a six-way adjustable blade with electric-over-hydraulic controls and a reversible three-piece cutting edge.
Komatsu Europe, meanwhile, has launched its new WA80M-7 compact wheeled loader. The company says the new machine offers up to 8% less fuel consumption than its predecessor model, while operator comfort, visibility and safety have also improved.
Sebastian Zienau, product manager at Komatsu Europe, said, "The WA80M-70 was designed keeping in mind proven values of the popular Dash 6 Komatsu compact loaders."
"Targeted upgrades to comfort and safety, along with a cleaner engine and a lower fuel consumption give this new machine industry leading characterises that can lower overall operating costs for customers".
The machine is equipped with Komatsu's SAA4D95LE-6 engine, which operates at 52KW, and delivers high torque, even at low rpm.
The cabin has increased in size, and the new colour monitor promises greater comfort. Features inside the cab include a PPC multifunction lever that has a forward-neutral-reverse switch for quick and easy travel.
Hitachi Construction Machinery (Europe) – (HCME) – says its new ZW65-6, ZW75-6 and ZW95-6 have been designed with an emphasis on the environment and operator safety. The company says its new wheeled loaders are ideal for a wide range of applications, and are extremely versatile, comfortable to operate and offer improved reliability.
HCME says that several features highlight the versatility of the 4.7 to 5.4 tonne machines. With an overall height of2.4 m, they are easy to move on a trailer, and the ZW65-6 and ZW75-6 have optional 30 km/h travel speeds. Attachments can be connected quickly and easily with the electro-hydraulically operated quick coupler.
Improved visibility of the fork attachment from the cab promises greater precision, which claims to have a positive impact on safety on a variety of job sites.
Safety and visibility are also enhanced by the 360° panoramic view from the spacious cab. Further high-quality design elements of the new wheel loaders include ergonomically designed controls. The self-stabilising articulated pendulum joint increases stability, which the company says results in higher levels of durability and control.
JCB, meanwhile, says its skid steer loaders and compact tracked loaders set the bar in safety, fuel efficiency and productivity. The company produces 18 models in total, all of which are powered by stage IIIB/Tier 4 emissions standard engines, which promised up to 16% fuel savings over competitor machines.
Each model features JCB's Power Boom design which boasts a single arm, rather than the conventional two-arm skid steer design. The company says this enables the use of a left side entry door, allowing the operator to enter and exit the machine clear of the attachment and loader arm regardless of arm position.
JCB says its Power Boom feature results in unrivalled visibility at 270˚, with a 60% advantage over competitive manufacturers, which it says delivers clear visibility of the operator's surroundings.
The company says its ease of maintenance is achieved thanks to its O-ring face seal hydraulic fittings, as well as a simplified design resulting in 38% fewer parts compared to its previous machines. The company also believes its tilting cab design gives technicians improved access to the machine's power train and hydraulic components.
The machines also include 31 attachment families, which it says can be used with a standard universal mechanical hitch or an optional power quick hitch.
Meanwhile, Kramer, part of the Wacker Neuson Group, is now offering a fully electric compact wheeled loaders along with its diesel-operated version. The company says that, in addition to zero emissions, its all-electric compact wheeled loader offers off-road capabilities and low service costs.
The company says that due to zero emissions, its new Kramer 5055e wheeled loader can be operated indoors without restrictions, unlike a diesel-operated machine. The company also says that the noise level has been significantly reduced.
The fully electric 5055e is available in the size class of 0.55m³ bucket capacity. Two electric motors have been installed – one for the work hydraulics and one for the drive system. The electric motor is operated by time-tested and proven lead acid batteries, which are used in the forklift industry, says Kramer. Importantly, the company says that, depending on the area of application, one battery charge will last up to five hours.
The company's new launch won the Bauma Innovations award this year, and Karl Friedrich Hauri, director at Kramer, said, "We are delighted that the new Kramer electric loader has won its first award right upon the market launch. The Bauma innovation award is a prestigious award and recognises our development work.
"We are certain that this product will make an important contribution to the resource conservation and efficiency increase of our customers."