Compact loaders: Tipping point
By Thomas Allen04 July 2019
There are many applications in construction, as well as agriculture and industry, that require a compact loader, but the choice of tool varies widely from region to region around the world - and it has changed over time.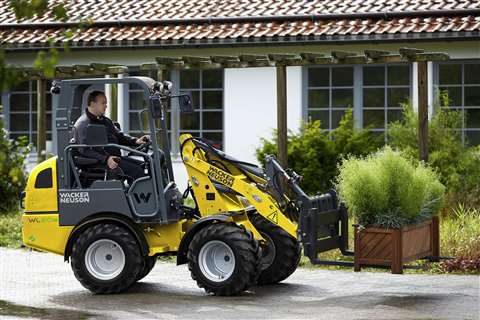 According to specialist market research and forecasting company Off-Highway Research, demand in Europe for skid-steer loaders has fallen from a peak of some 12,000 machines per year in the early 2000s to between 3,000 and 4,000 machines per year more recently. While it is true that sales are growing overall in Europe, this is largely due to a general improvement in market conditions in the Southern European countries which favour this equipment type, rather than a general resurgence for skid-steers.
Some of the previous demand has been replaced by compact tracked loaders, but European sales of these machines total only 1,000 to 1,500 units per year. More significant has been the growing popularity of telescopic handlers in Europe, particularly in France and Germany.
Developments for other types of loader have also played a part. Compact wheeled loaders (under about 1m3 bucket capacity or 56kW engine power) have always been popular in Germany. The development of telescopic boom variants has opened the door to new applications and uses, and these machines come with the advantage of a higher operator position than a skid-steer loader, and also a central cab, unlike European-style telehandlers.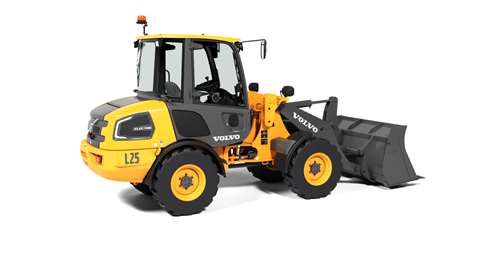 In North America the historical preference has been for skid-steer loaders. However, the market for these machines peaked at a remarkable 73,000 machines per year in 2000, and last year stood at just over 34,000 units. Customer preferences have swung towards compact tracked loaders, sales of which now exceed 50,000 units per year in North America.
Regional preferences
Speaking about the overlap between compact wheeled loaders and skid-steer and compact tracked loaders, Elie Abi-Karam, Product Application Specialist at Caterpillar, tells International Rental News (IRN), "It sometimes just boils down to a regional preference versus an actual requirement."
However, there are benefits to be had by choosing a compact wheeled loader over the other options, such as greater comfort, faster travel speeds and better visibility; "A compact wheeled loader also offers higher lift height or reach," says Abi-Karam. "The ownership and operating costs of a compact wheeled loader compared to a skid-steer with tyres or a compact tracked loader are also lower."
He added that compact wheeled loaders can offer a more familiar operating style; "The steering wheel, the two foot pedals and the single joystick makes the compact wheeled loader an easier and more versatile machine to operate for rental customers."
Electric compact loaders

A hot topic in the industry is of course electrification, and smaller machines such as compact wheeled loaders are among the first candidates for electrification because of their size.
Volvo CE recently unveiled its fully electric L25 wheeled loader, which is currently in the process of being tested by customers in pilot projects before production begins in 2020.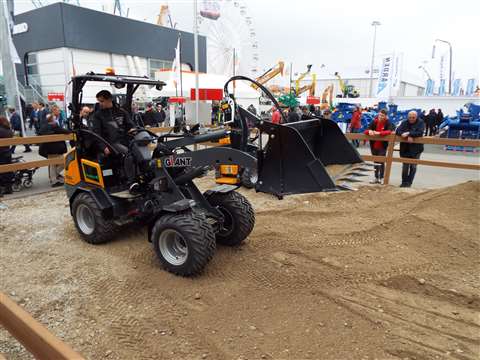 Thomas Bitter, Senior Vice President of Marketing and Product Portfolio, tells IRN, "Rental customers are very important to us and we are working closely with selected customers, such as Loxam, to test with them because they are interested in electrification and we are interested in how it works on the jobsite. The question of how you charge machines and whether you have the infrastructure is the subject of further investigation."
The benefits of electric compact loaders include not only zero emissions but also low noise levels, reduced maintenance and greater efficiency, according to the company. With urbanisation a growing trend, these machines are well positioned to tackle the demands of confined, densely populated areas.
Using lithium-ion batteries, the L25 can operate for eight hours in regular applications. It has an onboard charger that enables overnight charging via a regular household socket, but a fast charging option, requiring more powerful grid access, will also be available.
Due to the greater relevance of electrification to compact equipment, Wacker Neuson is also particularly enthusiastic about going electric. Indeed, the company had an 'Electric Boulevard' at this year's Bauma exhibition.
Wacker Neuson recently introduced its batter-driven WL20e wheeled loader, which was said to offer an environmentally-friendly and efficient solution to rental companies' customers. Once again, the zero emissions and low noise levels were highlighted as factors that make this machine well suited to urban jobsites.
With a bucket capacity of 0.2m3, the WL20e is available with an absorbent glass mat battery, which is easy to handle and requires little maintenance. As a result, rental companies do not need to provide additional training to service personnel for maintaining the loader.
A 230V battery charger is integrated into the machine, with which the battery can be charged via any plug socket, making it easier to charge in everyday construction work. Once charged, the WL20e can operate under full load for up to five hours, equating to a complete working day under normal conditions. What's more, its performance not only equates to but even outstrips that of its diesel-powered counterpart in some instances, such as the tipping load, which has been increased to 1,509kg due to the weight of the battery.
In response to the growing demand for environmentally friendly equipment, Tobroco-Giant also unveiled two new electric wheeled loaders recently.
The G2200E and its low-front counterpart the G2200E X-TRA are both in the 2.2 tonne class, and they come as a result of the fact that the company recognised a demand for larger electric equipment after it introduced its electric skid steer. Ultimately, Tobroco-Giant wants to offer electric versions of all its models.
The new electric wheeled loaders are powered by a lithium-ion battery that has a minimum capacity of 12.3kWh, and full production is due to begin in October 2019.
Enhanced by technology
In an effort to improve operator controllability, Case Construction Equipment has introduced electrohydraulic controls on its F series compact wheeled loaders. The technology has been adapted from the company's G series loaders.
With more than 20 sensors and 20 electrohydraulic actuators installed on the machines, users have the option to select different operating modes and combine machine movements. They are also given greater control over the hydraulic speed for both travel and unloading.
Egidio Galano, Case Compact Product Line Director, says, "Our customers have driven this change. We know that automated functions reduce operator fatigue and allow operators to be more productive, even for those with less experience."
He adds, "Moving to electrohydraulic controls improves the operator experience by reducing the number of manual tasks that they must perform."
By removing the hydraulic pilot hoses, more space is created inside the machine, making maintenance and servicing tasks easier.
Remote controlled loaders
Control of wheeled loaders is being taken beyond the cab by Bobcat, which has introduced a Remote Control System for compact loaders that will be commercially available later this year. It is compatible with Bobcat skid steer, compact tracked and all wheeled steer loader models equipped with the company's Selectable Joystick Controls.
The system allows operators to dismount the machine and control their loader from a distance, making it suitable for dangerous environments and in disaster events such as floods and forest fires.
The plug-and-play system comprises a portable industrial radio unit that can be mounted and dismounted on machines in a matter of minutes.
Accurate and fast
To increase the accuracy and speed of loading, Doosan Infracor North America has made Trimble Loadrite L3180 SmartScale available as an option on its wheeled loaders.
With its updated weighing intelligence and solid state sensors, the system helps to optimise loadout, prevent overloading and track productivity. It can adjust for rough terrain, operator technique and machine movement, and now offers in-cab key performance indicators such as tonnes per hour so that operators can monitor their performance.
HIGHLIGHTS - Top compact loaders for 2019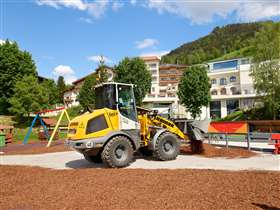 Liebherr – Stage V loaders
The German manufacturer has introduced Stage V-compliant versions of its L506 and L508 compact loaders, and its L507 and L509 stereoloaders. Their working and driving functions are intuitive, and the compact design of the machines ensures stability and makes it easier for the operator to get a clear overview of the working area.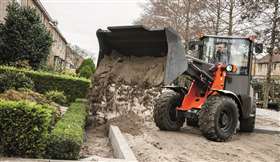 Hitachi – updated loaders
Improvements made to the ZW75-6 and ZW95-6 are focused on the environment and operator safety. The updated loaders are now fitted with a Stage-V compliant engine and are available with a DPF with passive regeneration as standard. Optional higher flow for the hydraulic system can enhance versatility, with an increase in capacity to 77 litres per minute. A new pillar-less right window provides greater visibility, improving safety on busy jobsites.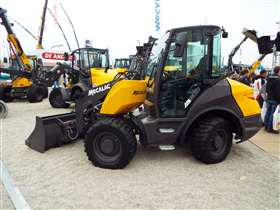 Mecalac – Swing loader
The AS 500 is the latest model in Mecalac's Swing Loader range. It has a single-section arm with a swing radius of 180° and stability is ensured by the rigid chassis with four-wheeled steering. The AS 500 is powered by a Deutz Stage V engine and the driving controls have been arranged ergonomically to make operation more efficient and safe.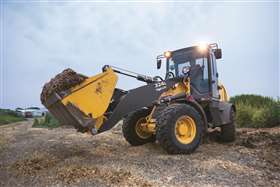 John Deere – L Series
The new 244L and 324L models round out John Deere's full line of L Series compact wheeled loaders. Drew Miller, Product Marketing Manager for compact wheeled loaders, says, "Tailor-made for tight spaces, the 244L and 324L use our proprietary Articulation Plus system to provide greater stability and yield more lifting power while turning tighter." The Articulation Plus steering combines high lift capacity with manoeuvrability.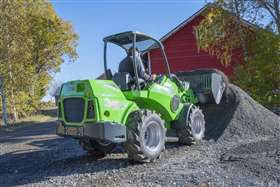 Avant Tecno – largest in the range
The new Avant 800 series loaders will be the largest and most powerful to be offered by the company, with 1,900kg lifting capacity and 3.5m lifting height. Yet their dimensions remain compact, measuring 1.5m wide, 3.4m long and 2.2m tall. Production is scheduled to start in the autumn this year. The first two models to be available will be the Stage V and Tier 4 Final-compliant Avant 860i and the Avant 850, which will be for markets outside the scope of the EU and US emissions regulations.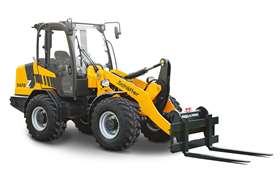 Schaffer – enhancing visibility
A key driver in the design of the new 5480 Z loader was maximising visibility. As a result, the geometry of the boom, which features Z kinematics, has been revised to give better visibility of attachments. Also, the loader's spacious new cab offers improved all-round visibility.
Kramer – new models
The new 5050 wheeled loader from Kramer is characterised by its low dead weight of 2,650kg. It offers a tipping load of up to 1,700kg, which can be enhanced by the addition of weights – 'Smart Ballast' – to the rear of the machine. Also new is the 8145T telescopic wheeled loader with a bucket tipping load of 5,500kg.
Cat – marked improvement
Promising better performance, expanded work tool capability and enhanced operator comfort, the new 903D loader offers a 25% increase in both lifting capacity and travel speed compared to its 903C2 predecessor. New optional features include creep control.