Compaction heavyweight
By Chris Sleight03 March 2015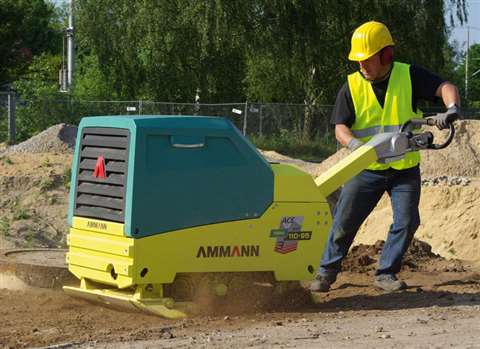 Ammann plans to launch its latest compaction equipment at Intermat, including its new APH 110-95 vibratory plate – the most powerful model it has ever built.
With an operating weight of 825 kg, a working speed of 37 m/min and working widths of up to 950 mm, this vibratory plate can achieve surface coverage of 2,109 m2 per hour, equal to the performance of a 7 tonne single drum roller, according to the company.
The 10 tonne ARP 95-2 articulated tandem roller will also be on show – a machine that was first launched at Bauma 2013 – while Ammann will also showcase its new ASC series of single drum rollers, featuring machines from 3 to 35 tonnes.
The ARX 90 and ARX 110 articulated tandem rollers will also be on the stand – again, first introduced in 2013 – while examples from the lightweight ARX tandem roller range will also be on show, together with trench rollers, the company's universal compaction ad-on attachment tool for excavators, and pneumatic tyred rollers.
In terms of mixing technology, Ammann will present its new QuickBatch asphalt plant at the show, which has been designed to be transported in containers and be quick to set-up and take down, without compromising performance.
All the dryer and filter units are designed as 40 ft (12.2 m)containers, and all the mixing tower modules come in the form of 20 ft (6.1 m)' containers. Likewise, all the extras and add-on components, including the control room have standard container dimensions. The unit is available in 140 or 180 tonnes/hour variants.
Similarly, the 60 to 80 tonne/hour EcoBatch asphalt plant is a modular system with all components transportable in 20 ft (6.1 m) containers. It can be used for a variety of applications, including cold or hot reclaimed asphalt feed, liquid or solid additives and foamed bitumen.
Also new from Ammann this year are the T1 and T3 versions of its UniBatch asphalt plants. Fitting in the range either side of the T2, the range now covers the 100 to 350 tonnes per hour production spectrum.
Again, a standardised and modular approach makes the plants easy to transport, and they can handle a wide variety of mix designs.
Ammann's concrete mixing equipment business, Ammann Elba will present a new single shaft (EMS) and double shaft (EMDW) range of double spiral paddle mixers at the show. Together they cover the batch size range of 0.5 – 4.5 m3, and the company says its mixer design offers high intensity, and therefore short batch production times.
The division will also show the new EMPG 1500 planetary counter-flow mixer at the show, which is designed for unusual mixes such as face concrete, core concrete and coloured concrete, as well as concrete for hollow ceilings, circulation systems, pre-stressed concrete components, paving slabs, staircases, and so on.
Again, Ammann Elba says high mix intensity and short batch times are a key feature.