Components: Keeping them rolling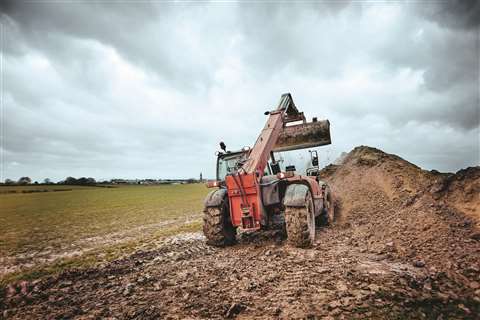 Construction machinery is made up of an enormous number of individual parts, some more obvious than others, and among the most visible are the tyres on any wheeled machine.
Canadian company Camso is adding to its compact construction tyre lineup, and said it was mainly targeting European applications.
There are five new multi-purpose construction tyres (MPT), and two new radial solutions for grading and earthmoving applications.
The company supplies its products to original equipment manufacturers (OEMs) under the names Camso and Solideal.
Camso is revamping its MPT lineup with additional sizes and new tread patterns, as well as technologies which it said were designed to suit better the versatility and the wide variety of applications in which they work.
David De Waele, executive director for product management, construction, said, "MPT refers to a range of compact construction equipment using mostly the same tyres, but handling a range of different jobs – agriculture, roadbuilding, residential and commercial construction, scrapyards, landscaping, snow removal and more.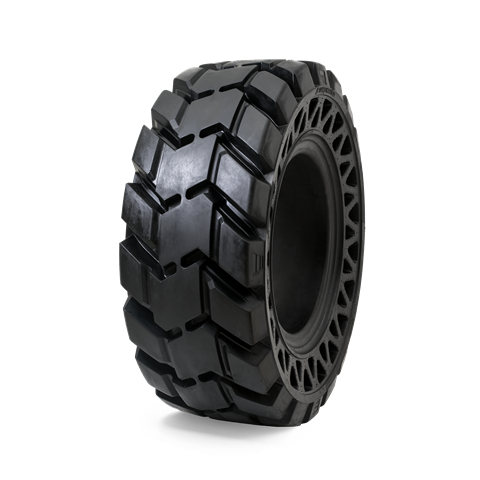 "Machines using multi-purpose tyres consist of telehandlers, compact wheeled loaders and mini-dumpers, although the same sizes may also be fitted on backhoe loaders, concrete truck mixers and rough terrain forklifts," said De Waele.
He added that even though all three machines could be found on the same jobsite, they did not necessarily require the same performance, and might have different mobility challenges to overcome.
Camso said that just because a tyre size fitted the machine, did not necessarily mean it was the right tyre for the application.
"What's important to know is that multi-purpose doesn't necessarily mean multi-application," said De Waele.
"To ensure optimal machine performance and lowest operating cost, you need a tyre especially designed for the application you're running. For that, you need to combine three core elements – size, tread pattern and technology."
Tread patterns
Camso has developed its five new MPTs with these elements in mind, adding 15 sizes, five different tread patterns, and two new technologies for a total of 48 sizes and 13 tread patterns available in solid, bias and radial.
The Camso MPT 753 is being built with a special non-directional tread pattern to deliver maximum overall durability and versatility for multi-use applications on mixed and hard surfaces. Compared to the former Solideal 4L I3, the MPT 753 claims 29% longer tyre life, 15% better cleanout and forward traction, plus a 15% improved sidewall and tread impact resistance.
The company said its MPT 793S tyre was the first and only flat-free solution purpose-built for multipurpose machines to maximise uptime in severe conditions. It said the tyre's triangular aperture design provided excellent stability and ride quality.
The Camso MPT 553R has been designed for residential construction and paving applications. A radial tyre, it has a non-directional centre-block tread pattern to provide superior road comfort and performance.
Built with an R-4 agro-industrial tread pattern and radial construction, the Camso MPT 532R tyre is said to be ideal for maximising soft-surface traction while reducing flats from tread impact.
Camso's MPT 552, engineered for soft-surface conditions, is described as the perfect combination of traction and durability. It is designed to deliver the lowest operating cost for general-duty jobs.
Camso is also expanding its construction product offering with new radial tyre sizes that it said met customer demand and market needs.
The Camso GRD 533R is designed for motor graders, and the EMT 553R for wheeled loaders and articulated dump trucks.
Camso is Canadian, while another tyre manufacturer, BKT, is based in India, but both are taking a long hard look at the European market.
According to BKT, the construction sector is being subjected to a number of changes such as digital applications, new materials and new measuring tools, but it said it had the potential to face this new kind of demand.
Over the past five years, it said, it had invested in innovation and increasing its production capacities.
The company said that as far as penetration in the European OTR (off-the-road) market was concerned, the outlook seemed to be challenging.
"Yet, BKT has always been an open-minded organisation ready to take up ambitious challenges."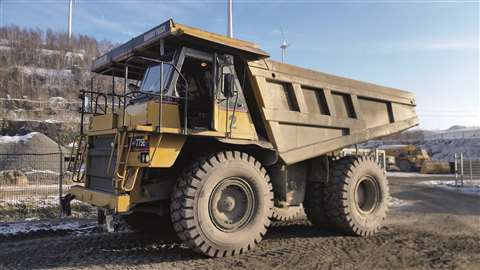 It said that while India was becoming increasingly important for both the original equipment and the aftermarket, Europe, by contrast, was a more mature and more saturated market.
"However," it said, "according to the most recent data, there are indicators for still attractive potential in the years to come. Indicators are positive for the farming sector, but above all, there is a positive outlook for the earthmoving and industrial/construction sectors, where investment is on the rise again."
BKT said that engineering tyres in response to more specific user needs required close co-operation between tyre and vehicle manufacturers, to design an efficient and high performing tyre-vehicle system.
For this reason, it said that strengthening existing partnerships or starting new ones remained a number-one priority for BKT, describing it as an essential strategy for keeping up a firm market position in a changing market environment over the years to come.
Nowadays, technology, can be a useful tool in the OTR world to increase productivity and reduce operating costs, said BKT, adding that this was why it had recently introduced the SPOTech Study. Satellite Performance Optimisation Technology is a technological solution developed for mining and quarries as well as for port applications.
SPOTech is a cutting-edge monitoring system that collects data on haul truck activities by means of GPS systems, GoPro cameras and accelerometers for improving productivity, efficiency, and operating conditions.
Using SPOTech Technology, BKT can map the customer's haul roads measuring average/maximum speed, cycle times, lateral/vertical/longitudinal forces and percentage grade and other useful data.
Designed for the best load distribution on the ground when fitted on dumpers, wheeled loaders, dozers or graders operating on difficult terrains, BKT has developed the Earthmax range of radial tyres.
Earthmax consists of 23 different specialty products, but the manufacturer said they had one important feature in common – an all-steel structure providing major resistance for the casing and, therefore, against impacts such as punctures and penetration of foreign matter.
Some of the Earthmax range are said to be particularly suitable for quarry operations. Earthmax SR 41 is designed for articulated dump trucks, Earthmax SR 45 and Earthmax SR 47 for rigid dumpers. In addition, Earthmax SR 51 and Earthmax SR 53 have been specifically engineered for loaders and dozers.
Purpose-built
Tyre manufacturer Alliance Tire Group (ATG) has been a fully-owned subsidiary of the Yokohama Rubber Company, Japan, since July 2016. Originally developed in America, its Galaxy tyres are said to be purpose-built, claiming outstanding performance, low wear and long service life, and therefore exceptional value for money.
Treads have been specifically developed for construction, including on tyres such as Galaxy's range of skid steer and contract utility tyres. The Galaxy Hulk claims one of the highest tread depths in the segment, while the Galaxy Beefy Baby has been around for more than two decades.
Galaxy tyres for construction and material handling are available in a wide range of sizes and tread patterns, and the company said that there was at least one ATG high performer for every conceivable machine and application.
ATG said that its Galaxy Marathoner was designed as a reliable and efficient tyre for backhoe loaders, utility tractors and skid steer loaders under really challenging and often muddy working conditions.
'Mud breakers'
It said the special "mud breakers" tread design virtually ejected mud from the tread, ensuring efficient grip and traction at all times.
In addition to the special tread design, reinforced sidewalls of the 10 ply tyre are said to ensure excellent puncture resistance.
Today, more than 15 different sizes for skid steer loaders as well as front tyres for backhoe loaders and utility tractors are available.
As with many parts of the industry, a company needs to be more than just a manufacturer.
At Continental, Enno Straten, head of commercial specialty tyres, said, "Continental is emerging from a tyre manufacturer to a solutions provider for off-the-road operations.
"Along with specific tyres for the different industries and applications, our customers are increasingly asking for solutions which make their tyres last longer."
He said this was where the company's solutions and services such as ContiConnect and ContiPressureCheck tyre pressure monitoring systems for pneumatic tyres, came into play.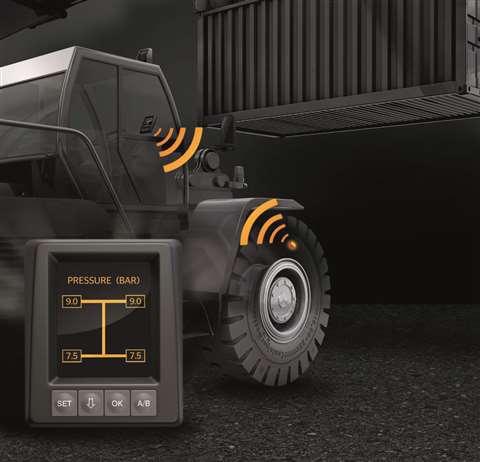 Continental said the global market for OTR tyres was growing. It said that according to recent studies, it was expected to show an overall compound annual growth rate of 4% in volume terms and more than 5% in value terms by 2022. Digitisation, automation and connectivity were said to be the strongest growth drivers.
Continental is introducing two additional EM-Master E4/L4 radial tyre sizes to the market.
Christian Luther, product line manager for earthmoving, said, "This for now completes our range of radial tyres for use on wheeled loaders and dump trucks in particular for construction work and mining."
The EM-Master is part of the ContiEarth portfolio, which was developed specifically for the construction sector. The tyre is ideally suited for articulated dump trucks (ADTs), loaders and dozers, and is available in two versions – the EM-Master E3/L3 has a normal tread depth and wide spacing between the blocks. Continental said this made it the best choice for soft ground.
In comparison, the EM-Master E4/L4 is ideally suited for hard and stony ground thanks to a greater block size with less spacing between the blocks and a deeper tread depth.
The RDT-Master is part of the ContiEarth series and was developed for rigid dump trucks (RDTs). Thanks to its special deep tread design, the tyre is said to offer high resilience, cut resistance and self-cleaning properties.
The DumperMaster completes the radial tyre product range. The tyre has an all-steel radial carcass which ensures high load capacity with low heat build-up, the company said. As well as making it suited for transporting ore in mines the tyre is said to be well-suited for tunnel construction.
Production milestone
Magna Tyres Group has begun production of Magna Tyres at the OBO Tyre factory in Hardenberg, the Netherlands, and CEO Michael de Ruijter said, "This is a huge development for Magna Tyres Group and an important milestone in the history of our company.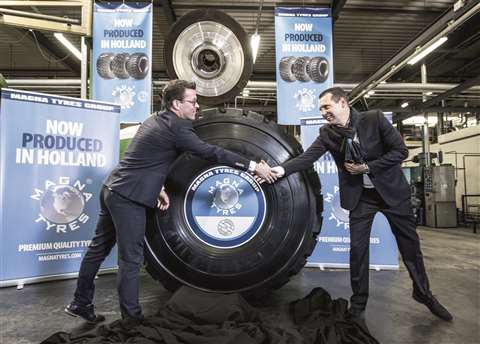 "The expansion is important because we are struggling to keep up with the fast-growing demand for Magna Tyres.
"We have invested heavily in the factory and can significantly expand our production capacity to meet the rising demand for our popular brand."
He said additional investments were already being made to increase capacity further.
Peter Schrijver, general manager of OBO Tyres, said, "Our efficiency, lower transport costs and lower import duties make it very cost-effective to produce locally and to invest in more production capacity. From now on Magna MA02, M-Terrain and AG24 are available as a made in Holland product, and we are very proud on this achievement."
Transmissions
Away from tyres Allison Transmission, which claims the world's largest manufacturer of fully automatic transmissions for medium- and heavy-duty commercial vehicles, has claimed that concrete mixer trucks equipped with fully automatic Allison 3000 Series transmissions provided better manoeuvrability and acceleration, and less maintenance.
Construction firm Björklunds, operating around Stockholm, Sweden, recently purchased its first Allison-equipped vehicles – two concrete mixer trucks with fully automatic 3000 Series transmissions.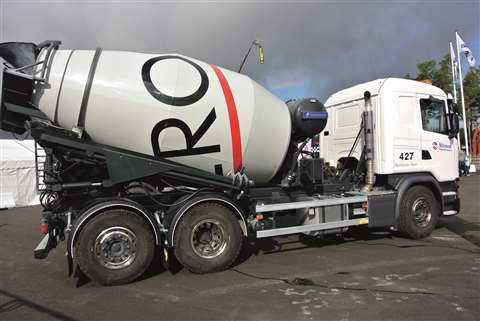 Robin Björklund, who operates the 12-vehicle fleet with his brother, said, "We deliver mainly in the Stockholm area where the traffic is heavy, to building sites that often are very narrow and hard to access.
"It means there are high demands on manoeuvrability, and we have found that the fully automatic transmission, together with the steering rear axle, makes it much easier to reverse close to where the customer wants us to discharge the concrete."
The Scania G320 trucks have three axles with steering on first and third axle. They are also the only fully automatic vehicles in the company's long history. In addition to improved manoeuvrability, Björklund also said he appreciated Allison's Continuous Power Technology which eliminated power loss during the automatic shifting.
Allison said this helped the truck to accelerate faster and allowed the driver to keep pace with city traffic.
Additionally, with today's drivers less familiar with driving manual transmissions, Björklund said he believed a fully automatic transmission also worked as a good recruitment tool.
"Our drivers are very happy with the new concrete mixer trucks. They very much want to drive them, and they say the work has become both more enjoyable and easier," he said.
"It's the same when we need to hire new drivers. You need to have something extra to offer, and Allison-fitted trucks make it easier for us to recruit new drivers."
Joystick
Elsewhere, a new type 2020 industrial joystick for construction machinery from measuring and sensor technology expert FSG Fernsteuergeräte claims to enable comfortable and flexible operating and assembly concepts.
The company said that the product allowed for a wide range of functions to be integrated depending on customer specifications.
Featuring IP67 ingress protection, the joystick provides for ergonomic manual control of equipment in harsh environments, even outside an enclosed cabin.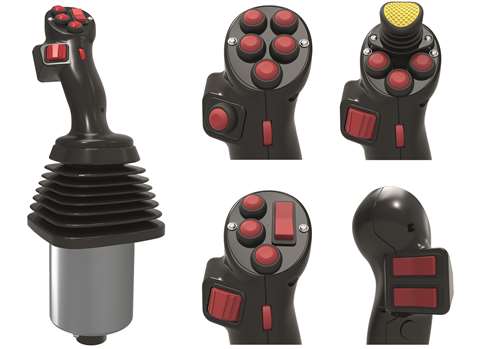 The 2020 handle can accommodate a vibrator and up to 11 control elements such as buttons, a dead-man switch, rocker switches, adjusting wheels, and a miniature joystick at the top.
It said this allowed versatile options for users to select functions, confirm inputs, and move with precision. Customers can freely define the placement of buttons and switches on the handle. Left- and right-hand thumb rest versions are available.
Optionally, the manufacturer will integrate a capacitive handle sensor and heating. A customisable joint allows the handle to be connected to any hand-held control unit.
Load monitoring
Load monitoring technology firm Straightpoint (SP) has a new Bluetooth app for smart devices, named after its Handheld plus display unit, and it is now available for download and easy connection to the manufacturer's recently-launched range of load cells that boast the same technology.
The company said that the innovative pairing would revolutionise the way data was captured and supplied in below-the-hook and other force measurement applications.
The HHP app, available on iOS and Android platforms, uses Bluetooth (wireless technology for exchanging data over short distances) to collect information from a single load cell up to 50m away. Also, the app can package up the data collected and send it onto a recipient in the form of an Excel spreadsheet.
David Ayling, director at SP, said, "We've been experimenting with Bluetooth technology for some time – it's been used with our Clamp On Line Tensionmeter (or COLT) – but that research was part of a journey towards the landmark launch of the new load cells and accompanying app."
He added, "The launch of the Bluetooth range chimes with a gravitational pull towards IoT (Internet of Things) and could be game-changing in that we're not aware of any other solutions on the market that harness the benefits of this technology through a mobile app."
Warning lights
And Tyri, manufacturer of work lighting, has introduced the D8 BluePoint to its range of warning lights.
The D8 BluePoint projects a large blue LED light in a shape of a square on the ground in front of, or behind a machine, to help prevent and minimise accidents around moving vehicles.
Christian Wadell, Tyri's research and development director, said, "Tyri's research and development team works hard to meet the needs of our customers with cutting edge design and efficiency.
"The D8 BluePoint has been developed to satisfy a need for a small, high output work light which not only performs in the toughest environments but also had improved efficiencies and delivers on safety."