ConCntric reveals new preconstruction software
By Catrin Jones19 January 2023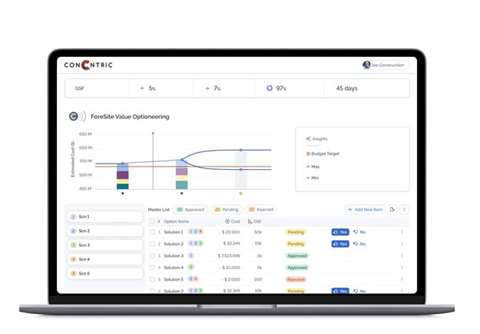 The US-based company says that the 360-degree platform unites data, workflows and people to ensure certainty of the project outcome.
As well as serving the individual project's planning needs and the needs of the company, ConCntric provides a dynamic view of a company's entire portfolio of preconstruction projects, offering analytics and insights to help general contractors, owners and developers, design teams and subcontractors.
ConCntric's new website has now launched with an exclusive view of its platform. The company says that some of the product features shown in the visual display include a comparison tool, a dynamic forecast of possibilities and the ability to scenario model outcomes to drive the alignment of design and budget, as well as a view of all of the user's preconstruction projects with portfolio-wide KPI's and analytics.
Steve Dell'Orto, Founder and CEO of ConCntric, said, "I have spent my entire career planning thousands of projects and have always wondered why there wasn't a system to manage preconstruction in a more advanced way. It has been incredible to bring to life the solution that I wish I had and to experience the enthusiasm from our customers as they jump in with both feet."