Concrete equipment: A more exact science
By Jenny Lescohier05 March 2020
Concrete was first used by the Romans to build what are now some of the oldest, most durable structures in the world today. While the recipe hasn't changed very much since then, the methods used to work with this versatile and ubiquitous substance are drastically different.
Mixing, pouring, working and finishing concrete is more forgiving that the most exact sciences, but there's no question the more precision that goes into every aspect, the better the results will be.
With that in mind, today's concrete equipment is seeing a profound movement toward automation that removes human error from the equation. The result promises fewer mistakes, greater productivity, lower costs and higher-quality results. Following are some examples of this trend seen in February at World of Concrete 2020 in Las Vegas, US.
Mixing made simple
Volumetric concrete mixing trucks go a long way toward increasing efficiency on job sites, and today, their efficiency increases with the use of telematics. Traditionally, these machines required a human to manually set up the mix according to the needs of the job. This works well, except that human subjectivity can result in inconsistencies and even mistakes.
To help alleviate those concerns, Cemen Tech offers its Accu-Pour Office and Mobile, a telematics suite of cloud-based productivity solutions for all makes of volumetric concrete mixers.
"This really takes the element of human error away," says Connor Deering, CEO of Cemen Tech. "You can plug in a mix design in one of two ways. You can either go to the control panel on the truck itself and enter it in, or you can use our Accu-Pour software on your tablet and it then communicates back to the control panel on the truck. Either way, the operator selects a mix design, presses start and the machine completely sets itself."
Deering says Cemen Tech has integrated several new features to its Accu-Pour software to help streamline ordering, reporting and invoicing processes. Most notably, Accu-Pour now offers the ability to process credit card payments, streamlining the ordering process. Additional software features help volumetric concrete mixer owners and operators eliminate manual data entry, improve accuracy, and leverage customer data to create and e-mail invoices.
Users are also able to streamline sales processes, create custom reporting and store customer data and payment history with the Accu-Pour customer database.
Deering says Accu-Pour Office and Accu-Pour Mobile work jointly in real time, so information goes to the unit and then directly back to the office. After an order is placed, dispatch enters the job parameters into AP Office. AP Mobile then receives those parameters and wirelessly sends all information to the mixer. The operator completes the pour, after which all production data is automatically sent back to AP Office for analysis.
Paving simplified
Nowhere are the vagaries of a concrete mix more evident than when paving. Small errors can cause big problems and cost lots of time and money.
GOMACO's concrete slipform pavers now feature the new Navigator software for control and monitoring on an optional touchscreen display. The touchscreen display can be mounted on the paver at ground level and allows ground personnel the ability to make adjustments to the paver's performance and also configure settings for the GOMACO Smoothness Indicator (GSI), side bar inserters, tie bar inserters, and power transition adjusters. Ground personnel can monitor elevation and steering deviations for the paver and make as-needed adjustments to control sensitivities.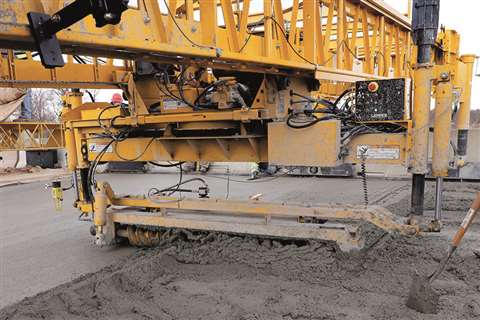 The Navigator, combined with the GSI, is a system for monitoring pavement smoothness on the go. A GSI screen within the Navigator allows the paving smoothness of up to four GSI traces to be monitored using either a real-time localized roughness graph or a simulation. It logs the paver's speed and travel information, along with paver start and stop events which allows contractors to correlate machine speed with pavement smoothness in relation to the profile being slipformed for ultimate rideability.
Good vibrations
In concrete flatwork, vibrators are often used after the pour to eliminate air voids that can compromise the structural integrity of the surface over time. Even these simple one-man tools are realising the benefits that computerisation can offer.
To that end, Minnich Manufacturing has introduced the 50cc gas-powered backpack concrete vibrator featuring the company's new Auto Vibe CC to simplify paving vibrator monitoring.
According to Rob Minnich, president/chief marketing officer for Minnich Manufacturing, the new Auto Vibe CC vibrator monitoring system is designed to simplify hydraulic paving vibrator monitoring during heavy highway and airport paving processes.
A new, high-visibility, all-weather touch screen monitor offers easy navigation. All electrical connections feature Deutsch harness connectors for easy connections and service. The company claims the paving vibrator system is easy to install and features remote access to Minnich Manufacturing for field support.
"We are excited to unveil our latest innovations to help concrete contractors and concrete paving superintendents maximise quality," Minnich. "And we look forward to backing them with our service and support."
Testing, testing…
After concrete is mixed, poured, worked and finished, it often needs to be tested for strength and integrity; even this process is seeing the benefits of automation.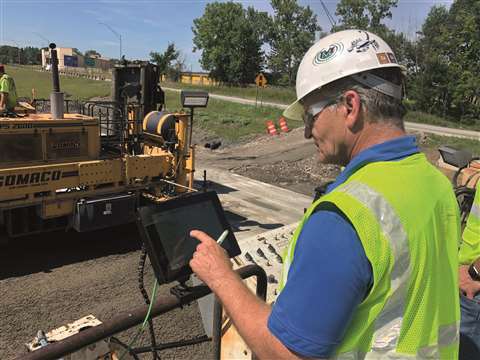 For its part, Controls Group, recently acquired by Nova Ventures, offers a wide range of fully automatic concrete compression machines, from 250,000 lbf to 1,000,000 lbf capacity. All models integrate automatic controllers that are designed for a high level of accuracy and repeatability to help eliminate operator errors and facilitate the management of results.
Controls offers standard models for cylinder testing with Pilot or Wizard Auto controllers. The top of the range Automax Pro is a compact computerised automatic system with an integrated tablet-like 7 inch colour touch screen. The company also offers fully automatic control of cylinder testing with its range of standalone automatic controllers and power units. They can be used with all Controls Group's testing machines and can be retrofitted to most conventional testing machines.
"Our latest development is our connectivity function," explains Andrea Morotti, general manager. "Historically, our machines used to be just a piece of equipment in the laboratory. The operator would input data manually, output data manually. But thanks to the Internet of Things and the cloud function, we started opening our equipment to the external system. Now, with a barcode reader, data input and output no longer requires any manual operation."
Noting the result is greater intelligence for all stakeholders, Morotti continues, "Now we are creating a communication bridge between the laboratory's management software and our machine to integrate all data. Everything is automatic."
Breaking up
The other side of concrete is, of course, its demolition, and for that, Hilti is making strides to innovate with its introduction of what it claims is the world's first cordless breaker, the TE 500-A36. While not an example of automation, Hilti's efforts with battery power do speak to the issue of reducing human error, only this time through creating less operator fatigue.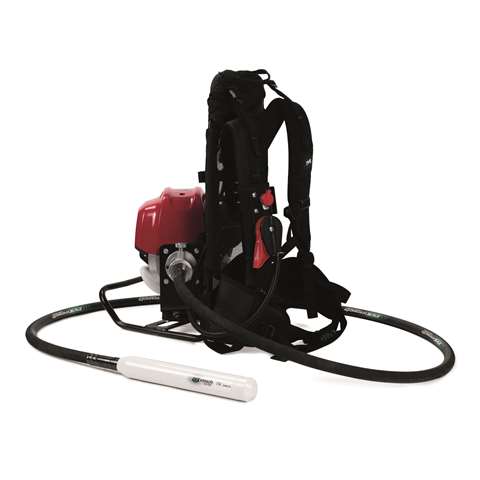 Specifically engineered for the challenges associated with breaking concrete and masonry, Hilti's TE 500-A36 gives construction professionals the power of a corded breaker with the mobility and productivity of a cordless solution.
"This isn't just any battery," explains Andrew Beard, product manager, power tools and accessories with Hilti at World of Concrete 2020. "This is a Hilti, 36-volt, nine-amp hour battery backed by the best lithium ion cell technology in the industry to give contractors unparalleled reach."
In addition to enhancing productivity, Hilti aims to minimise operator fatigue with its cordless breaker that features the company's exclusive Active Vibration Reduction (AVR) technology, reducing the tool's triaxial vibration over 30%.
Reducing downtime was another priority when designing this tool. Beard notes construction professionals commonly experience frustration with cordless tools when something fails during off hours and the tool doesn't work when needed.
"If this tool has an issue, a light comes on," notes Beard. "It doesn't mean the tool isn't working, it means you have a full day's work before the tool needs to be sent for repair.
"A lot of contractors and tradesmen hate when they bring a cordless tool out in the field, and its dead. Our tool allows them to say, hey, I'm going to have an issue, but I still have a full day's work before it's a problem."
Hands off demolition
Aquajet, which specialises in hydrodemolition robot manufacturing, offers the Ergo System to assist concrete repair and demolition.
The robot, designed for work on floors, walls and ceilings, offers four times the power of a hand lance in a compact footprint that contractors can easily move around the job site.
The Ergo System incorporates: the controller unit, which powers and controls the hydraulics; the Ergo Power Head, which manipulates the high-pressure lance; and either the spine or the climber, unique systems used to support and maneuver the power head, based on project needs.
The climber attaches to any standard scaffolding pipes and robotically moves along it to deliver powerful hydrodemolition forces for vertical concrete removal and repair, such as high-rise construction.
According to Roger Simonsson, CEO of Aquajet, the system exerts 1,000 newtons of reaction force, which is about half of the force employed by Aquajet's largest Hydrodemolition robot, the Aqua Cutter 710V. The robot can handle higher volumes of water, as much as four times greater reaction force than a human operator with a hand lance. This means the machine can remove concrete faster and easier.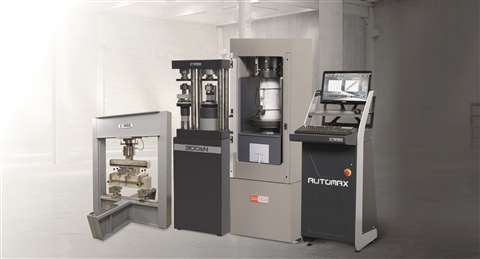 Simonsson explains that hydrodemolition robots, such as the Ergo System, remove concrete to a preset depth consistently.
"Alternatively, a hand lance will likely leave inconsistent depths due to being held by an operator," he said. "This means contractors may have to do another pass with hand-held breakers to even out the surface.
"Beyond its robotic intelligent sensing controls – which help to keep workers out of harm's way – the system offers minimal maintenance, and costs less than a third of a full-size robot. It's an affordable option for contractors."
Contractors can move the 123kg (271-lb.) Ergo Controller unit around the job site and over soft or rough surfaces due to the wide wheels and low ground pressure.
Concrete for world's largest lock
Mobile concrete mixing plant used for largest lock in the world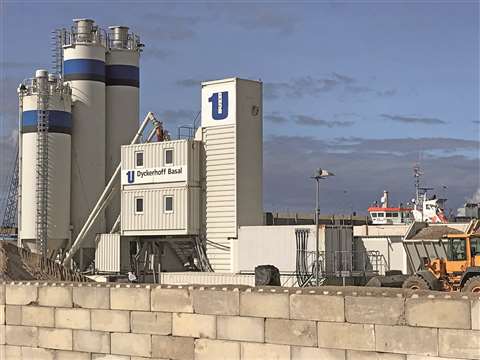 In order to make Amsterdam, Netherlands, one of the most important European ports, accessible for the new generations of ships with growing dimensions, the largest lock in the world will be built in the city of Ijmuiden. The city is located at the south of the 27km long North Sea Canal connecting Amsterdam with the sea.
The EU700 million (US$760 million) lock will be constructed with approximately 300,000 m³ of concrete. It is slated to open for shipping at the beginning of 2022.
Dyckerhoff Basal is the Dutch subsidiary of the cement manufacturer Dyckerhoff GmbH and is one of the largest suppliers of ready-mix concrete and cement in the Netherlands. The most important factor in the company's selection of concrete mixing plant was a rapid start of operation and the possibility of a swift change of location.
Dyckerhoff Basal selected the Liebherr Mobilmix 3.5-C which can produce up to 150 m³ of concrete per hour, and up to 300 m³ as a double plant. The plant is operated intuitively via Liebherr's Litronic-MPS control system at a PC workstation.
The plant can be relocated within four days. Thanks to the already integrated insulation, the Mobilmix 3.5-C is also optimally equipped for winter operation. The Mobilmix 3.5-C is equipped with a Liebherr DW 3.5 twin-shaft mixer, enabling optimum concrete homogeneity while being particularly suitable for short-term recipe changes.
Flying buckets streamline process
How technology is improving quality and reducing accidents
Not every contractor needs to be intimately familiar with the inner workings of a concrete batch plant, but it's interesting to note the processes at work there are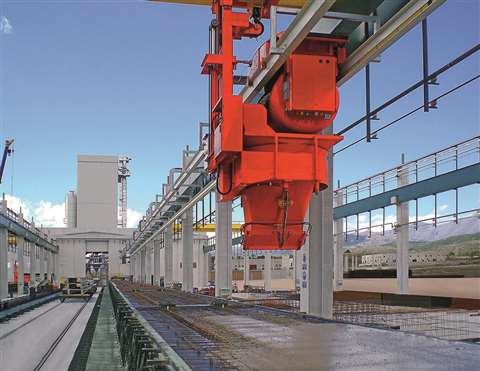 evolving to improve concrete quality while increasing efficiency and reducing hazards in the plant.
Marcantonini Concrete Technology (MCT) designs ready-mix and pre-cast batch plant systems with an eye toward innovation based on customer feedback. One of its newest advancements include the Aerovan Mono and Bi rail flying buckets which help to automate and streamline the pre-cast batching process for maximum functionality, efficiency and reliability of concrete transport.
Aerovan carries wet, semi-wet, semi-dry and dry concrete quickly and accurately, maintaining all features of the batch, according to MCT. It's possible to achieve a maximum speed up to 240m per minute applied to straight, curved and inclined tracks.
Ino Alegre, who represents MCT, explained the flying buckets are controlled by a computer that coordinates the delivery of concrete according to where and when in the plant it's needed. What's unique about MCT's system is the use of bigger wheels and their placement above the track beam that the buckets travel along.
"A bigger wheel means faster travel times and tighter turns, not to mention less wear on the beam," he explained.
The programmable flying buckets increase overall efficiency in pre-cast batching.
"There used to be four or five people involved in the process," Alegre said. "But now, there's the batch man, who calls up the recipe, and another person at the destination where the concrete is dumped. It significantly streamlines the process. This can be dangerous work as well, and this automated process seriously reduces the potential for job site injuries."