Concrete specialist
By Chris Sleight31 March 2009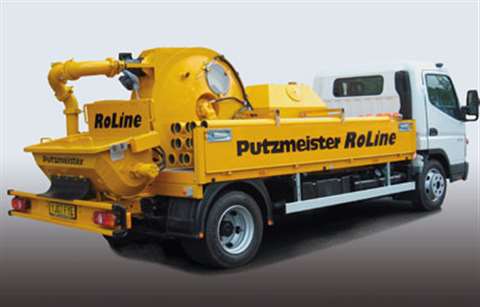 Among the new equipment on the Putzmeister stand will be the BQF 06 ROLine, a model from its new concept truck-mounted rotor pump range. The idea behind the machines is to place concrete using pipes and flexible hoses, rather than a boom. This means the truck chassis can be much smaller - the BQF 06 RoLine will be shown on a 7,5 tonne carrier - allowing access to confined spaces.
The pump itself is a rotor, rather than piston design, and the model on display can deliver 58 m3/hour. But a key advantage of the rotor design is that it can pump large concrete with a large grain size - up to 32 mm - as well as concrete with air-entraining agents, foam concrete, self-compacting concrete or liquid screed. The rotor also delivers a steady flow of material, rather than the characteristic 'squirts' of a piston.
Space saving is also a feature of the M 47-5 and M 42-5 truck booms that will be on display. Both models can be used with Putzmeister's one-sided support (OSS) system, which reduces their footprint by -30%. But even with outriggers fully deployed, the 47 m reach M 47-5 still only needs 8,0 m at the front and 8,9 m at the back.
Also on display will be smaller four-section workhorse models in the form of the M 36-4 and M 28-4, both of which are fitted on compact three-axle chassis.
Changes to the company's range of PUMI truck mixer pumps meanwhile is the large flatbed on the left-hand side. This provides space for up to 15 3 m long delivery hoses, while storage space on the right-hand side can be used for other accessories such as couplings.
Stationary pumps on display will include the BSA 1003 D and 1005 D, which have been developed for low volume/high pressure applications, where concrete has to be delivered over a long distance or to a great height.
Another novelty is the BSC 1409 C, a crawler-mounted pump developed for the specific requirements of piling work. The crawler undercarriage means the machine can travel over rough terrain - often the case when a project is at the piling stage. The higher delivery rate from the pipe and quicker set up time also means the unit can be more productive than a traditional truck-mounted pump.