ConExpo 2017 show guide: Top of the bill
By Alex Dahm08 February 2017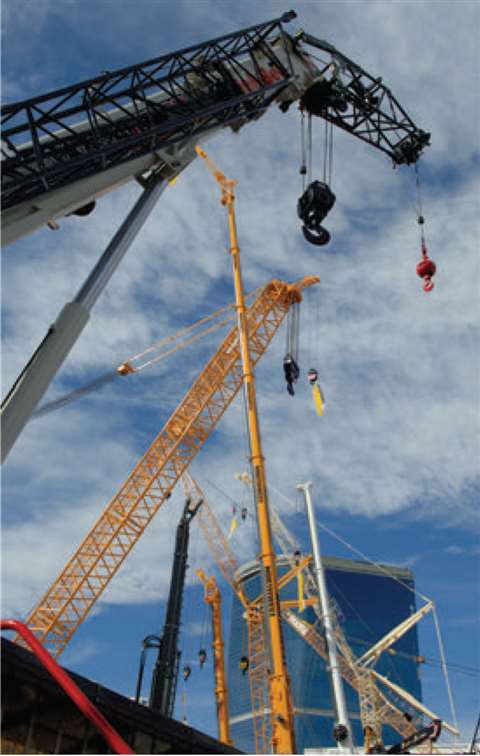 In the three years since the last ConExpo a real mix of news ups and downs and other major changes in the industry has characterised the market worldwide. In the USA things have been a little more level and consistently positive. Whatever the market situation, however, the good news is that new product development from the equipment manufacturers has continued through the highs and lows.
We can look forward to a celebration of this between 7 and 11 March in Las Vegas, USA when the world's construction industry will descend for the 2017 ConExpo show. Around 2,500 exhibitors from around the world will have the chance to show their wares to around 150,000 visitors from the Americas and many other countries.
Some of the cranes and trailers on show at this year's ConExpo are brand new and others are new to the US market. Many people will be seeing them for the first time.
An important element of this year's show is its comprehensive education programme. For more information see the SC&RA news section elsewhere in this issue. Operator training will be a feature in that CICB will offer NCCCO crane operator prep training and NCCCO lift director prep training on 5 and 6 March, the Sunday and Monday before the show opens. Attendees will be able to take the NCCCO written exams on Tuesday 7 March and crane operators can take their practical exams on 8 March.
Industrial Training International (ITI) will have three units of its new VR mobile crane training simulator. The Tadano GR-1000LX rough terrain will be one of two cranes available on it for people to try at the show.
In terms of learning about the market, Off-Highway Research is introducing improved services. Visitors will be offered insight into key current trends for international construction equipment sales and production worldwide. Off-Highway Research's range of services includes databases and reports offering country-by-country and product-by-product analysis of markets, and includes five-year sales forecasts.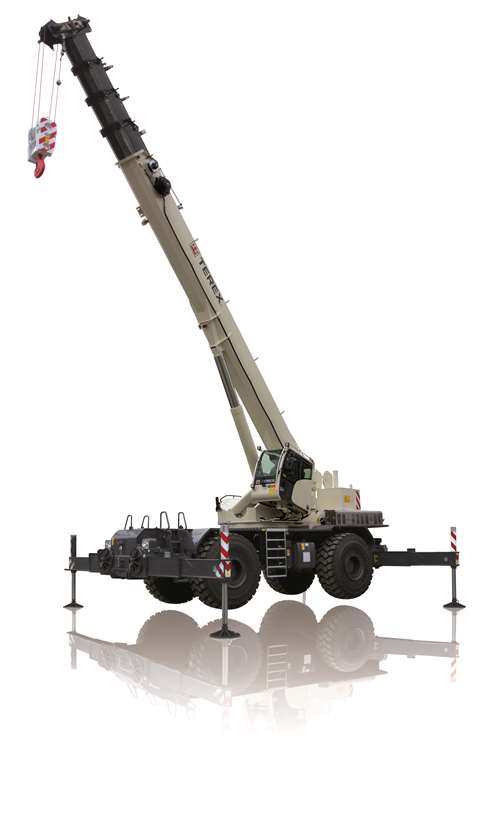 We have worked hard to produce our comprehensive show guide and have included news of as many of the new products and services as possible. Any last-minute updates in the lead up to the show and news from the event itself will be posted in the cranes and transport section of www.khl.com and look out for the ICST team during the show. Do feel free to stop by our booth, publisher KHL Group, in the Silver Lot, number S-5922.
Highlights of this year's show will include the following:
WHEELED MOBILE CRANES
As usual Liebherr's stand will be among the largest and most impressive at ConExpo with its 25 machines over 50,000 square feet (4,600 square metres) outside in the Gold Lot. Two new rough terrain cranes will be highlights. Liebherr announced its return to the rough terrain market in October 2016 and this show is the first public airing, fittingly in what is likely to be their biggest market.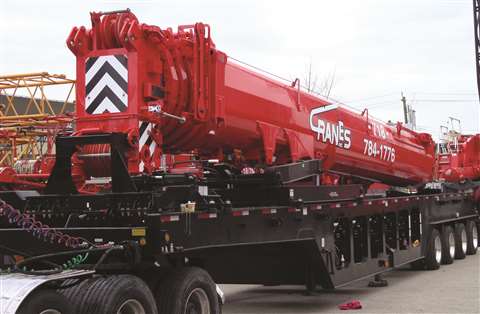 On show will be the 100 US ton (91 tonne) capacity LRT 1090-2.1 and the 110 US ton (100 tonne) LRT 1100-2.1. The former has a 154 foot (47 m) telescopic boom with a two-stage hydraulic cylinder with rope extension. The larger model has a 164 foot (50 m) boom with the Telematik system which allows extension options. It also boasts around 15 percent more capacity than its smaller sibling.
Both have an outrigger monitoring system as standard. The support status, on tyres or outriggers, is detected automatically and saved to the crane controller. The attachment of the ballast to the turntable and the installation of the optional double folding jib, including its angle adjustment, are also recorded and monitored.
The VarioBase variable support base system is standard on the new LRT cranes. It allows each outrigger to be extended to any length. The load moment limiter element of the LICCON control system calculates a lifting chart according to the extension of the outrigger beams.
The two new LRT models are the first mobile cranes which meet global safety standards and comply with all global regulations, including the US standard ANSI B30.5, The European EN 13000, Australian Standards (AS) and the Russian GOST standard, Liebherr says.
Dimensions of the Liebherr RTs are 12 feet 8 inches high and 10 feet 10 inches wide (3.86 x 3.3 m). Their curb weight is less than 121,000 pounds (55 tonnes) with full equipment, including ballast, or under 88,000 pounds (40 tonnes) without the ballast or equipment.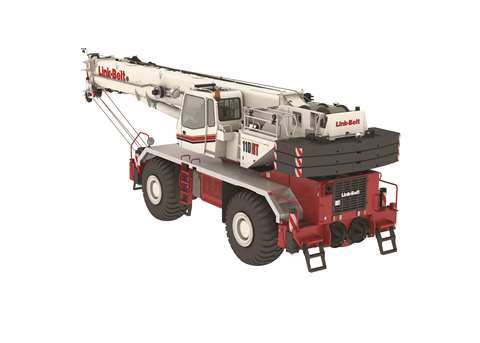 Tadano's new product development team has been busy with four new models presented at the show. It is rolling out a new RT, the GR1200XL. The 120 US ton (109 tonne) capacity newcomer is at the core of Tadano's large rough terrain line-up and boasts the industry's longest boom and jib combinations, the company said. The main boom is 183 feet 7 inches (56 m) long and it is a 6-section formed design. Jibs are from 33 feet 2 inches to 58 feet 1 inch (10.1 to 17.7 m). The GR series now includes seven models from 15 to 160 tons (13.6 to 145 tonnes) capacity.
A Grove RT mobile crane confirmed for display this year is the 80 US ton (75 tonne) capacity GRT880. It will be on public show for the first time in North America. It shares a new design with the GRT8100. Manitowoc's Crane Control System (CCS), is also a feature. A GRT8100 on show will belong to Bigge Crane and Equipment.
Bigge will also have its name down on a new Broderson model, the RT-400 rough terrain. It extends the range upwards from the existing RT-300 model.
Also ordered by California-based Bigge will be a Terex rough terrain, an RT100US, which is a model for the domestic market.
Link-Belt will show its new 75 US ton (70 tonne) capacity RT75 rough terrain. It transports fully loaded with counterweight below 100,000 pounds (45 tonnes), the manufacturer said. Power is from a 6.7 litre Tier 4 Final Cummins QSB engine. The US manufacturer has also uprated its larger rough terrain, the RT100, to 110 US ton (100 tonne) capacity and renamed it the RT110.
ALL TERRAINS
According to Manitowoc, its two new-to-North-America GMK5150L and GMK5250L all terrain cranes use ground breaking technologies that aim to generate a higher return on investment. The "L" designation denotes them as "long boom" models with more reach for many applications. The GMK5250L has a 230 foot (70 m) boom while the one on the GMK5150L is 197 feet (60 m).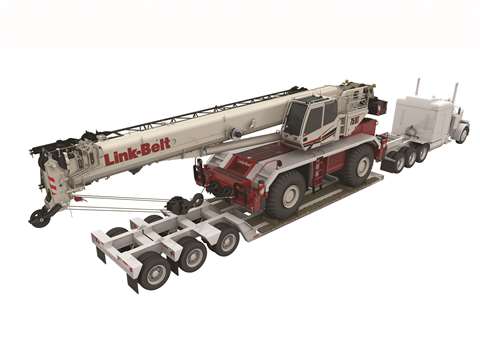 One engine to the Tier 4 Final exhaust emission standard powers these five axle Groves. Benefits given include reduced weight and better fuel consumption, which means lower operating and maintenance costs. Fewer design constraints on weight distribution allow more flexible configurations for travel in terms of, for example, distributing counterweight slabs on board. US customers frequently have to adjust their crane transport configurations between states or counties.
Tadano will introduce its upgraded 121 US ton (110 tonne) all terrain crane, the ATF 110G-5. A new feature is multiple counterweight configurations. The 5-section formed boom is 170 feet 6 inches (52 m) long. Jib configurations range from 12 feet 6 inches (3.8 m) to 105 feet (32 m).
Among others a 220 tonne capacity member of the five-axle family of Demag all terrains from Terex Cranes will be new to the US market and on display.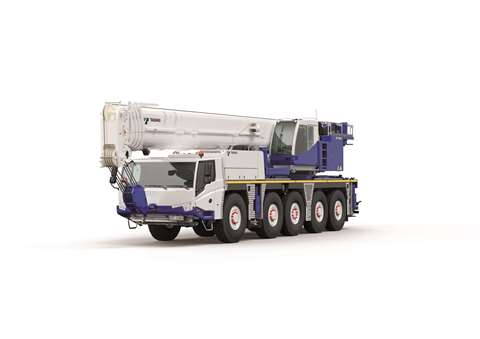 BOOM TRUCKS
From Manitowoc's National Crane brand an all-new boom truck series will make its tradeshow debut. First will be an NBT40-1, one of three new models. They are designed to be used as cranes or aerial lifts.
Elliott will unveil a new crane and cab and it will promote its new two-year parts and labour warranty. For residential construction US manufacturer Elliott has redesigned its 18 US ton (16 tonne) capacity model 1881TM boom truck with out and down outriggers that have full- and mid-span capability. It has a 5-section 81 foot (24.7 m) telescopic boom that stows over the cab. The design has a short subframe to allow more mounting options. The new model will be 100 per cent made in the USA, Elliott said.
The new Elliott cab will be offered on all cranes from 30 to 50 tons (27 to 45 tonnes) capacity. It will have a new high visibility and ergonomic structural design and an hydraulic tilt to an angle of 20 degrees to improve operator comfort and increase productivity.
As a leading knuckle boom crane manufacturer Palfinger says it sets a benchmark with its 125 tonne-metre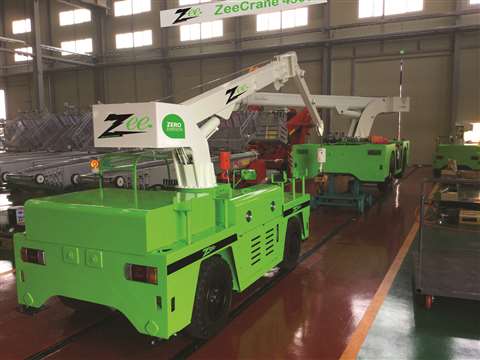 PK 165.002 TEC 7. It is designed for carrier vehicles with a maximum total weight of 32 tonnes. The idea is to save weight and maximise crane capability on an unrestricted permit-free vehicle. It is a ton lighter than its previous model, the PK 150002 and is still under the threshold with fly jib and winch. Greg Sneek, Palfinger North America product manager, said the new model can be installed on Class 8 chassis.
Capacity on the fly jib is 8.2 tonnes, up from 6.5 tonnes on the previous model. With the PJ 240 jib, the PK 165.002 TEC 7 reaches a maximum lifting height of 35 m and even 40 m with the PJ 300L.
In the industrial crane sector, the new Zeecrane is available in two models: the 4500, with a capacity of 9,000 pounds (4 tonnes) and the 9000, which lifts 18,000 pounds (8 tonnes). Compared to contemporary industrial cranes, Zeecranes have longer booms, a modern design and offer more capacity, the company claims. A key feature of these carry-deck cranes is that they are all-electric and have maintenance-free batteries. In addition to zero pollution at source, they are quiet in operation and can run indoors.
On the Zeecrane the energy management system will allow the cranes to work a full eight-hour shift at normal operating cycles, the manufacturer says. Overnight charging is from standard 208-240 VAC mains and the charger is mounted on board.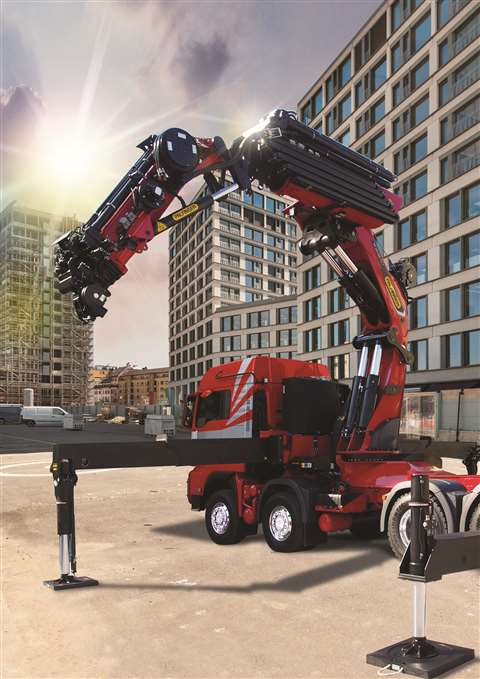 The Zeecrane 4500 offers a sheave height of 27 feet 9 inches (8.5 m) on the main boom and 35 feet 4 in (10.8 m) with the jib attached. The multi-position offset jib is good for confined areas. If, for example, a tank needs to be hoisted inside a workspace with a restricted height, the crane with offset jib can make the lift. The boom has continuous rotation. Zeecranes have self-aligning hexagonal boom sections with externally adjustable wear pads.
Italian industrial and yard crane manufacturer Ormig has a new model, the all-electric pick and carry type 55/60iE. It lifts 60 tonnes and measures 2.35 m tall by 2.35 m wide and weighs 24 tonnes without counterweights. Reach with the telescopic boom is 13.5 m up and 8.5 m out. Jibs are available to increase the reach.
CRAWLER CRANES
Liebherr will show the LR 1500, its newest 500 tonne capacity lattice boom crawler. Buckner Heavylift is the first US customer for this crane that was launched at the company's Customer Days in mid-2015 and then it made its public debut at the Bauma Munich show in 2016. Among others, an LR 1300SX set up for foundation work will also be on show, in Bigge colours.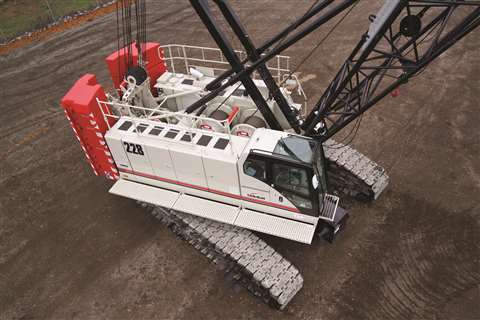 Link-Belt product development teams have been especially busy to the point where the US manufacturer's stand may have more all-new cranes than any other at the show. The new 130 US ton (118 tonne) capacity 228 HSL crawler builds on the Hylab range. Improvements have been made to transportability and attachment versatility.
As with other Hylab models, the 228 HSL offers two styles of boom: a tubular type up to 235 feet (72 m) long and an angle boom, up to 155 feet (47 m). The fixed jib from the 218 HSL can be used. On a transport trailer the 228 HSL has a retracted track width of 11 feet 11 inches (3.6 m). Its nine-piece modular counterweight system is designed to make it easy to move, in four or five loads with full counterweight.
Also new from Link-Belt is the 250 US ton (226 tonne) capacity 298 Series 2 lattice crawler crane. It builds on the success of its 298 HSL predecessor. Scott Knight, Link-Belt product manager for lattice and telescopic boom crawler cranes, says, "We believe the new transport package and combination boom tip absolutely completes our customers' wish list."
The new boom design allows the working combination boom tip section to remain in place when transitioning from conventional mode to luffer with a maximum combination of 180 feet (54.8 m) of luffing boom and 195 feet (59.4 m) of luffing jib.
A new retractable auxiliary lifting sheave has a capacity of 25 US tons (22.7 tonnes). Conventional boom length remains the same as the 298 HSL at 60 to 290 feet (18.2 to 88.39 m). The maximum tip height of boom and jib [250 + 90 feet. (76.2 + 27.43 m) is 342 feet 3.2 inches. (104.32 m). Power is from a Cummins QSL 9 Tier 4 engine.
Manitowoc will be promoting its 650 tonne capacity MLC650 lattice boom crawler with new boom inserts.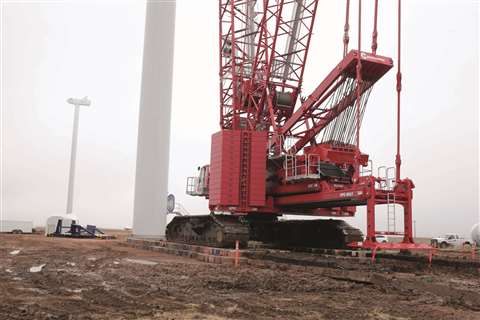 TELESCOPIC CRAWLERS
New in the telescopic crawler line from Link-Belt is the 250 tonne capacity TCC-2500 which expands the top end of Link-Belt's telescopic crawler crane line up which now boasts five models from 50 to 250 US tons (45 to 227 tonnes) capacity. The TCC-2500, with its Tier 4 Final Cummins QSL 9 diesel engine and seven-section formed boom, is making its public debut.
The 223 foot (68 m) pin and latch boom is the longest in its class, Link-Belt says. Attachments include a three-piece offsettable fly that measure 12, 40, and 67 feet (3.7, 12 and 20 m) and it can also have two 25 foot (7.6 m) boom extensions for an overall tip height of 346 feet (105 m). These attachments with optional hydraulic luffing allow for "up-and-over" capacity like lattice boom crawlers with luffing jibs. Production units of the TCC-2500 will be ready for shipment in March.
A pair of new telescopic crawler crane models now approved for global sale will be among the cranes shown by Tadano Mantis. The 88 US ton (80 tonne) capacity GTC-800 and 66 ton (60 tonne) GTC-600 should be key attractions.
The GTC-800 is the second in the GTC series designed to accommodate requirements of the growing Tadano Mantis core markets of power transmission, bridge and civil, and foundation construction while expanding the broader appeal of the crane toward lift crane based markets, the manufacturer said.
The GTC-800 has a full power, 5-section 141 foot 1 inch (43 m) hydraulic boom is designed to perform for lift work and out-of-level, pick-and-carry, and foundation work. Boom extension options include a 33 foot or 58 foot (10 or 18 m) bi-fold jib that can be offset at 3.5, 25, or 45 degrees. Maximum lifting height with the full jib is 198 feet (60 m). An optional 8 foot (2.5 m) heavy lift jib with a capacity of 23.5 tons (21 tonnes) that offsets at 3.5° and 30° is also available.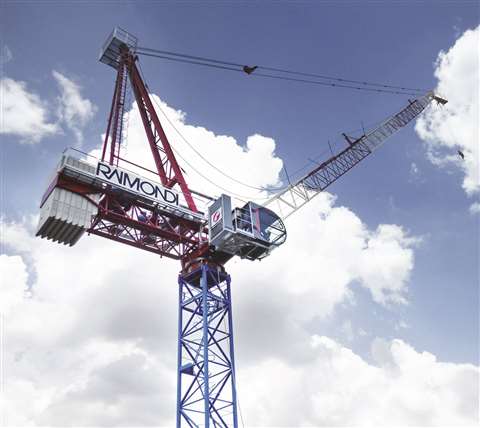 Load charts for the GTC-800 are available for operation at up to 4° out of level with automatic load chart switching. The "level" ground charts have a 1.5° slope allowance.
The 60 tonne Tadano Mantis GTC-600 has a 118 foot (36 m) four section boom and 10 or 17.7 m bi-fold jib. It is powered by a Cummins QSB6.7 litre Tier 4 Final diesel producing 310 hp. Many of its other features are the same as on the larger model.
Maeda will introduce the CC1485 as the only small telescopic boom crawler crane marketed in North America. It will replace the LC785 and will be available in North America in 2017. The CC1485 is a 6.6 US ton 96 tonne) capacity telescopic boom crawler on a heavy duty steel undercarriage. Maximum hook height is 72 feet 2 inches (22 m) and there is almost no tail swing.
Maeda will also exhibit its 2.8 tonne MC285, 3 tonne MC305 and 3.8 tonne MC405 mini crawler cranes with outriggers designed for access to tight work spaces and sites.
TOWER CRANES
Liebherr will offer visitors a virtual reality application so that they can experience the operation of a tower crane in real time. Experiences include the 710 HC-L luffing jib crane working on the MoMA Tower in New York, USA, about 1,000 feet (300 metres) in the air. Using a game pad and virtual reality goggles, you can explore the 3-D world, looking at the man-size hook up close, flying into the crane's jib or through urban canyons and watching the traffic below. The virtual reality application will also allow visitors to experience different weather conditions and times of the day and night.
Linden Comansa America (LCA), the North American distributor for Spain-based Linden Comansa, will display a luffing-jib tower crane and highlight new developments and original flat top cranes launched during the past year. Making its first appearance at ConExpo, the LCL 310 luffing jib tower crane comes in three versions – 12, 18 and 24 tonnes capacity, with maximum jib lengths of 197 feet (60 metres) and jib lengths adjustable in 16.4 foot (5m) increments. The electric tower crane, with its compact out-of-service position and reduced hook radius, is designed for use in cities or congested job sites. The LCL 310 will be available for rental at LCA's Northwest Rental Division in Washington after the show.
The two Manitowoc Potain top slewing cranes being launched at ConExpo, the MD 559 and MDT 219, have a strong technology focus with an updated design incorporating CCS (Crane Control System). CCS is designed to bring several advantages, including fast and easy set-up managed in as little as 15 minutes, the manufacturer says.
The technology is also designed to offer closer management of lifting operations to deliver more capacity. Looking after the crane is easier thanks to the on-screen maintenance tool, while its standardised components means spare parts are more easily available.
Raimondi Cranes from Italy is exhibiting at ConExpo to increase its visibility in North America. Domenico Ciano, Raimondi Cranes technical director, said, "By confirming our participation in the 2017 edition of ConExpo-Con/Agg, we are signalling to the markets of Canada and the United States that we are looking to cultivate strong, new relationships, while simultaneously developing co-operative efforts with our existing client base. Our entire executive team, including the company's technical specialists, together with export and aftersales care experts, will be onsite at the Raimondi booth to liaise with existing and prospective customers."
Among the Terex cranes promoted at the show will be a new SK Series hammerhead tower crane.
Wolffkran will show its largest flat top tower model, the 7534 clear. Visitors will also be able to try out a Wolff operator cabin and test crane driving skills on a Wolff 1250 B.
SELF ERECTING TOWERS
Liebherr will exhibit its new 81 K.1 fast-erecting crane, an upgrade of the 81 K. The lifting capacity can be temporarily increased by up to 20 per cent. Using the 'Load-Plus' function, there is no need to use an additional larger crane for heavyweight hoists. By bolting on an extension, the jib can be extended by 9.84 feet (3 metres) without too much effort. This increases the maximum radius to 157 feet (48 m).
Liebherr is also unveiling the new optional exterior cabin for its K series cranes. The cabin can be installed quickly and easily on any new K crane using its own load hook. The safe access ladder on the side is easy to reach and, because of its external position, the crane operator has a good view of the site.
The new cabin is designed to give the crane driver plenty of space and enable him to work efficiently without fatigue. Costs can be reduced for fleet operators since the same cabin can be used on different Liebherr fast erecting cranes where necessary.
The Potain Hup 40-30 was first previewed as a prototype at the Bauma show in early 2016 with its smaller sibling and was then officially launched in Italy in September 2016. The company expects it to generate a lot of interest at the Las Vegas show.
Hup 40-30 has a 40 metre jib and boasts
16 configurations. With a capacity of 4 tonnes it can lift 1 tonne at its jib end. A telescopic mast allows a range of working heights. This new design boosts the height under hook to 84 feet (25.6 m) in its 'low position' and 98 feet (29.9 m) when fully extended.
TRANSPORT EQUIPMENT
Tii Group from Germany will show its Scheuerle Highway Giant PB, a dual-lane trailer with power booster which can be folded up together to fit onto standard trucks for more efficient mobilisation. The design not only allows different vehicle widths, but also enables the vehicle to be safely widened when under load. To achieve an optimal payload to dead weight ratio, the company says that the bogie units are designed with a lightweight but stable construction.
A gooseneck or drawbar is used as a connection to the truck tractor so equipment such as spacer coupling elements or decks can also be incorporated.
Central to the Highway Giant is its pendulum axle technology. The hydraulic cylinders in the pendulum axle suspension are said to provide the greatest displacement volume on the market for driving under and picking up loads.
An auxiliary power unit provides additional thrust and facilitates the use as a self-propelled vehicle without a tractor. In certain circumstances the need for a second tractor during transportation can be eliminated. In addition, the auxiliary power unit means that the load can also be easily manoeuvred when it has reached its destination.
Goldhofer from Germany will display its two latest transport systems. First is the six-axle Addrive with three self-propelled axle lines. This switchable drive, unveiled at the Bauma show in Munich in 2016, optimises working with heavy duty modules, whether operated as towed modules or as self-propelled modular transporter.
The Goldhofer STZ-P 9 (3 + 3 + 3) AA low loader semitrailer, meanwhile, is designed for use on North American highways. With swing-axle technology, maximum frame strength and decks that can be extended, plus a choice of vehicle widths and various wheelbases, the STZ-P series also has a rear bogie that can be retracted under load for greater flexibility when having to negotiate tight bends and roundabouts.
US trailer manufacturer Nelson will display an upgrade of its crane boom launch trailer. The new version will allow the crane boom to be pinned and unpinned to and from the trailer with the operator safely stood on the ground. New features include a powered front trolley, powered side shift and air locking pins to allow the operator to attach the boom to the launch trailer using the remote control. The need to climb up on the trailer to move the front trolley and pin the boom tip has been eliminated as these functions can now be completed from the ground.
The boom launch system is available for most crane booms offered by Grove, Liebherr, Link-Belt, Tadano and Terex. Retrofit kits for existing Nelson trailers out in the field are also available.
Nelson will also display its new telescopic step deck trailer with automatic kingpin activated steering. This new low profile step deck comes in with a deck height of 36 inches (914 mm) with nearly 73 feet (22.25 metres) of deck space when fully open.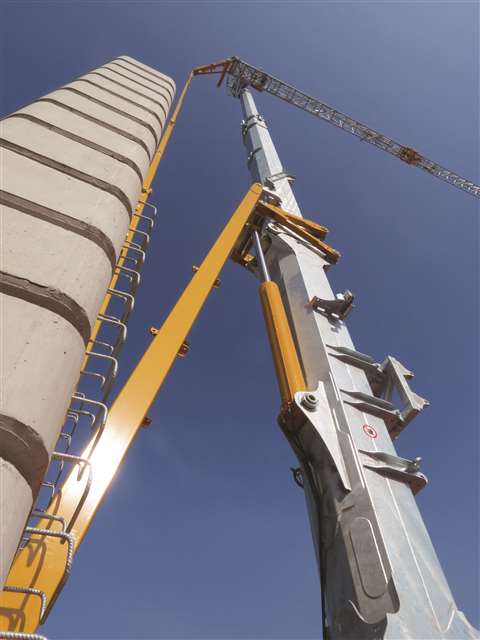 The quad-axle trailer is rated for 100,000 pounds (45 tonnes) of payload. Each axle is linked with the kingpin providing automatic progressive steering for reduced tyre wear and better manoeuvrability. The automatic steering system can be easily overridden with a wireless remote control when operated at slow speeds.
With the kingpin activated steering system this is said to be the perfect trailer to reduce operating cost by eliminating the requirements for a tiller man escort. Now the driver will have the steering control when hauling tanks, pump skids, generator houses, crated import and export crates, and other payloads that require a telescopic step deck. The trailer can be used as a conventional step deck for back hauls.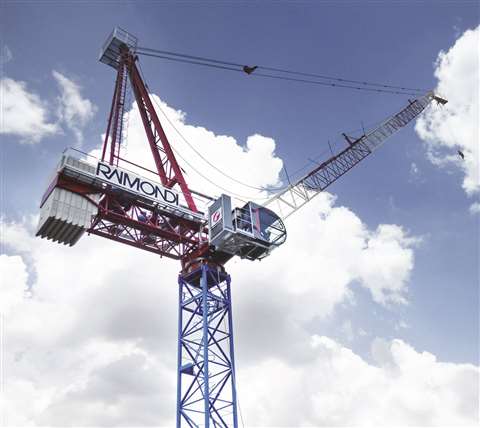 The self propelled modular transporter (SPMT) type SPMT600 is a productionised version of an existing custom product for transporting heavy loads. The SPMT's low height and compact frame are said to make it easy to lift, manoeuvre and transport loads in a confined space. Each wheel has an individual drive motor, steering actuator and lifting cylinder.
Equalised suspension automatically spreads the weight of a load across each of the connected trailers and wheels. The SPMT has slew drive steering system capable of +/- 179 degrees steering and maximum configuration of six trailers in two rows.
ROPES AND RIGGING
Alps Wire Rope Corporation will unveil Petersen's P400, a mobile solution for swaging and testing wire-rope terminations and crane cable repairs onsite. The machine allows the correct pressing of swage sockets onto wire rope. After fitting the socket, the wire rope can be gripped and a proof load applied, all on the same machine. The proof load test can be carried out on lifting assemblies without the need for external equipment. The comparatively low weight and compact design of the Petersen swaging and testing machine means assembly can be done on site, the company said.
Rope specialist Casar is working on an extension to its 10-strand Casar Superplast 10 Mix – a hammered (compacted) version that combines the reversed bending characteristics of this construction with higher breaking strength and a smooth rope surface. Features are said to include excellent spooling performance on multiple-layer drums and the ability to cope with higher rope tensile forces.
Casar has also increased the breaking strength of its Turboplast rope product.
The Oliveira DC 4 K four-strand compacted hoisting rope is a new addition for ship and deck cranes and the TC 12 K has been developed for tower cranes. And the company has upgraded its Oliveira HD 8 K PPI product to include a higher break ing load.
Austrian rope manufacturer Teufelberger will present the new steel wire ropes Evolution P9 and Evolution TK27 as well as the high strength fibre rope soLite.
Evolution P9 is a compacted nine-strand boom hoist rope. Its Duofill dual compaction technology is designed to be crush and wear resistant. Evolution TK27 is the latest in rotation resistant ropes. It has 18 outer strands and its unusual core design is said to provide the highest efficiency and breaking loads in economic wire tensile strengths. The soLite rope is designed for crane application and has up to 200 % higher carrying capacity, 80 % lower weight, easy handling and higher service life than its alternatives, the company says.
Samson's Agile Lifting System is its next generation heavy-lift synthetic sling, designed for increasingly complex engineered lifts. It matches the strength and light weight of Samson's synthetic rope slings, but with a form factor like round slings. Agile is a
hybrid product designed to combine the advantages of round and rope slings into one lightweight, easy-to-handle rigging system for heavy payloads.
In addition to its modular transporter mentioned elsewhere in this guide, Enerpac will also show a jack-up system, pictured, and an hydraulic telescopic gantry, together with its pneumatic and electric torque wrenches, new high tonnage lifting cylinders and the Pow'R'Lock self-locking lifting system.
From Gunnebo Johnson the new Johnson 63 tonne GFS (Global Flexi-Weight) crane block is designed to allow customers to quickly adjust the overhaul weight of the block to make it suitable for virtually any lifting operation, saving time and money. The quick connect cheek weights require no tools, making it possible to change the weight of the block on the fly. The secure locking weights are designed to improve safety and stability, especially when pile driving and in other heavy duty applications. The Quick Reeve Design allows a safer and faster installation for the operator.
The Crosby Easy-Loc V2 is designed to improve shackle bolt securement for critical lifts. No tools or cotter pins are needed and it is claimed to be around 40 per cent lighter than traditional securing methods. Its 316 grade stainless steel construction resists corrosion and the design reduces installation and release time by up to 90 %, Crosby says.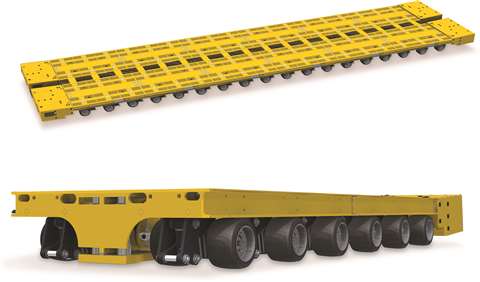 The latest offerings from Bigfoot include safety orange outrigger pads and ground protection mats. Bigfoot's premium pads are made exclusively from wood from sustainable forests.
Columbus McKinnon Corporation will show its CM Tornado 360° ratchet lever hoist with Sidewinder lever handle. This patent-pending hoist is said to be ergonomically designed and allows the operator to be more productive with significantly less effort compared to conventional ratchet lever tools.
TECHNOLOGY
Crane manufacturer Shuttlelift's remote diagnostics include a Bluetooth dongle designed to transmit wireless data from the crane directly to a smart phone or tablet. It allows an offsite technician to view a machine while it is operating, troubleshoot the issue, and upload a new program if needed.
The new i4300 crane control system from Rayco Wylie is designed to be a cost effective retrofit successor to the W2245. It has a 4.3 inch (110 mm) screen, USB connectivity, full on screen calibration (no expensive special equipment required) and CANbus communication. The i4300 will bring your machine up to date with a simple clear display, easy to follow calibration procedures and state of the art diagnostics.
Remote-control equipment manufacturer HBC-radiomatic will present its technos A transmitter, a radio control for many applications, including cranes. Useful for crane operators is the radiomatic photon camera, which delivers live video images to the colour display on the transmitter. Features include front panel lighting and a flashlight. Automatic frequency management with 2.4 GHz technology is to ensure reliable operation in busy radio environments.
Netarus, maker of the HoistCam platform of remote camera monitoring systems, will launch SiteTrax.io, which enables video and photographs to be automatically analysed into near real-time, meaningful reports. By defining critical parameters, the analytics system overlays images to create 3D point clouds and digital surface maps to deliver reports. SiteTrax.io builds on the HoistCam Director fleet monitoring software. By providing a centralised monitoring point, HoistCam Director allows construction owners and general contractors to view
and manage hundreds of job sites or equipment operations, improving productivity and safety.