CONEXPO-CON/AGG 2017 STOP PRESS: On view in Vegas
show details
When: March 7-11
Where: Las Vegas Convention Center, 3150 Paradise Rd.. Las Vegas
Hours: Tuesday – Friday, March 7-10, 9 a.m. – 5 p.m.
Attendees have five days to peruse the 2500 exhibitors at ConExpo 2017. A good number of them will be access-themed. Here follows a round-up of products at the show that have been announced since the ConExpo Showguide in the January/February issue of AI.
Bigge Crane and Rigging G72812
While known as a crane rental company, Bigge has a number of large capacity telehandlers in its fleet. The company was the first to purchase an Xtreme XR7038, which weighs 53000 pounds and can lift up to 70000 pounds. Expect to see a number of Xtreme telehandlers on the company's booth.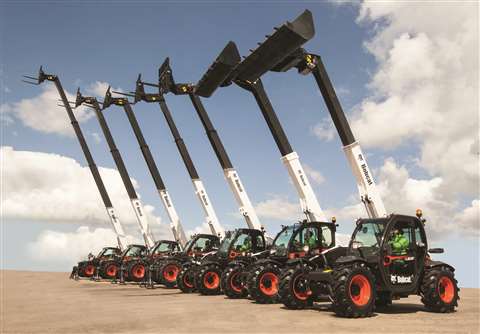 Bobcat G4476
Bobcat has just launched a new range of rigid frame telehandlers for applications in construction, rental, agriculture, recycling and industry, covering maximum lifting capacities between 2.6 and 4.1 tonnes with lifting heights from 6 m to 18 m. The company also offers a range of four rotary telescopic handlers, providing maximum lifting heights of 15.7, 18.7, 20.5 and 24.1 m, respectively.
Custom Equipment G3827
Custom Equipment's Hy-Brid lifts will be out in full force at ConExpo. The company will specifically show its HB-1230 and HB-1430 units at the event.
The HB-can be an alternative to mast lifts. With its 18 ft working height, the lift is ideal for contractors to work on projects like electrical, plumbing, drywall and sprinkler systems.
The lift's 30 inch wide x 55 inch long platform can hold 550 pounds and features an extension that adds nearly 29 inches of length. This allows users to load the lift with more tools and supplies than competing mast lifts, it says, thereby reducing the number of trips up and down to reload the platform.
Elliott Equipment Company G3757
Elliott's E190 E-Line features a 190 ft working height without a jib.
Elliott Equipment Company will focus more on aerials in 2017. It will be showcasing new products and features specifically designed to improve the experience of the operator. Visitors can get a glimpse of the company's E190 E-Line that features a 190 ft working height basket without a jib.
Instant Upright b9103
Instant UpRight will launch its new heavy duty aluminium modular scaffolding system for North and South American markets at ConExpo. The system is constructed from high strength aluminium, which compared to steel systems that are commonly used, can weigh up to 45% less. The system makes technological advances upon Upright's existing patented cold-formed technology. The new cold-forming method allows for the attachment of rosettes to the standards in a way that results in an increased load carry capacity above a traditional welded joint. Based upon standard bay configurations, the heavy duty aluminium modular scaffolding system can achieve a load carrying capacity of load class six in 2 m bays. The system has been independently tested to EN12810 and is available in both metric and imperial versions.
Imperial Crane Services G2329
Imperial Crane will be showcasing its newest products, including a Merlo telehandler. "A revolutionary four-in-one rotating telehandler, the Merlo telehandler stands out from the competition by featuring a side-mount on the engine rather than under the boom, which allows operators to achieve 360 degree visibility and computers that prevent operators from making mistakes or getting into accidents," says Jeff Bohne, Imperial Cranes' president.
International Powered G4301
Access Federation (IPAF)
IPAF will be exhibiting and presenting at the safety-focused Lift Safety Zone. The federation's experts will be demonstrating the importance of getting the basics right when using MEWPs, whether attendees are a manager or operator. IPAF will also be highlighting the key new requirements in the ANSI standards to assist visitors to the stand in what they need to do in preparation to meet the new standards. Be sure to stop at IPAF's booth and find out what you need to become compliant with the new requirements.
Visitors can learn about the IPAF smart PAL Card, an easy way to keep track of who is trained, familiarised and authorised – all requirements in the pending safe use standard A92.22. The cards are easily scanned for a site manager or foreman to assess what equipment the card holder is trained on. IPAF will also showcase its new new eLearning offer, which addresses several of the key obstacles or objections to MEWP operator training.
Virtual reality (VR) is another tool that presents interesting benefits and opportunities, and one that IPAF will highlight.
Tony Groat, IPAF North America manager, says, "As ever, IPAF is closely involved in the development and implementation of rigorous industry standards and the wide-scale adoption of harmonised language across country standards whenever possible. We anticipate more operators and rental managers will avail themselves of IPAF-accredited training to help ensure safe working to the requirements of the new standards and hope that the new eLearning element will also encourage even greater numbers of people to get trained."
JCB G3364
JCB will present its new access division at ConExpo, plus a range of its telehandlers. New to the public will be its 50 ft, diesel-powered boom lift. The AJ50D diesel model is powered by a Perkins engine. Various Loadall telehandlers from its broad lineup will be at ConExpo too. Among those on display will be the 512-56, 514-56 and 508-66 models. The company will also have other new units but has kept details at bay.
The new 508-66 lift-and-place telehandler can reach up 66 ft with a 3000 pound load when its two front stabilisers are deployed. That's enough reach to set a load of material or piece of equipment atop a six storey building. With the stabilisers set, the 508-66 can also raise its 8500 pound maximum load to a height of 33 ft, or reach forward 52 ft, 6 inches with a 400 pound load.
The machine can also handle loads with its stabilisers raised. Lifting just off the tyres, it can raise 1000 pounds to a height of 32 ft, 8 inches; lift 8500 pounds up to 18 ft, or place 400 pounds at 31 ft, 8 inches of forward reach. It can also travel while carrying up to 8500 pounds. The 512-56's boom is positioned high for optimum operator visibility.
ReachMaster G3831, G2794
ReachMaster will use ConExpo to debut a number of new products, including the premier of its new Falcon FS108Z, as well as another new product that the company could not release details on. The FS108Z provides 62 ft of horizontal outreach and 108 ft of vertical reach.
Also on stand will be the all new Bibi BL33 EVO, which will launch globally at ConExpo, while the company will also launch the Bibi HE26 for the first time in the US.
"The Bibi line took the world by storm last year by introducing the concept of a bi-leveling, track-based undercarriage with a 26 ft scissor lift working height," says Ebbe Christensen, president of distributor ReachMaster. "It is the only lift concept of its kind that allows the lift to adjust both front and rear and left and right, making it possible to use in uneven terrain, slopes, sidewalks and a multitude of applications where a regular scissor lift cannot work and bigger units and types of equipment are either too expensive or simply cannot get into the work application."
Visitors can also expect to see a Dinolift RXT87, Bluelift B85 Combo and Winlet.
Wacker Neuson G3435
Just last year, Wacker Neuson introduced its first telehandler for the US market. The TH522 can lift up to 4100 pounds and has a maximum lifting height of 16 ft, 7 inches. The TH522 can dig and handle material like a wheel loader and use a variety of attachments like a skid steer loader. It meets Tier 4 Final emission standards and features a fully enclosed cab as standard equipment. The company also has the TH627 which can lift 5500 pounds and lift up to 18.8 ft.