CONEXPO-CON/AGG 2017: Vegas in bloom
By Euan Youdale13 January 2017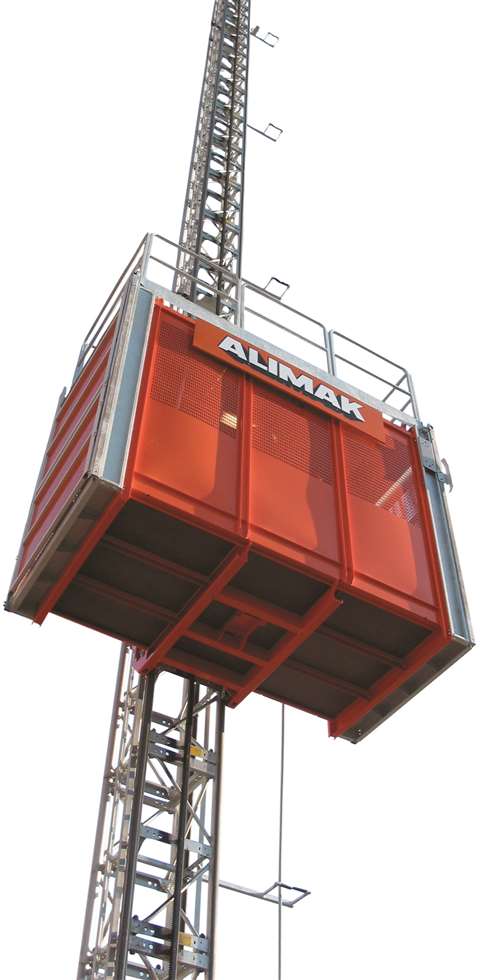 ConExpo 2017 will feature more than 2500 exhibitors – 700 of which are new – spread across 2.5 million square feet. North America has been through a patchy period over the last eighteen months, with most manufacturers of aerial work platforms reporting challenging sales conditions in that time. Nevertheless the AWP sector in the continent is buoyant and ConExpo looks likely to bear that out when it takes place in Las Vegas, US, in March.
One of the manufacturers taking that to heart is Manitou Group, it will introduce more than 24 new models. They will include nine new Gehl telehandler and five new Manitou models in the rotating, heavy duty and construction telehandler lines. New skid loader, track loader, articulated loader and excavator products will also be on the stand.
Magni Telescopic Handlers will remind visitors of its presence in the US, which is a relatively new market for rotary telehandlers. "The positive feedback from customers and end users is further evidence that this type of product is certainly successful for these markets and also has a wide field of use," said the manufacturer.
Its stand will include the highest of this product type in the world, with the RTH 5.30S, RTH 5.35S and RTH 5.39S, having maximum working heights of 30m, 35m and 39m, respectively. There is also a range of attachments: the Romastor fork with 2.5 tonne capacity which allows rotation of the load through +/- 90° and which, if combined with turret rotation, makes it possible to work in very limited spaces without shifting the vehicle. A HTH 16.10 will also be on display, representing the manufacturer's HTH heavy duty range, with capacities from 10 tonnes to 45 tonnes.
New ideas
Cat's range of compact construction machines will be on display at ConExpo. The new TH514D telehandler sports a three-section boom and a Tier 4 Final compliant engine. Caterpillar's 46 ft reach and 11000 pound lift capacity are ideally suited for pick and place lifting. Cat D Series telehandlers will also offer new innovations such as a reverse object detection system, an advanced display screen and a reversing camera.
Bobcat will introduce the new V519 VersaHandler telehandler; a compact machine featuring a two-stage boom with a reach of more than 10 ft and a lift height of 19 ft, plus the ability to lift up to 5500 pounds.
The V519 includes the manufacturer's Bob-Tach attachment mounting system to increase utilisation.
The machine is designed with a standard two-Speed hydrostatic drive system. The V519 is well suited to operate standard and hydraulic-powered attachments. As V519 operators lift their foot off the pedal, the machine comes to a stop. In addition, the automatic parking brake engages anytime the engine idles when it is stopped to avoid unintentional movement - an exclusive feature of the V519. When V519 operators need full auxiliary hydraulic flow without full travel speed, a speed management feature allows operators to dial in a percentage of the normal speed.
On the Xtreme Manufacturing stand there will be eleven of its heavy duty telehandlers. The display will include the Xtreme XR7038, North America's highest capacity telehandler, with a lifting capacity of 70000 pounds. (31751kg). The XR7038 was originally launched at ConExpo in 2014, and has since made its mark in mining, oil and gas, and infrastructure.
Also on display will be the 20000 pound (9071kg) capacity XR2045, the 24000 pound (10886kg) capacity XR2450, the 30000 pound (13607kg) XR3034, and the 40000 pound (18143kg) XR4030.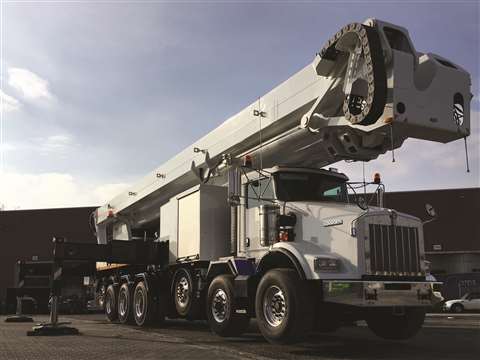 Xtreme will also display a range of attachments, including buckets, truss booms, and the Xtreme-engineered high capacity pipe and pole grapple attachment, as well as its Xtreme Cube modular building system in the form of a two-story booth structure.
On the subject of telehandlers, Skyjack is using the early-year trade shows in the US to showcase its new prototype telehandler, as well as an articulating boom.
The SJ1256 TH is based heavily on the manufacturer's SJ1056 TH, part of its TH series launched last year. Barry Greenaway, senior product manager, Skyjack, said, "Most telehandlers in the 12K category lift 12000 pounds to just over 20 feet. The SJ1256 TH can lift 12000 pounds to 35 ft."
Ideal for heavier-duty applications, the SJ1256 TH telehandler features 12000 pounds (5443 kg) lift capacity, 56.3 ft (17.1 m) maximum lift height, 6000 pounds (2,721 kg) lift capacity at maximum lift height without deploying outriggers and 7000 pounds (3175 kg) lift capacity at maximum height with outriggers deployed, 42.6 feet (12.95m) maximum forward reach and a Tier-4 final 107hp Deutz TCD3.6L engine that uses Diesel Exhaust Fluid but requires no regeneration.
"By introducing the SJ1256 TH, we can now supply telehandlers to operators and rental branches that cater to heavier duty applications, such as the energy sector," Mr Greenaway said. "We want to be able to service those sectors as part of our pursuit of becoming a full-line manufacturer and supplier of mobile elevating work platforms and telehandlers."
Based on customer feedback to the TH series, Skyjack made numerous changes to the SJ1256 TH including integrating a heavy duty cab door and offering hybrid hard surface/grip lug style tires as standard.
The SJ1256 TH made its debut at World of Concrete in Las Vegas and will be for sale in the second quarter of 2017.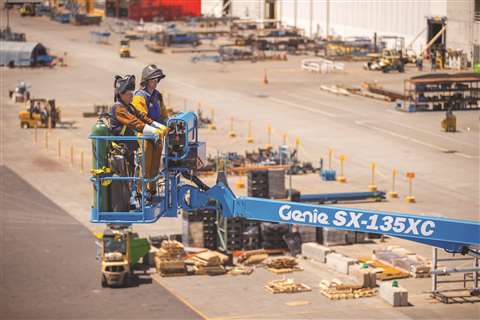 Platform products
Also new in 2017 will be Skyjack's SJ85 AJ articulating boom, also shown at The Rental Show and ConExpo. It has 85 ft of platform height, a horizontal reach of 56 ft, and up-and-over clearance of 34 ft. Its dual capacity rating of 750/500 pounds (340/227 kg) and two to three people rating, aims to increase productivity and jobsite performance, the company said. As with the existing SJ63 AJ, the SJ85 AJ will have a similar open centre knuckle riser design.
ConExpo is set to be an illuminating show for Genie too. It is boasting several new product launches at the US exhibitions, some of which will debut at the Rental Show and others at ConExpo. The latter will see two new models in the manufacturer's XC family of booms, which were launched last year.
Previously launched Genie machines at the show will include the SX-135XC, SX-150 radius, making it ideal for working in confined spaces. Snorkel will display all three of its self propelled telescopic mast lifts, including the TM12, TM12E and TM16E. In addition, Snorkel will show the A38E, A46JE and A46JRT articulated booms, four models from the recently launched Snorkel electric slab scissor family and the new Snorkel 660SJ telescopic boom lift, launched at Bauma 2016.
Among the eight-strong line-up on Haulotte's stand will be the US premier of the company's HT85 RTJ O boom. Also on show will be the Star 13 Picking vertical mast, HA46 RTJ articulated boom, HA61 RTJ articulated boom, HT67 RTJ rough terrain telescopic boom, 6543 A trailer mounted boom, Optimum 1931 AC scissor lift, and Compact 2632 E scissor lift.
The 85 ft HT85 boom, shown for the first time as the HT28 at Bauma China in November last year, has an outreach of 78 ft, 2 inches and has a number of new features and options. The Activ'Lighting system-safe load will be available to the market for the first time on the HT85. The system features lighting on several points around the machine, making loading and unloading easier. The unit will also have Haulotte's secondary guarding Activ'Shield Bar 2.0.
The HT85 will also have an optional dual load capacity of 500/770 pounds. In the 770-pound mode, the platform can accommodate an extra 40% of equipment by weight, the company said. The unit also will have an oscillating axle; hydraulic differential wheel lock; high ground clearance and gradeability up to 45%. Also on hand will be the HA46 RTJ boom lift.
JLG will debut nine new products but has not released any details other than to say the units will be in the boom, scissor and telehandler categories.
Additionally, the manufacturer will exhibit a range of its most popular products, including the 400S and the SkyTrak 10054 telehandler, as well as the 1932R electric scissor lift will be on display.
Of coures, JCB will be showing platforms for the first time at ConExpo. (See Manufacturre news, page 10, for details).
Turning to truck mount manufacturers, Palfinger has confirmed the 90m working height P900 will be at the show. The P 900 Top Class offers a lateral range of 32.3m with a basket load of 530 kg, with a heavier basket load of 700 kg as an option.
The unit is also able to reach 22.5 m in negative reach. The boom is mounted on a Kenworth 7-axl truck, with GVW below 50 tonnes. This allows high loading weight potential. Nevertheless, the heavy weight can be securely stabilised in areas where there is very little space, with a stabiliser distance of 7,255mm length and 7,200 mm width.
Time Manufacturing will be exhibiting two units: the PHX-180-I and the Ruthmann T235, purchased by Blade, which represents the third of four big units sold to the company.
Ruthmann will show the Skybird 215I insulated truck mount. The Skybird is a joint venture between Time and Ruthmann, utilising the strengths of both companies to create a 66 m working height insulated aerial lift that complies with ANSI A92.2 cat. A, 500 kV.
Also on the Ruthmann stand will be a brand new 33m truck mount. The T105A platform has been shipped to the US, where a heavy frame has been designed to mount it on a Ford F650 Super Duty commercial truck, which has a total weight within the limit of use with commercial driving licence. Rolf Kulawik, explained that Time had given them their approval to produce the machine Independently of the partnership, as the market for this working height is big enough to accommodate both.
"The 33m is the biggest we can put on that truck, and it's the greatest height/outreach in that truck in the market, but now we have to start advertising it and demonstrating it."
Concerning applications, Mr Kulawik said, "We are not interested in utilities, with Time and Terex having the major part of that. We are looking at smaller companies, end users, tree trimmers, window cleaners - these are the companies that will see the machine first and give us the first references.
"We will find the right dealer, if we don't find the dealer then we will do it on our own, whatever is necessary, we will go step-by-step."
They will also be represented by ReachMaster, which distributes Bluelift tracks and will continue to do so under Bluelift's new owner Ruthmann Italia.
Elliott Equipment Company will be showcasing new products and features specifically designed to improve the experience of the crane operator at ConExpo 2017. First, will be unveiling a completely new high visibility tilting crane cab. Second, Elliott will be showcasing its newest crane, the 1881TM 18 tonne tractor mount boom truck featuring full and mid-span out-down main outriggers. Elliott will also be promoting its new two-year parts and labour boom truck warranty.
Data services
Turning to mast climbers Alimak Hek will display the Alimak Scando 650 construction hoist and the TPM 1300 SD transport platform at ConExpo.
According to scaffolding specialist Layher, additional escape stairway structures for buildings are becoming more important. Building regulations require, for greater numbers of people, a second escape route or modification to the existing one. The 16-standard design of the Allround 750 stairtower is suitable for uses with high loads and permitting variable stairway flight widths of 1.09m to 2.07 m. The stairtower permits adjustment of the exit heights and thanks to a modular design the weights and volumes of the individual parts are low, allowing rapid and economical assembly and dismantling. The high proportion of standard Layher Allround Scaffolding material further contributes to high efficiency.
Specialist market intelligence and forecasting company Off-Highway Research will this year add new reports on Poland, South Korea and the global hydraulic excavator industry. These 150-250 page definitive reports are scheduled for publication in the second half of the year.
At the show, the company will introduce an updated version of its Internet-accessed Database Services website, which provides subscribers with detailed equipment sales and production figures by county, product type and manufacturer.
Visitors to the stand will have the opportunity to speak to Off-Highway Research's consultants from China, Europe and India, gaining insights into key current trends for international construction equipment sales and production worldwide. A roundtable presentation from Off-Highway Research managing director, David Phillips, and Samir Bansal, general manager of Off-Highway Research India, will take place on Thursday 9 March from 2:30-3:30 pm in the International Trade Centre, in room N250.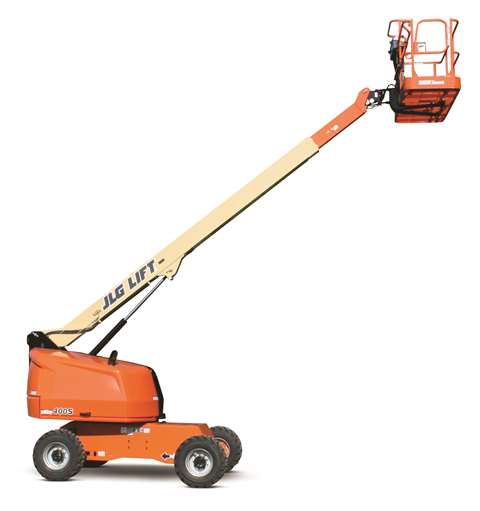 Turning to parts, TVH will be exhibiting the new Red LED Area Warning Light and the Blue LED Spotlight. The Red LED warning light emits a bright red line on the ground around the machine and can be mounted on all four sides to clearly designate safe working areas. The Blue LED Spotlight projects a highly concentrated blue beam on the floor or ground and is clearly visible to pedestrians and other vehicles in the area, regardless of the surrounding noise level. Coupled together these lights help enhance safety efforts by warning those in advance and immediately surrounding the equipment that work is going on in the area.