Consortium of contractors win $800m deal to build first phase of Port of NEOM
By Neil Gerrard26 May 2023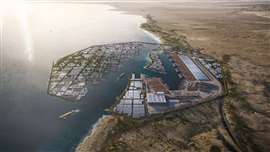 A consortium of contractors has won a contract worth SAR 3 billion (US$800 million) to build the first phase of the Port of NEOM in Saudi Arabia.
NEOM is a special economic zone in the north west of Saudi Arabia, for which multiple ambitious construction projects are planned, including a 170km-long linear city called The Line.
Belgian contractor Besix and Boskalis have become the first European contractors to win a design and build lump sum contract with NEOM, to build the first phase of the region's port. Work will involve dredging and construction of quay walls.
Besix will work with local partner Modern Building Leaders (MBL) to design and build more than 3km of quay walls.
Located on the Red Sea, near the Suez Canal, the port serves as the primary seaport for NEOM and is undergoing a transformation to become what its developers claim will be the "world's most technologically advanced, efficient and sustainable port".
The Besix-MBL joint venture covers approximately 50% of the scope of the contract.
Peter Lembrechts, general manager at Besix said, "This project marks the company's exciting return to Saudi Arabia where we will utilize our extensive experience to build the vital infrastructure needed for this visionary port. We would like to thank NEOM and the selection committee for entrusting us with this project and look forward to working with all partners to make this vision a reality."