Construction and demolition waste: why it's so important
By Steve Bennett30 December 2022
Steve Bennett, managing director at Dura Products, explains why reuse and recycling are fast becoming vital in construction and demolition as public attitudes continue to change.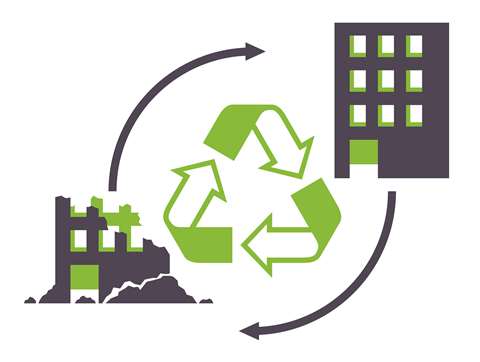 Building materials account for 50% of all solid waste created globally (globenewswire.com), meaning anything that can be reused and recycled is gaining ever greater importance as governments and local authorities make disposal more expensive, and consumers call out wasteful businesses.
Why recycling construction waste is so important 
Companies also realise that it is no longer acceptable to virtue signal around their environmental brand values when it comes to products and packaging if the buildings they operate from are constructed using unsustainable materials or practices.
Dura Products is dedicated to designing out waste and pollution, to create construction products that work in a circular economy.
We do this by designing materials that can be re-used or recycled many times over.
Our Durakerb and Duradrain units – kerbs, kerbside and surface drainage – are made from 60 to 88% recycled polymers, comprising the equivalent of 182 plastic bottles.
This also means that each unit is both lighter to carry than traditional concrete products – causing less CO2 when transported – but can be recycled again following demolition or remodelling of their original scheme.
Recycled and recyclable construction materials
In 2014, the retailer Tesco demolished its old store in Dundalk, Ireland, to create a new Tesco Extra.
Stringent environmental criteria and re-using products from the existing scheme were key factors in the new design. This meant that during the demolition phase all the recycled polymeric kerb drains were broken out with standard mechanical plant.
Every unit removed was then cleaned and separated from the old bed and haunch, and then re-installed.
By reclaiming and re-using what was already on site, the contractor was able to meet both leading criteria of the design, something that could not have been achieved with standard concrete kerb or kerb drain products.
Demolition planning as part of the design and construction phases
Another strong example is the HS2 project on the A422 Brackley Overbridge for EKFB in Northamptonshire, England, a joint venture of contractors, putting environmental matters at the forefront of everything it does.
We had a frank discussion when EKFB was considering what materials would be best suited for a temporary road diversion.
Kerbing was a necessity as a drainage feature and boundary for the temporary road, however, after two or three years the infrastructure would be demolished, and the road returned to its original route. It decided to go for the installation of 1 km (0.6 miles) of Durakerb for several reasons.
For one, EKFB's procurement policy encourages the use of products with a high recycled material content, which is also low carbon in production and installation.
Furthermore, there is the potential for recyclability when the temporary road is dismantled.
This then offers two options, to reclaim and return it (the costs to be agreed at this point) and we could then sell second hand or recycle ourselves, or even break the units down to create new ones.
Alternatively, EKFB could reclaim and reuse the units on its own sites in the future or as a last resort send them to Energy from Waste facilities for positive CO2 recovery.
So far, we have delivered 50% of the 1 km of kerbing required on the scheme and while we will have to wait a few years to see the end-of-life options chosen, there is no reason why recycling the kerbs would not prove commercially viable.
It would also reduce environmental impact as it will extend the life of the products and the material content over a number of life cycles.
Recycling C&D waste: a growth market in Europe
These changing attitudes to construction and demolition are not restricted to the United Kingdom.
We now operate in 12 countries: the United Kingdom and Ireland, Denmark, Sweden, Belgium, Netherlands, Germany, Hungary, Bulgaria, Croatia, Slovenia, and Romania.
In fact, the burgeoning interest in sustainable practices means Dura Products has enjoyed sales growth of 58% in 2020, 90% in 2021 and an anticipated growth of 100% this year.
Article first published in the November-December 2022 issue of Demolition & Recycling International