Construction equipment: Adaptable attachments
By Belinda Smart15 October 2021
Growing urbanisation in many markets means demand for attachments is growing, with suppliers tweaking their ranges for durability and adaptability, writes Belinda Smart.
Recent research by industry research firm Fact.MR says advancements in technology will see the construction equipment attachment market expand 1.3 times in terms of value from 2020 to 2030.
Demand for excavator attachments, a key sub-category of the market, is also on the rise, according to research by the Insight Partners;
"Growing urbanization and industrialization have raised the demand for excavators, which directly affects the growth of the excavator attachments market.
"Furthermore, an increase in the number of smart city projects and heavy spending by governments on infrastructure development propels the growth of the excavator attachments market during the forecast period."
Bucket attachment innovations
Leading OEMs are responding to demand with increasingly durable, and adaptable excavator buckets; the offering from Volvo CE includes a heavy duty bucket for rock handling – wear cover 30 % on the bottom, and 50 % on the sides.
Meanwhile the latest Komatsu buckets are designed for durability and adaptability to most excavators and applications.
"The Komatsu bucket is optimally designed for all phases of each working cycle: easy penetration during the digging phase, smooth and effortless curling of the bucket, fast material uptake, maximised fill ratio and effortless emptying of the bucket."
Tobroco-Giant has developed a new line of buckets for ground planning work. The adaptable buckets are designed to perform tasks including stripping topsoil, dozing, landscaping using only one bucket.
The bucket is equipped with a double cutting edge at the front, rear edge at the back and two sliding strips under the bucket. For an optimal view on the front blade both sides next to the hitch are semi-open.
It is available in widths between 140 and 175 cm and can optionally be equipped with screwable side plates.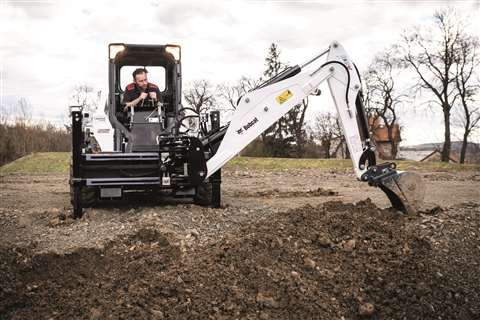 Backhoe attachments for compact loaders
Bobcat has launched a backhoe attachment for its skid-steer and compact track loaders, which the company says, "converts a Bobcat loader into a powerful excavator, allowing customers to increase the versatility of their machines and the return on their investment."
Designed for applications in construction, utility, road work, landscaping, and other industries, it is available in four configurations [the two Versatile (V) B32V and B35V models and the two Standard (S) B32S and B35S models] that offer a choice of digging depths, reach and hook-up systems.
The largest model in the range offers a maximum digging depth of 3.3 m and a maximum reach of 4 m.
Unlike the Standard models, the Versatile versions of the backhoe attachment can be equipped with additional hydraulic attachments such as augers and breakers.
Daniele Paciotti, Product Line Manager Attachments Bobcat in Europe, the Middle East and Africa, said, "We are seeing increased demand for the backhoe attachment and have added even more versatility with the Versatile V-versions of the new generation product.
"They have a double acting auxiliary line that allows more attachments to be used with the backhoe attachment, including Bobcat hydraulic attachments such augers, breakers and tilt buckets.
"The previous version of the backhoe attachment only allowed for non-hydraulic attachments, such as buckets to be used. For increased safety and to optimise the lifetime of the attachment, all hoses are now placed inside the boom."
Operators can therefore transform their loaders into excavators that can dig holes, trenches and foundations.
End users can also add other attachments via the backhoe for applications in demolition, landscaping, horticulture and other markets, with the new generation backhoe attachment compatible with seven different families of Bobcat attachments, comprising over 30 different attachments.
These include augers, breakers, clay spade buckets, grading buckets, digging buckets, skeleton buckets and tilt buckets.
The V-versions of the backhoe attachment are also equipped as standard with the trademarked Klac mechanical coupling system, which ensures that attachments can be changed more quickly
The new backhoe attachment is about 100 kg lighter than the previous generation product, providing additional stability for increased safety.
Road maintenance attachments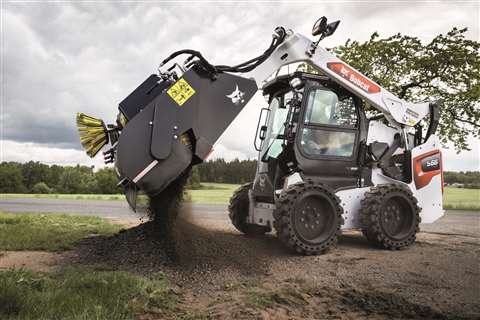 Bobcat has also launched a range of sweeper attachments as part of its road maintenance equipment offering.
It comprises five sweepers that Bobcat says are specifically designed for versatility and approved to use with Bobcat tool carriers including skid-steer and compact track loaders, compact wheel loaders, small articulated loaders and rigid frame telehandlers.
The company says "the sweepers complement a wide choice of products for this sector, including planer, wheel saw, soil and asphalt spreader, grader, trencher and angle broom products.
"Combined with the growing line-up of Bobcat tool carriers, these provide high performance solutions for asphalt, concrete, road, pavement surface repair and many other applications."
The new sweepers cover a wide range of other jobs including cleaning, recycling, construction and demolition as well as the agriculture market.
The five models in the new Bobcat range provide sweeping widths from 110 to 215 cm, with bucket capacities from 0.22 to 0.44 m3 for collection of debris. All model sizes are now available with unified platform features.
They also feature tougher, longer life heavy-duty bristles, and in response to customer feedback, Bobcat has developed a new optional integrated water tank unit, installed on top of the sweeper itself, with a cleverly designed, optimally front-positioned sprinkler system.
The sweeper attachments employ Bobcat's 'plug and play' system, which enables the operator to install and change attachments in less than a minute.
Soil & asphalt spreader attachments
Targetting the Europe, Middle East and Africa (EMEA) region, Bobcat has launched a Soil & Asphalt Spreader attachment, approved for use on all Bobcat skid-steer loaders from and including the S450 to the S850/H models, all Bobcat compact track loaders including the T450, T590/H, T650/H, T770/H and T870/H models and the A770/H all-wheel steer loader.
The Spreader can be used to lay asphalt and other materials to create pavements; to widen and repair existing roads; to backfill, pave over and cover trenches and to lay sub-base materials. An offset feature means the new attachment can also lay asphalt without the loader needing to pass over the spread material –ensuring a smoother finish.
The new Spreader attachment also features manually adjustable thickness of layer materials from 0-100 mm; compact design; hydraulic side shift and adjustable side wings to guide materials; lockable, floating transverse tilt up to 5° to compensate for sloping terrain; and optional third side wing kit available for special applications.
It has an operating weight of 675 kg and a standard operating width of 190 cm or optional width of 196 cm.
Planer attachment
Bobcat has also released a Planer Attachment and soil and asphalt spreader range for repairing potholes, surface cracks and ice damage and for milling surfaces and for working around manholes, the wide range of planers from Bobcat covers cutting widths from 35 up to 120 cm.
Other uses include creating cuts for recessed lane markers; matching uneven pavement surfaces; producing vertical edges for pavement repairs; cutting drainage in parking lots and for tapering edges of roadways.
Also from Bobcat and described as "rugged, powerful" the Wheel Saw attachments cut through asphalt, concrete, frozen ground, wire mesh and other hard materials "with more precision than either air or hydraulic breakers" the OEM claims.
"They can be used for road repair and cutting trenches for laying water, gas, electric and fibre-optic cable lines."
Hydraulically powered attachments
A flagship brand for hydraulic excavator attachment supplier Inmalo is the Mantovanibenne (MBI) range which includes scrap shears, concrete crackers, pulverisers, multi-systems, grapples and riddle buckets.
The MBI range emphasises "robust build quality and simple maintenance," says Charles Polak, Inmalo Sales Representative.
The range includes the SGR Grapple, designed for demolition and the sorting of waste and has recently been upgraded to reach a superior level of reliability and performance.
Changes have focused on major modifications related to hydraulic components, control sensitivity and safety features.
Concrete pulverisers have also been improved with a focus on wear parts, the top jaw plate has been split into two, so you don't have to replace the rear half when it isn't worn as much as the front.
The MBI CC Combi Cutter was launched last year, combining cracker and shear for demolition of reinforced concrete and steel structures, giving Inmalo one of the largest ranges of attachments available to the UK market.
Inmalo's new GIDA Hydraulic Magnet range is attracting interest from the market due to its ability to be swapped from machine to machine.
Quick hitches
Meanwhile German manufacturer Kramer-Werke has unveiled a fully hydraulic quick hitch system so that spontaneous interruptions when changing attachments will no longer affect the scheduled work process, writes Steve Ducker, Editor, Demolition & Recycling International.
An enhancement of its quick change plate, the Smart Attach system will, according to Kramer, ensure greater productivity, efficiency and safety.
The company - which sells compact wheeled loaders into the construction industry and includes recycling companies among its clients - adds that customer requirements have been a key focus, and the dimensions of both quick hitch systems are identical, so existing attachments can continue to be used.
Hydraulically driven attachments can be coupled with the new system without getting in and out of the vehicle, as connection with the hydraulic circuit is automatic.
The attachment is locked and hydraulically coupled, with automatic pressure release, by a simple touch of a button with a secure two-hand operation. With the coupling unit's integrated locking display (green), the operator can always see that the attachment is attached to the machine successfully and securely.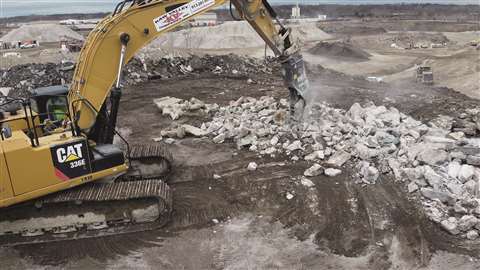 Pulverisers
Caterpillar's new generation of Primary and Secondary Pulverisers are said to deliver up to 52% faster cycle times, producing more tons-per- litre of fuel burned.
The new Cat Pulveriser line includes three new rotatable primary models – P318, P324 and P332 – which feature 360-degree rotation, and three new fixed secondary models – P218, P224 and P232. Both pulveriser series are designed to fit 18- to 50-tonne machines.
The new design is built around the SpeedBooster technology found in Cat Multi-Processors, which quickly closes the jaw when there is no load. When the jaw comes into contact with material, the SpeedBooster hydraulic valve automatically switches to power mode for maximum power, quickly shattering concrete.
Caterpillar says its new Primary Pulverisers offer up to 52% faster cycle times and 21% higher force than the previous models.
Cat Secondary Pulverisers are said to deliver up to 44% faster cycle times and up to 20% better force in concrete demolition, resulting in up to 15% greater performance in secondary material processing applications. Wide jaw openings allow operators to grab more material from any angle, increasing processing speed and improving overall material throughput.
Integrated into all new pulverisers, Cat asset tracking is available for quick attachment locating.
Hydrodemolition equipment
Keith Armishaw, business development manager at Aquajet tells IRN Aquajet Hydrodemolition attachments are increasingly being used to precisely remove concrete without damaging underlying rebar, and their success in traditional, flat areas has also led to demand in more challenging applications.
To meet that demand, hydrodemolition robot manufacturers have add-ons and accessories designed for working at greater heights and specialty applications.
Contractors can take on concrete at any angle — horizontal, vertical or overhead — by bolting steel frames or spines to the demolition surface and attaching a hydrodemolition robot cutting head.
"The head moves across the spine to remove material in the desired area to a pre-set depth. These mechanical steel structures expand a machine's capabilities far beyond the original design, allowing contractors to quickly and easily remove concrete in large or difficult-to-reach sections."
Meanwhile, circular supports allow hydrodemolition robots to remove concrete from pillars or piles, including those underwater. The cutting head moves at a pre-set distance around the pillar, moving up or down until it reaches the required depth.
Armishaw says hydrodemolition jobs in enclosed areas are also benefiting from conversion kits that allow diesel-powered robots to operate on electricity, eliminating the risk of fumes.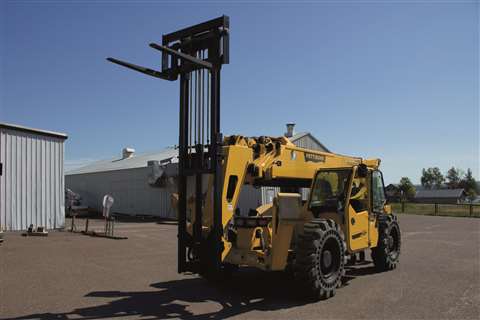 Mast extension
Pettibone is now offering a 10-foot (3.05 metre) vertical mast tower compatible with its 12,000-pound-capacity telehandlers – the Traverse T1258X and T1246X, and Extendo 1258X and 1246X.
Powered by standard auxiliary hydraulics, the tower provides 10 feet of additional lift height for applications that require it. The tower mounts on a quick disconnect system, making it easy to swap in and out with other attachments.
For optimal safety, the tower requires that the telehandler be equipped with solid foam or tires, as well as outriggers, which come standard on the Pettibone Traverse T1258X.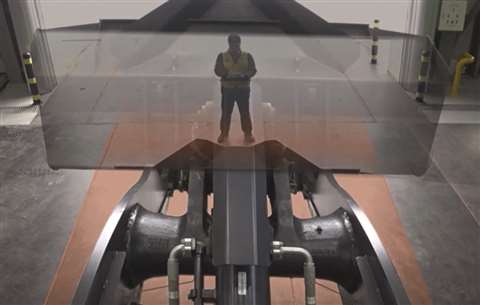 Transparent bucket
A 'Transparent Bucket' system for wheel loaders from Doosan Infracore Europe won two awards at Matexpo at the Kortrijk Xpo convention centre in Kortrijk in Belgium in September.
The new Doosan transparent bucket is designed to enable drivers to check the blind spots in front of the bucket via the cab monitor, to prevent accidents.
It allows a wheel loader operator to see the bucket blind spots on the machine through the in-cab monitor, by recording images at the front of the wheel loader with two cameras mounted on the top and bottom of the machine and displaying combined images in real time on the monitor in the cab via curved projection.
Rokla rebrands Hartl equipment range
Germany-based excavator attachment specialist Rokla has repackaged Hartl crushing and screening equipment under its new international rock.zone brand, having acquired the Austrian company in 2019, writes Steve Ducker, editor of Demolition & Recycling International magazine.
The products, which will now be known as the Rockcrusher and Rockscreener and will be in Rokla colours, join the internationally available Rockwheel cutting units in the manufacturer's portfolio.
"The decision to acquire Hartl paid off very quickly. Despite the challenging conditions of the pandemic in 2020, Rokla secured its place in the international market and the company was able to chalk up significant revenue growth."