Construction excellence for S & B
By Joe Sargent26 April 2019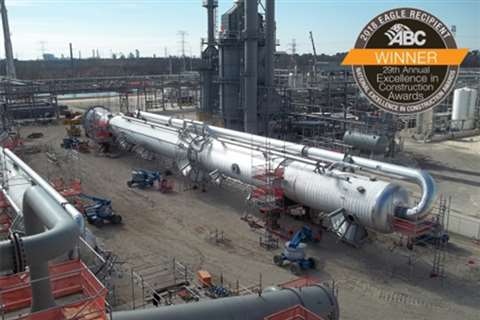 S & B Engineers and Constructors from Texas, US, has received a National Excellence in Construction award, presented by Associated Builders and Contractors (ABC) in the US.
Awarded in the US$100 million to US$200 million Mega-Projects category, the firm received the recognition for its project at its Mont Belvieu fractionation facility.
S & B's scope for the Lone Star Frac V project was to perform engineering, procurement and construction for what was to become a 120,000 barrels per day NGL fractionation unit.
Despite a significant setback from Hurricane Harvey in the form of 127cm of rain at the job site, S & B managed to deliver the project on a compressed schedule and within budget.
The project was delivered safely, with more than 1.5 million work hours delivered without a single lost time incident. The project marked over 10 million safe work hours executed by S & B for the client since 2011.
CEO of S &B James Brookshire said, "Since our founding in 1967, S & B's goal has been to be the best EPC contractor in the business.
"While we are greatly honoured to receive awards such as these, our truest accolades come from our clients, who trust us with their most important projects time and again."
This marks the eleventh time S & B has received the award since 1999.